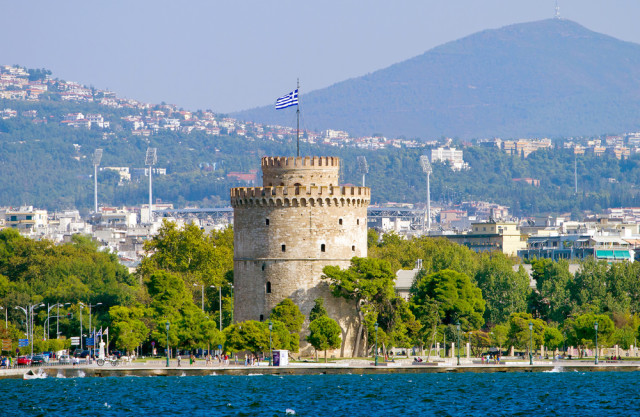 photo | Alexander Mazurkevich
Oftentimes, much of the interest of visitors to Greece is focussed heavily on its marvelous Mediterranean islands, as well as capital Athens, with day-trip forays to places like Delphi and Mycaene.  But this country of course also has an extensive hinterland up to its northern border with Albania, Macedonia, Bulgaria, and Turkey. Up here in Greek Macedonia, the largest city (and second largest in the country) is worth a visit in its own right – and its fairly doable at just a five-hour drive from Athens.
Dating back to the ancient Hellenic kingdom of Macedon, Θεσσαλονίκη (pop. 800,000 metro 1.1 million) was founded in 315 BC. But the profile of Thessaloniki's old quarter today seems more influenced by its mediaeval period, especially the early Middle Ages when it grew into the second largest and wealthiest city of the Byzantium, the eastern Roman Empire ruled from Constantinople (it was then briefly ruled by the Venetian Republic, followed by the various centuries between 1450 and 1912 as part of the Turkish Ottoman Empire, before finally becoming part of modern Greece).
The city's most famous landmark, the round, crenellated White Tower on the waterfront (top) was actually built by the Ottoman Turks; today it contains a museum of the city's and Macedonia's past that's a must for any visitor trying to understand local history and culture. Ottoman history is also represented by the Bey Hamam (public baths), the Bezesteni (the old covered market for jewelry, and precious stones and metals), and the Alatza Imaret (poorhouse). There are also a couple of interesting mediaeval synagogues serving Jews given refuge by the Ottomans after they were brutally ejected from their longtime homes in Spain as well as Portugal and Italy.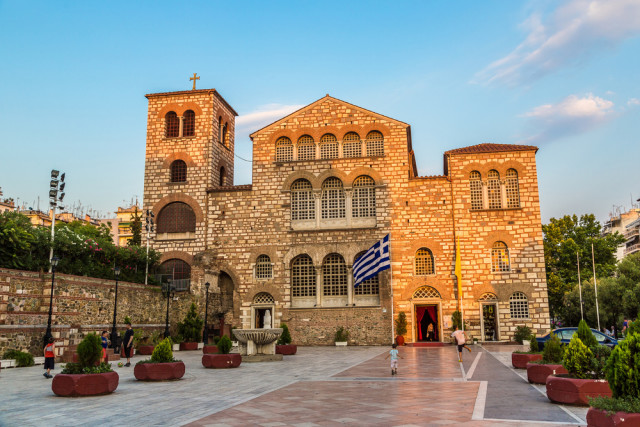 photo |  S-F
Moving back to Byzantine times, you can still see the old city walls of that era in the northern Upper Town and some of the west, as well as several impressive UNESCO World Heritage churches, most notably the 7th-century Agios Demetrios (above, dedicated to the city's patron saint) and 9th-century Agia Sophia; these and other very early Christian churches – known as Paleo Christian – are considered a pretty big deal (Paul the Apostle even preached here – if you know your New Testament, you'll recognise First and Second Thessalonians).
Going back still further, you can check out sites such as the excavations of the Roman forum and the temple of Zeus called the Rotunda (almost as old as Rome's Pantheon, it too was later adapted as a church). The latter was built by the Bulgaria-born Emperor Galerius (ruled 305-311 AD), whose triumphal arch and palace ruins you can also ogle.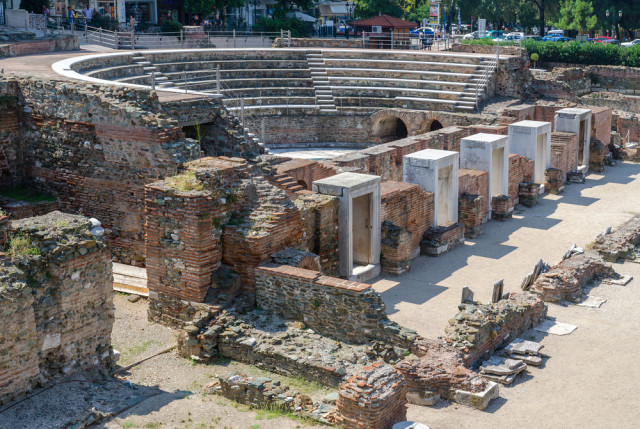 photo | Katsiuba Volha
And you want more museums? How about the Archaeological Museum of Thessaloniki, which focusses on prehistory through classical antiquity, among whose star possessions are golden artwork from local Roman palaces. And the acclaimed Museum of Byzantine Culture was not long ago declared European museum of the year. But there are several others you might worthwhile, depending on your interests, such as the Folklore and Ethnological Museum of Macedonia and Thrace, the Municipal Gallery of Art, the Museum of Contemporary Art, and the Olympic Museum (dealing with, of course, the history of sport).
And one particular oddity – especially in light of the traditionally strained relations between Greece and Turkey – is a three-storey pink house that's actually part of and administered by the Turkish consulate compound. It's where the Turkish Republic's founder, Kemal Atatürk, was born, in 1881 (remember, Greece was still part of the Turkish Ottoman Empire then).
Other must-visits in town include the recently redeveloped, 4.5-kilometre (nearly three-mile) waterfront promenade, a delightful mix of gardens and architecture (including, of course, as mentioned above, the White Tower) which is especially hopping in summertime. There's also a great covered public market, the 1920s Modiano, similar to many in Europe – rife with produce and foodstuffs as well as photo ops.
Beyond all that, there are also a lot of ways to kick back for some joie de vivre, as Thessaoloniki has for example the highest number of pubs, bars, and cafés per capital in all of Europe. It's all lively, tasty, and uniquely stimulating – stay tuned as I come back with some recommendations!
More information: VisitGreece.gr. http://www.visitgreece.gr/en/main_cities/thessaloniki
Best fares to Athens from the USA, from Spain.