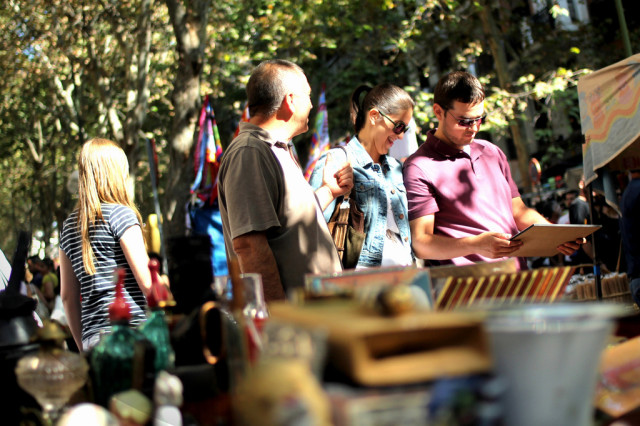 photo: Konrad Karlsson
For both cool bargains and local colour, it doesn't get much better or more classic in Spain's capital than Sunday morning ambling around its world-famous, nearly 300-year-old Rastro, the bustling open-air flea market that each week sprawls along various streets of Madrid's central Embajadores neighbourhood, between Calle Embajadores and Ronda de Toledo. Whether you're hunting for fine antiques and collector's items, authentic handicrafts, vintage ware, or simply awesome photo ops, the Rastro can offer hours of entertainment (even literally so, as live music performances are often part of the scene).
With up to 3,500 stalls to browse, the Rastro runs every Sunday from 9 am to 3 pm, but the best merchandise naturally tends to go to the early birds. And once folks are done rummaging for the day, it's customary to wind up the outing with a few cañas (draught beers) and tapas in nearby bars that are some of the city's most typical, old-timey spots. As a Madrileño, I'd like to offer a half dozen of my own favourites.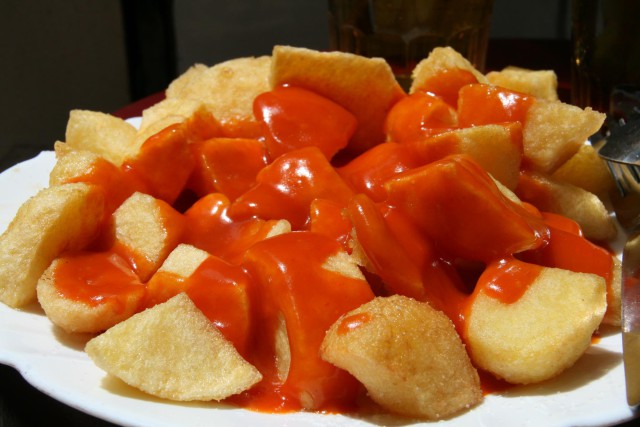 Casa Amadeo
Right on one of the Rastro's main squares, this joint's nickname is "Los Caracoles" (The Snails) for a reason: it serves, IMHO,  the best land mollusks in town – stewed with bacon, sausage, and seasonings that give them just a hint of heat, creating a sauce just perfect for sopping up with crusty bread. Other house specialities include the traditional local callos madrileños (tripe stew) and oreja de cerdo a la plancha (pig ear). The current owner has been at it for decades and knows exactly how to treat customers with a personal touch. Plaza de Cascorro 18.
El Capricho Extremeño
Only open on weekends, another old faithful, "Extremaduran Craving" specialises in tostas, open-face sandwiches, with Galician-style octopus, goat cheese with jam, pork loin with red peppers, eels and prawns, potato omelette, and various other typical Spanish goodies. My own favourite? I'd have to say their jamón ibérico, that thin-sliced cured ham, with tomato. The premises being so small, everyone orders their tosta with a drink and heads out the door to enjoy them outside on the street. Calle Carlos Arniches 30.
La Campana
Tucked away on a side street off of the Plaza Mayor, the main claim to fame of "The Bell" is its fried calamari sandwiches, a classic Madrid favourite. My own favourite on the menu, however, is their patatas bravas (above), the classic fried potatoes with spicy sauce, which I feel have to be at least among Madrid's top three: crunchy on the outside, soft within, and all anointed with fabulous sauce that's both smooth and zingy. And a great, great bargain, to boot. Calle Botoneras 6.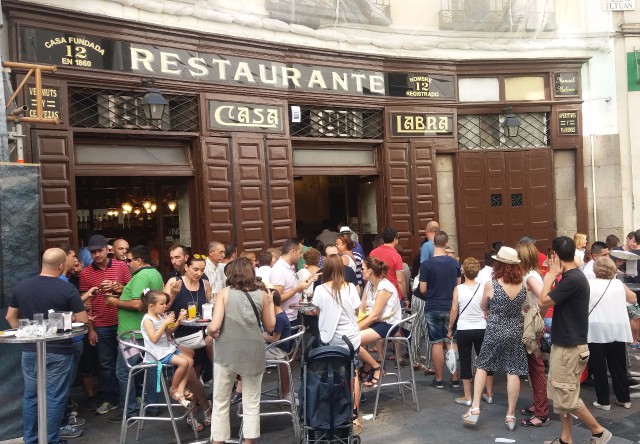 Bodegas Ricla
A real throwback to the typical Madrid taverns of yore, like something out of the mid-19th century, down to the decoration (tiles, bottles, earthenware jars and pots, and the like) and the menu (Spanish-style vermouth, Leonese specialities like codfish in olive oil and cured beef). And each drink comes with a free tapa! Calle Cuchilleros 6. 
La Traviesa
Just two doors down from Bodegas Ricla, "The Mischievous Girl" specialises in Spanish cuisine's greatest hits, including top-notch paella, oxtail, cured ham, and delicious rashers of classic Spanish bacon, fried on the spot. All truly mouthwatering, all perfect with a crisp, cold caña (draught beer). Calle Cuchilleros 10.
Casa Labra
A perfect spot to round off our tapas crawl, this 19th-century classic just behind the Puerta del Sol square does an especially fine job with bacalao (cod), especially in the form of cod croquettes and pavías. And don't be put off by the queue to order – usually some 15 to 20 people long, it moves quickly. History has literally been made here, by the way – for example, in 1879 when the Spanish Socialist Workers Party, which has governed the country at various times, was founded here. Calle Tetuán 12.
Best fares to Madrid from the UK, from the USA.

photos | Josune Gallastegui