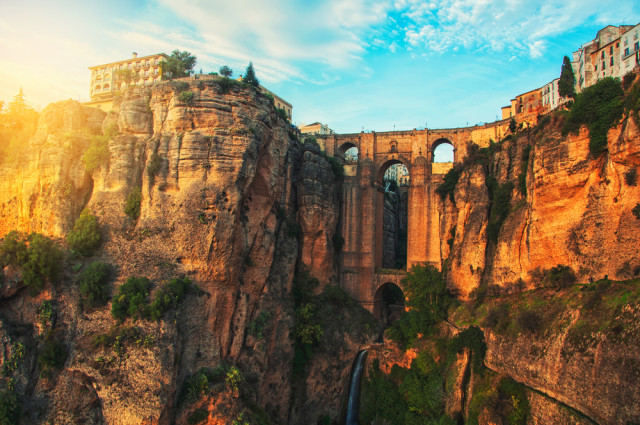 photo: M.V. Photography
Southern Spain – and even the country as a whole – are of course chock-full of wonderful little villages, towns, and cities tucked up in the hills and even hanging off cliffs (Cuenca in Castile is a prominent example, as are Andalusia's "White Villages"). But one particular crowd-pleaser I find myself going back to at every available opportunity is this charming little ridgetop city (pop. 37,000) about an hour-and-a-half drive from Málaga city and just a few minutes farther from Seville. Because there's just something about Ronda…  
Much of its charisma, of course, derives from its location – at the edge of a steep gorge, with cliffs plunging a hundred metres (328 feet) straight down and a high, dramatic stone bridge (built in 1793) linking two sections of the city (and providing, of course, sweeping views out over the surrounding Ronda Mountain Range). I know people with a touch of agoraphobia who refuse to even drive up here.
Yet over the years, this atmospheric, romantic town has attracted many daytrippers, overnighters, and even long-term visitors galore (the likes of Ernest Hemingway and Hollywood director Orson Welles used to love to hang out here, and Hemingway described in For Whom the Bell Tolls a Spanish Civil War atrocity in which Republic loyalists tossed Fascist rebels over the famous precipice).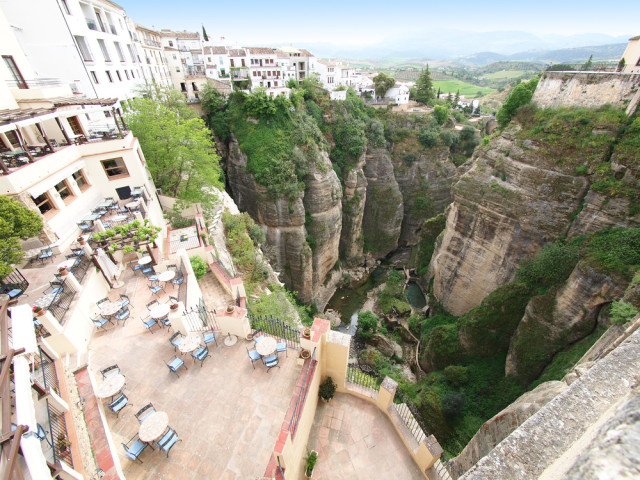 photo: silky
First settled by Celts way back in the 6th century BC, the town first came into its own during the Moorish (Islamic) occupation of much of Iberia, as Hisn Ar-Rundah – from which the name Ronda obviously derives – from 713 to 1485, and saw further growth after being incorporated into Christian Spain.
The legacy of its varied and tumultuous history is yours to experience in the old quarter here, called simply La Ciudad (The City), full of narrow, winding cobblestone streets, anchored by the Plaza de España and the main thoroughfare (now pedestrian), Calle de la Bola, and surrounded by massive walls including a 13th-century Moorish gate, Puerta de Almocábar, and another gate, the Puerta de Carlos V, built in the 16th century.
Other key city landmarks include the Gothic/Baroque/Rococco church Santa María la Mayor (once the city's mosque, where you can still spot some Arabic decoration and inscriptions among the Christian frippery); the atmospheric Palacio de Mondragón (now the city museum, once the palace of a Moorish ruler of the early 14th century); and the Baños Árabes right outside the city walls (one of my favourite spots here, it's among Spain's most atmospheric ruins of Arab public baths).
Honourable mention must go to Ronda's whitewashed, double-decker bullring, one of Spain's oldest, built in the 1780s. Its relatively modest size (5,000 spectators) and relatively out-of-the-way location means it doesn't host as many fights as other larger venues such as Seville's and Málaga city's, but it's a key spot in the bullfighting history and lore of Andalusia – and fans of Madonna might even recognise it, as the video for her 1990s hit Take A Bow was filmed here (there's also a memorabilia-crammed bullfight museum here).
In short, absolutely one of the must-visits of Andalusia.
More information in English: TurismodeRonda.es.
Best fares to Málaga from the UK, from the USA; to Seville from the UK, from the USA.