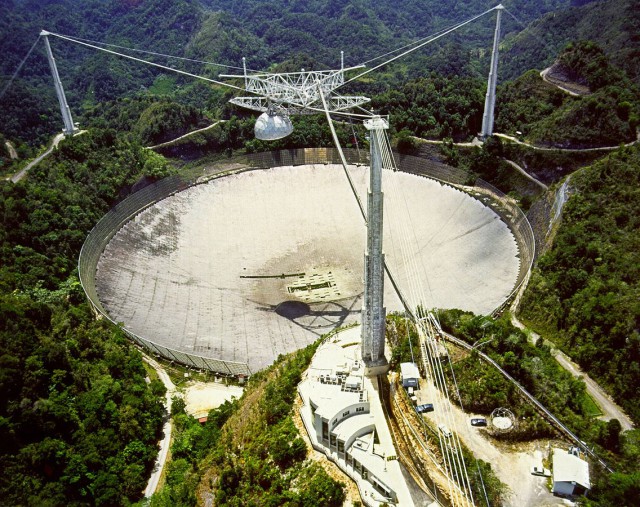 Now that Iberia has resumed flights to San Juan, there's a whole splendid island to discover beyond its capital city, and we'd like to start with a spot that's both one of the closest must-visits "out on the island" and uniquely special because of its great heights and depths. Yes, Arecibo and its surroundings will make your jaw drop, and here's why.
Up in the hills 16 kilometres (ten miles) outside this historic city of nearly 100,000, its main claim to fame since 1963 has been Arecibo Observatory, with its colossal radio telescope (the antenna dish measures 305 metres/1,000 feet across), which until not long ago the world's absolute largest, and still the largest with a single aperture. So impressive that it has starred in various screen productions over the years, such as the 1995's Species and James Bond flick Goldeneye, Contact (1997), and The X-Files. In addition to performing a wide range of astronomy, it monitors the cosmos for SETI, the project searching for intelligent life beyond Earth. Besides the observation platform, there's a two-storey visitors' centre with exhibitions on both astronomy in general and this telescope in particular.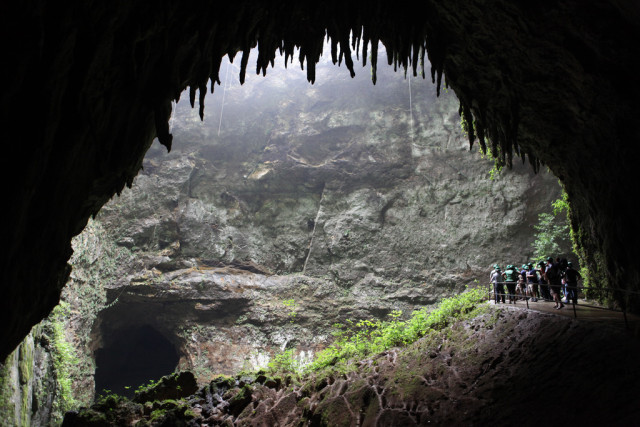 The other major spectacular attractions nearby are caves. The one closest in is Cueva Ventana (Window Cave), with guided nature/history tours and a spectacular view from the "window" formed by the cave's mouth. On the coast some 20 minutes east, the Cueva del Indio (Indian's Cave), is a little tricky to walk to – a short walk but over somewhat slippery limestone sea cliffs. It's worth it, however, to see not just the limestone formations but the ancient Taíno petroglyphs (there's no tour, you just walk around by yourself).
But the coup de grace is a half hour south, the Rio Camuy Cave Park, part of a network carved out by the world's third largest underground river. The parts open to the public include three huge, dramatic sinkholes. It's very well organised and receives about 1,500 visitors a day with amenities including walkways, audiovisuals, even a tram to get visitors down and back.
The city of Arecibo itself is also worth a visit. Founded in 1616, it's mostly modern today, but does have several colonial-era landmarks, including the current cathedral, San Felipe Apóstol, finished in 1846, is the island's second largest; a modest but graceful city hall dating from 1866; and outside city centre a modest neoclassical lighthouse built in 1898 and still in use (in addition to housing a museum covering its history and that of the Spanish-American Warm, the Arecibo Light is actually now part of a historical park with a replica of a Taino Indian village, as well as of Columbus' ships, a pirate ship, and a slave quarters,  along with a small zoo, aquariums, and water park).
Throw in some great local eats (go for the garlic shrimp or the snapper with plantains at Chef Juan Rivera's Salpicón Restaurante), and great beaches where you can surf and bodyboard (if you happen to visit in July, don't miss its Festival Playero, a beach festival held this year the 22nd through 24th, full of  fun, games, music, and food/drink).
All of this about an hour from downtown San Juan – as the Puerto Ricans say, wepa!
Best fares to San Juan from the U.K., from Spain.
More information: PuertoRico.travel.
photos | NSF/Wikipedia, barsen/Flickr