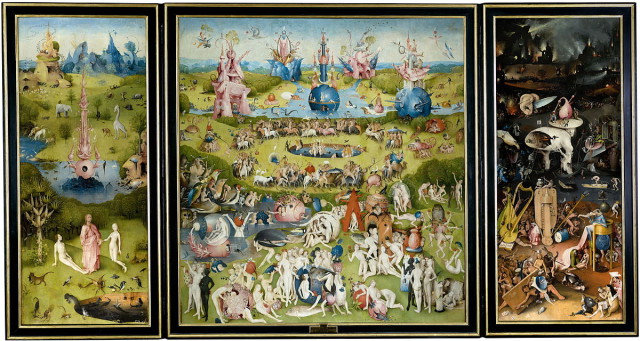 People often think of Madrid's iconic Prado Museum as Spain's premier showcase for this country's Old Masters, such as Goya, Velázquez, and El Greco. But back in the days of empires in Europe, Spain was a world power, and among its dominions from 1581 to 1714 were the Low Countries and Flanders, which later became the Netherlands and Belgium. Its royal court therefore imported Dutch and Flemish art and tapestries, and so the Prado possesses some fine examples of paintings by the likes of Peter Paul Rubens, Anthony Van Dyck, and my favourite here, Hieronymus Bosch (1450-1516). 
In particular, there's a wooden tryptich here, called The Garden of Earthly Delights, which is Bosch's most famous work, and earns a long visit from me whenever I'm at the Prado. As you face the work, the leftmost panel depicts God (and interestingly, as a fairly youngish chap, not an old greybeard) presenting Eve to Adam. In the middle, the largest panel portrays the eponymous "earthly delights" – either as a vision of paradise lost, or a caution against the "sins of the flesh" in a false paradise. The "wages of sin" are then illustrated in the "Last Judgment" panel at right. What is especially striking about the latter two panels are not just the implied eroticism of some of the "earthly delights" (first of all, all the human figures are nude) but the many fantasticaly, surrealist plant and animal imagery – flowers with legs, bird-headed people, a platypus-billed demon on ice skates – oh, and that chap being kissed by a pig in a nun's habit (like, whatever). In fact, Bosch has been dubbed history's first surrealist and "trippiest painter", and some of his imagery brings Salvador Dalì to mind; the details are so many and vivid and weird that I notice something new and interesting each time I gaze at this triptych.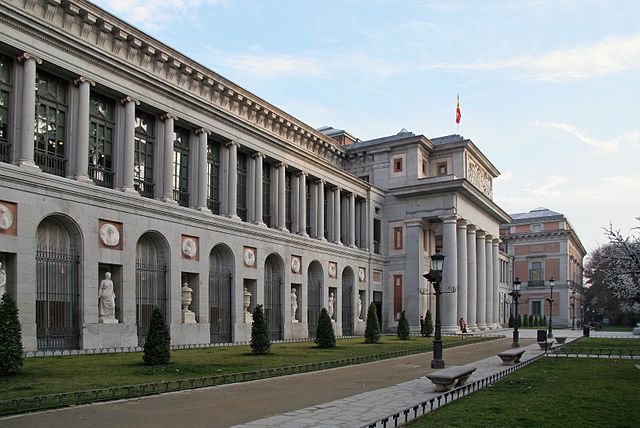 Other of Bosch's quirky oil-on-oak-panel works also in the permanent collection are The Adoration of the Magi, the tabletop painting The Seven Deadly Sins and the Four Last Things, the Haywain Triptych, and The Stone Operation. But through September 11, the Bosch 5th Centenary Exhibition, marking 500 years since the artist's death, brings these together with others on loan from other museums in Europe as well as the USA.
The curators have also supplemented the paintings with new information and analyses which shed new light on Bosch's life, times, and specific works (revealing, for example, telling changes that were made under the final layers of paint). It's truly a one-of-a-kind experience of artistic earthly delights indeed.
Best fares to Madrid from the U.K., from the USA.

photos | Museo del Prado, Brian Snelson/Wikipedia