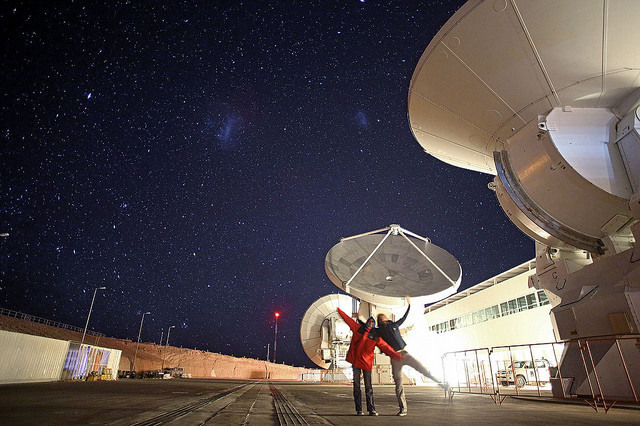 If when you look up at sky on a clear night you find yourself wondering how many stars the Universe has and you spend hours soaking up the spectacle of the constellations, then the Atacama Desert in northern Chile should be on your bucket list. This bleakly beautiful expanse – the world's most arid – is considered the best place in the world for astronomical observation.

The reason the Atacama is considered best for astronomy observations is its geographical and climatic conditions, and also because it has very little light and radioelectric pollution. This means you can enjoy the maximum number of clear nights of anywhere on the planet.
The main astronomical centres in Chile are found in Atacama, most prominently the Paranal Observatory, the world's most powerful astronomical complex, and the Atacama Large Millimeter Array (ALMA), the world's largest astronomical project. No fewer than 66 antennas look skywards to seek out the dawn of the Universe.
But you don't need to be a top-notch scientist to enjoy the best sky in the world for stargazing. Travellers to Chile can spend a few days here, staying in San Pedro de Atacama, a border town with Bolivia, from where you can enjoy an almost lunar landscape with attractions such as the Valle de la Luna or the Valle de la Muerte and, of course, you'll have the chance to view all the stars in the sky.
These settings are so extreme and unique that even NASA scientists come here to implement their projects to bring man closer to Mars, the next frontier. Although it's hot during the day in San Pedro de Atacama and the clear sky is not enough for all of the sun that there is, temperatures drop at night and the sky turns black, completely black, so that when the stars start to come out the sky is abound with them.
Once you arrive at San Pedro de Atacama, the sky spectacle awaits, but you have to move slightly away from the town towards the darkness of the surrounding desert. Then, astronomical observation offers us one of the world's most moving shows: thousands of stars and other bodies of the Universe within our gaze, as if you could just reach out and touch them.
We will gain more from this experience if our astronomy knowledge is limited and we hire the services of an astronomy tour guide in San Pedro de Atacama. Also, for travellers arriving from Europe, this sky is new; it is the sky of the southern hemisphere. So, for travellers used to the northern hemisphere's skies, it will be the first time they see the Magellanic Clouds. And if we take a guide from San Pedro de Atacama Celestial Explorations, we'll be able to use different telescopes because not even here, in such a perfect sky, can the human eye reach so far out into the Universe.