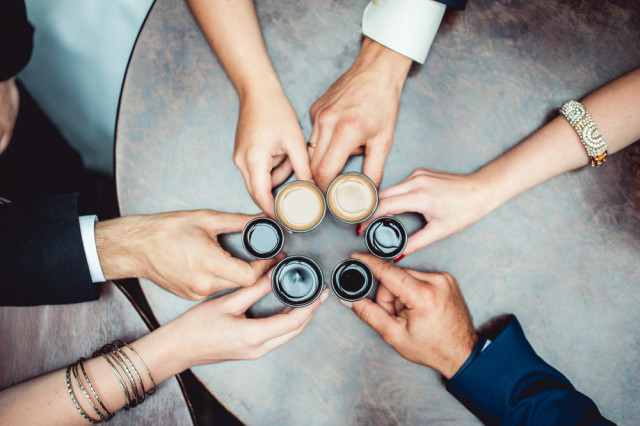 These days, the fact that Spanish cuisine has become one of the most acclaimed worldwide is no secret: people travel by the thousand to the country's main cities to sample the essence of culinary tourism and indulge their taste buds. Let's not forget that in Girona, for example, the world's best restaurant is found. However, not so well known are the high-quality, intensely flavoured after-dinner spirits concoctions that aid digestion.
Are you ready for a great dessert?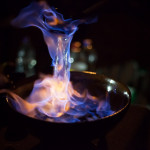 Queimada, from Galicia. Although its origin is not entirely clear, written tradition states that its preparation dates back to when their Celtic ancestors inhabited the region several centuries before Christ. It's based on sugar, lemon peel, fruit and brandy, (Galician, of course). These ingredients are mixed in a clay pot with a ladle which catches fire and to which sugar is also added, which eventually turns to caramel. Needless to say it is served hot. The best part? While you drink it, you recite the well-known spell of the queimada, a truly mystical moment: "Mouchos, coruxas, sapos e bruxas…" [Owls, barn owls, toads and witches].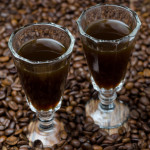 Licor de café (Coffee liqueur), from Galicia, Asturias and León. A gathering in the north-east of Spain would be incomplete without the much-loved licor de café. We are referring to a drink that is so traditional that unsurprisingly almost every family has its own recipe, especially in rural areas. Its essence lies in the combination of the strong flavour of the marc with the penetrating taste of the coffee, resulting in the most peculiar of elixirs. Brandy, ground coffee, sugar and cinnamon is used in its preparation, and some people like to add a touch of chocolate. The result is so enticing that we advise you to be careful about how much you drink.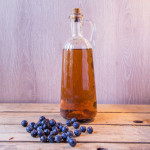 Pacharán, from Navarra, Basque Country and Castilla y León. Its unequivocal orange colour has played the starring role in the desserts of not only these communities, but also in other areas such as Madrid, thanks to its widespread use in the northern half of Spain. This liqueur comes from the maceration of sloes, the blue-coloured fruit from the blackthorn shrub; its alcohol content is somewhat lower, around 25%, and it is usually served in small glasses on the rocks. It tastes sweet and honeyed and is a drink with a longstanding tradition; there is even evidence that it was consumed in the Middle Ages.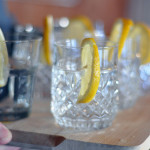 Ginebra Xoriguer (Xoriguer Gin), from Menorca. If you thought gin was only from northern Europe, this is the exception to the rule. Its origins date back to the eighteenth century, as a result of the British occupation of the island and since then it has become a symbol of the Balearic Islands; so much so that it even has its own designation of origin. The alcohol used in its production is what makes it so special, as, unlike other gins, it comes from wine and not from cereal fermentation. So how do we drink it? Try the typical Menorcan Xoriguer pomade with chilled lemonade. Truly delicious!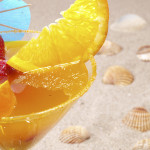 Agua de Valencia (Valencia water), from Valencia. Few Spanish drinks are as refreshing as they are attractive; firstly, because it is served ice-cold, practically frosty, so it is consumed mostly in the summer; and secondly, because of its electric colour as well as the aroma that it gives off make it an unmistakeable reference of the Turia capital. It's made with vodka, gin, cava and to give it that home-grown touch, the juice from the exquisite Valencian oranges. Ordered in large jugs, each guest pours it into their own glass, with its rims normally embellished with sugar. Fancy a glass?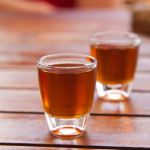 Ron Miel (Honey Rum), from the Canary Islands. We're not exaggerating when we say that this is such a unique drink that it even has its own designation of origin: this concoction has a distinct mahogany colour and is very sweet due to its sugar cane base. Its peculiarity lies in the combination of cane brandy with pure bee's honey, that gives it that special flavour and makes it so appetising. It is always served neat and ice-cold on the rocks. Since 1884, Ron miel has been the islands' prized liqueur, to such an extent that Gran Canaria is home to Europe's largest and oldest rum factory.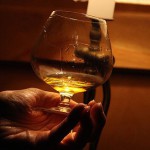 Licor 43. What better way to finish than with the world's top selling Spanish spirit, available in over fifty countries? Its name is due to the fact that it contains up to 43 different ingredients, achieving a unique, highly special blend: typical Mediterranean citrus products blended with appetising herbal accents. Licor 43 has a special golden colour and its taste, enhanced with echoes of vanilla, is ultra sweet. It's served chilled and normally mixed with other refreshing drinks to create a cocktail. It contains 31 percent alcohol.
Best fares to Spain on Iberia from the USA, from the UK. 

photos | Senyuk Mykola; Dani Vázquez; Yulia Davidovich; Robcartorres; cyclonebill; Fernando Sanchez Cortes; Tamara Kulikova; www.bluewaikiki.com