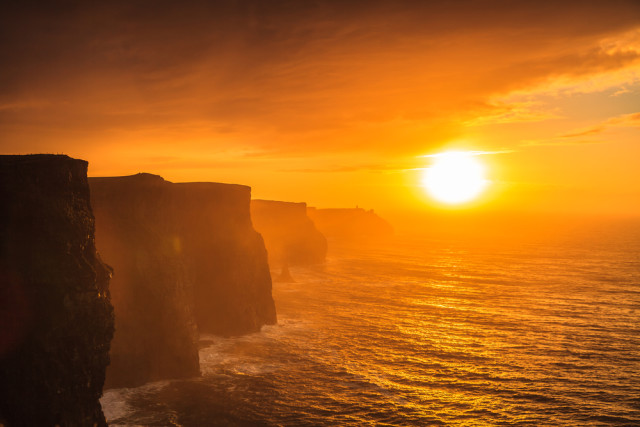 On the coast of County Clare, three hours from Dublin and 90 minutes from the fetching city of Galway, the Cliffs of Moher are one of Ireland's most famous landscapes, prominently featured on guidebook covers and in travel media of all kinds. One look, and you can sense how spectacular they are, in the the sheer wildness and sublimeness of nature.
Named Aillte an Mhothair in Irish Gaelic ("cliffs of the ruin" for a ruined fort that once stood up here), these sheer shale and limestone crags stretching for eight kilometres (five miles) tower 214 metres (more than 700 feet) above the Atlantic Ocean at their highest point, to circular O'Brien's Tower, which acted as a lookout in the 19th century. The jaggedness of the coastline here, where cormorants and Atlantic puffins fly; the greenness of the meadows stretching back from the edge…it's truly an awe-inspiring sight, and in some light just like something out of a dramatic nature painting.
You would think that reaching such natural beauty would only be possible after a long hike through difficult-to-access areas and full of dangerous steps through the void, but nothing could be further from the truth. As with many of Ireland's natural sites, there are facilities which make it accessible to all. There's a a visitor centre which is totally integrated into the landscape, set within a hill; it's a modern building with comfortable facilities where you can enjoy exhibitions and audiovisual displays, as befits the island's most visited natural attraction (up to a million visitors per year). A path leaves from the visitor centre and stretches along 800 metres  (nearly 2,700 feet) of the cliffs' edge.
The wild beauty here has unsuprisingly served as a set for many music videos, TV programmes, and feature films such as The Princess Bride in 1987, and more recently, Harry Potter and the Half-Blood Prince.
If you'd like a different perspective of the cliffs, you can also see them from the sea, but for this you must go to the nearby town of Doolin and book one of the organised boat tours which leave from there and last about one hour.
And one last thing, as this is an area with very changeable weather, we advise you to take a waterproof jacket (better than an umbrella, which may fly away). Now you know, you can easily and comfortably enjoy the wild beauty of the Cliffs of Moher, but go prepared.
More information: CliffsofMoher.ie.
Best Iberia fares to Dublin from the USA, from Spain.

photo | Voyagerix