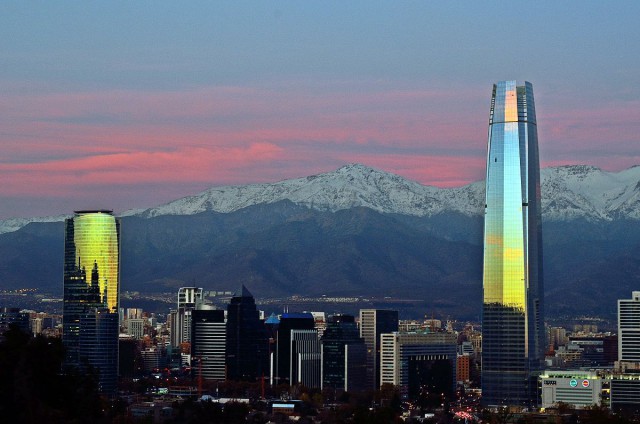 Santiago de Chile is one of those Latin American metropolises that has experienced massive growth. It now has around 7½ inhabitants and is the sixth most populated city in South America – so massive, in fact, that only from way up high can you grasp its sheer immensity. A great example of the paradox that "the farther away you are, the better you can see". 
Getting up that high is easier than ever thanks to its newest skyscraper, inaugurated in August 2015. Now Latin America's highest viewpoint, Sky Costanera Tower affords jawdropping panoramas – as they say, like never seen before in Chile's capital.
Nothing casts a shadow on the concrete and glass silhouette of Sky Costanera – not even that of the San Cristóbal or Renca hills, which were the highest points in the city until this behemoth sprang up, with not just the observation deck but a shopping centre, several hotels, and plenty of office space.
Imagine a 300-metre-high (984-foot) stack of 350,000 square m. (3.8 million sq. ft.) of concrete and 105,000 tonnes of steel, housing some 6,000 employees of various types.
The lifts that whisk you to the top in some 40 seconds move at seven m. (23 ft.) per second – just close your eyes and breathe while the attendant will launches the lift. You'll feel a push, maybe a tad dizzy, your ears will pop, and then, voilà, you're on top of the world (well, Santiago).
By the way, you may remember Chile has had a couple of earthquakes in recent years, and so no expense has been spared on the latest technology to quakeproof the tower, one of just six similar mega-structures built in quake-prone areas (in fact, after the latest, offshore in September 2015), The guides of the viewpoint recounted that after the 2015 earthquake, visitorship rose significantly in part because more people felt safe here.
Have your camera at the ready because when you reach the top, because the 365-degree views of Santiago are something else – letting you see clear out to the mighty Andes Mountains. Back in the day, a similar view was one of the things that made no less than the distinguished Charles Darwin fall in love with the city. But he only saw if from relatively low Santa Lucía Hill. The best view in town has certainly, shall we say, evolved.
Open daily; admission price (adults 5,000 pesos, kids 3,000, pensioners/students 4,000) includes a half-hour guided tour. Don't miss it!

photo | javier/flickr