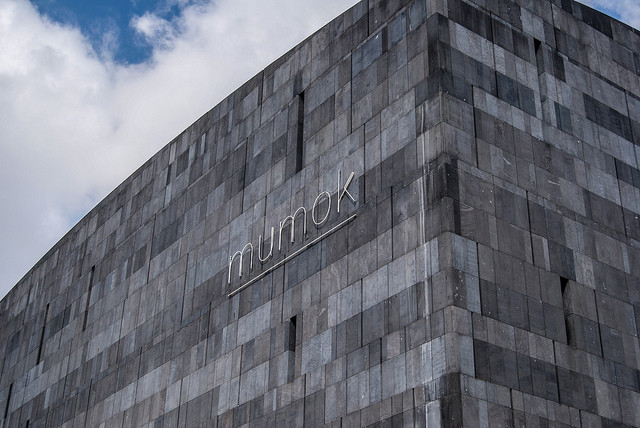 Sure, if most of us think about Austria's capital, we think tradition, the Opera House, waltzes, Habsburg palaces, and Sacher torte, with the Vienna Woods and the Alps off in the distance. You might be surprised to learn about the other sides of Vienna – more avant-garde, more natural, more modern. Check it out…

The Mumok

The Museumsquartier is Vienna's most artistic neighbourhood, its nine-hectare (22-acre) area making it one of the world's top ten biggest cultural spaces. Not only can you find around 20 cultural institutions, there are also places to eat and stroll.
A top draw here is the avant-garde Mumok, an art museum whose huge basalt cube building is a work of art in itself. Inside is a collection of over 10,000 works by the likes of Franz West, Pablo Picasso, and Andy Warhol. In the same building you'll find CupCakesWien, probably the only restaurant in Vienna offering dessert as a main course!
Belvedere Palace
Vienna is also an unusually verdant city, averaging 120 square metres (nearly 1,300 sq. feet) of green space per inhabitant. There are more than 280 parks, gardens, fields and meadows, two million flowers planted annually, and some 300,000 trees providing shade and greenery on the streets of this grand old imperial capital.
And though the sumptuous palaces here all have the expected sumptuous gardens, one offers a surprising twist. At the marvellous Baroque Belvedere Palace you'll find a garden featuring 4,000 species of the hardy, often colourful flora of the Alps – in fact, it's the world's oldest alpine garden.
Donau City Skyscrapers
Vienna famously features some of Europe's loveliest classical architecture. But right across the Danube – just a five-minute metro ride away from the iconic Gothic Cathedral of St Stephen is one of the city's most modern skyscrapers – is its cutting-edge modern district, a glittering land of concrete, steel, and glass.
The tallest skyscraper out here so far is DC Towers, the work of renowned architect Dominique Perrault (also the designer of for the National Library of France), inaugurated in 2014 with a pleated façade and a panoramic restaurant and bar on its top floor. A perch from which you can survey the entire panoply of Vienna old and new.
More information:  Wien.info.
Best Iberia fares to Vienna from the USA, from Spain.

photo | | Fernando Arroyo