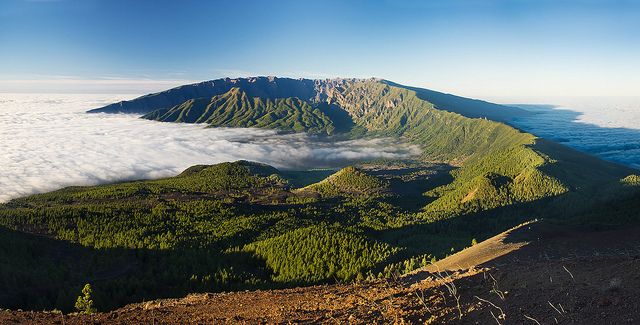 "Tropical the island breeze, all of nature wild and free…"
Whenever I hear Madonna's 80s classic "La Isla Bonita", I think of La Palma. She herself may not have had it in mind, but as it happens, the fifth largest of the seven Canary Islands is nicknamed precisely La Isla Bonita ("the pretty island") for very good reason: spectacularly verdant landscapes including imposing volcanoes, deep forests, glorious beaches, and some of Europe's starriest night skies. (Fun fact: when UK-based TV explorer Bear Grylls was looking for a closer-to-home jungle setting for a Wild Weekend with Brit chat-show host Jonathan Ross, he plumped for La Palma.)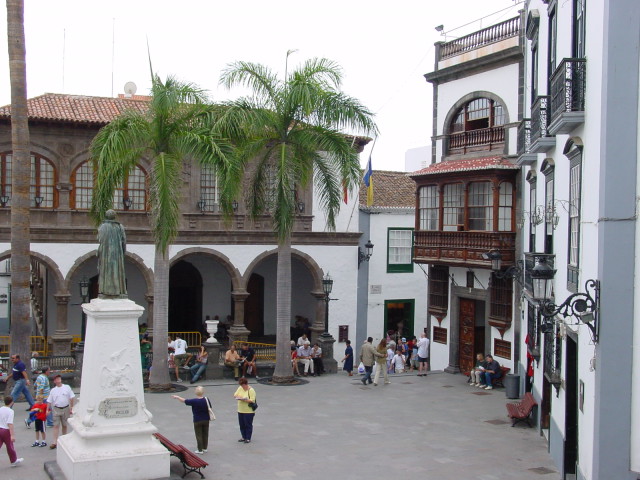 This was one of my very first stops after my 2004 relocation to Gran Canaria. I remember arriving in olde-worlde-flavoured capital Santa Cruz de La Palma (above, pop. just over 16,000) and asking where the centre was. The trio of local girls I asked laughed and told me we were standing there – turned out it consisted of just three streets. Here the 16th-century houses with their eye-candy wooden balconies are staples of island postcards. Over on the west coast, meanwhile, Los Llanos de Aridane is larger, if a bit less photogenic than the capital. Join the locals in the shade, taking time out in one of the old-school plazas.
Back then, my bases were the east coast's Cancajos Beach and Hotel Las Olas. Halfway between the capital and the airport, this was ideal for a weekend break. But when I return to the island I'm keen to switch to the west coast and Tazacorte, where you'll find Hotel Hacienda de Abajo. Situated in a sugar-cane plantation dating back to the 17th century, it was the first Canarian lodging to be awarded "Emblematic Hotel" status (the Canarian government designation for properties built to reflect the islands' historic heritage). Here you can gawp at the artistic treasures displayed by the owners, members of an aristocratic family, originally hailing from Galicia, who count a marquis amongst their ranks.
This island, looking not unlike an elongated heart, offers just over 700 square kilometres (270 sq. miles) to explore, and is especially notable as being home to the world's first "Starlight Reserve", with some of Europe's clearest skies thanks to phenomenally low levels of light pollution. The Observatorio del Roque de los Muchachos, located nearly 2,400 metres (7,874 feet) above sea level, boasts one of the biggest global collections of telescopes (contact visitasorm@iac.es to arrange a daytime visit). If you prefer to explore after dark, at Astro Camp La Palma astrophysicists will help you get up close and personal with the stars.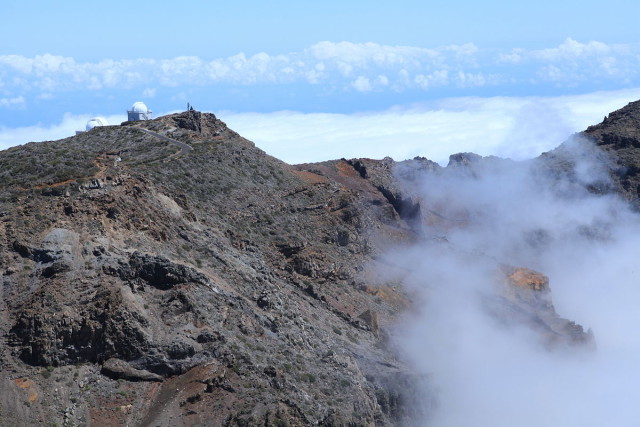 La Palma does definitely tend to attract active tourists, for its outdoors are particularly great, and one particularly powerful magnet for them is the eight-km-wide (four-mi.) Caldera de Taburiente, one of the Canary Islands' four national parks (another fun fact: a pair of northern European scientists visiting here in 1815 noticed this crater resembled a cauldron – caldera in Spanish – and thus did this word enter the geological lexicon). Drop by the El Paso Visitor Centre for camping permits and route maps. Treks include the Los Brecitos trail through a forest of giant pines; the Barranco de las Agustias, which follows a ravine; and La Cumbrecita, leading to the island's best viewpoint.
Down south, Fuencaliente ("Hot Fountain") was named after the thermal springs which were once believed to be a cure for leprosy (sadly, they were buried by a 17th-century volcanic eruption). The last major volcanic activity took place here in 1971 when Teneguía Volcano spewed molten rock and triggered an earthquake that made church bells ring. Clearly, La Isla Bonita's hot stuff.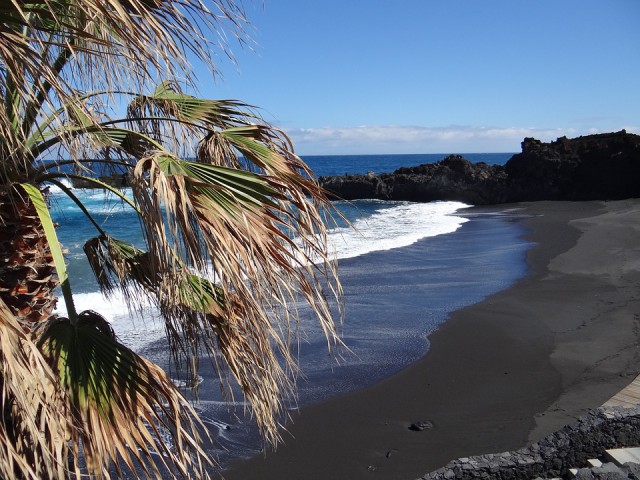 Also down here is the dark volcanic sand beach of Echentive, aka Playa Nueva (formed by that 1971 eruption, actually). It's especially popular with divers (whereas another black beauty, Nogales in the north, provides more of haven for naturists and surfers).
A final note about weather. You're no doubt accustomed to thinking of the Canaries as sun-drenched. Well, as their most northwesterly island (meaning farther from Africa), La Palma has plenty of that, but the weather can also get quite Manchester at times – rain is no stranger here. But that, of course is what makes it so green – and so bonita – come rain or come shine.
More information: HelloCanaryIslands.com.
Best Iberia fares from the U.K., from the USA.
Matthew Hirtes is the only broadsheet journalist living on Gran Canaria. He's covered the Canary Islands and beyond for the likes of The Huffington Post and The Telegraph travel section. His Going Local in Gran Canaria is a as much relocation manual as travel guide.
photos | borisov, Stephan M. Höhne, Frank Vincentz, Pixabay