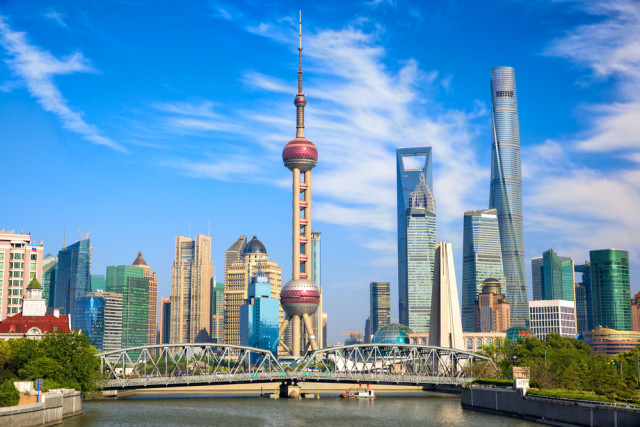 What's it like to visit the world's largest city proper (as opposed to greater metropolitan area, which is Tokyo)? A city on the mouths of the Yangtze and Huangpo River roughly midway along the South China Sea coast where the numbers boggle – 24 million spread across 6,340 square kilometres (2,450 sq. miles), now with a highrise skyline and megadeveloment that has transformed Shanghai a prime symbol of the thrusting 21st-century power of China while still preserving in parts a fair amount of traditional charm, the legacy of a history reaching back to the 8th century BC.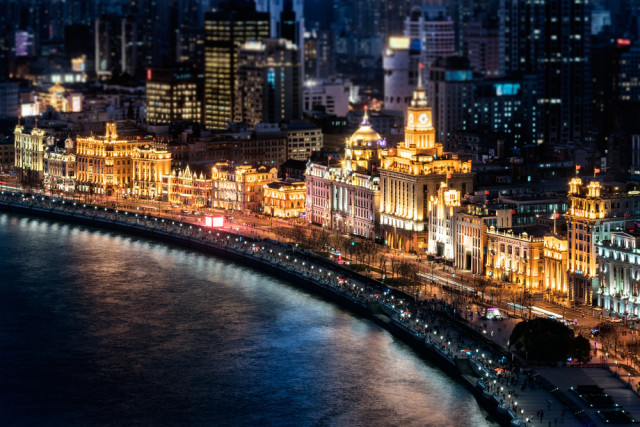 And as Iberia resumes three-flights-per-week service to Shanghai in October 2016, it's to a very different city than the one I first visited way back in 1993. As my companion and I strolled along the Bund (Waitan in Chinese), the 1½ -kilometre (nearly a mile-long) waterfront – people would actually stop and stare at us, even take our pictures. A quarter century later, this area is still quite recognisable – a broad promenade backed by the famous Peace Hotel and a few dozen other early 20th-century Art Deco, neoclassical, and neo-Baroque buildings built largely by Europeans in the 1880s through 1920s.
But gazing across the Huangpo to the east bank, the skyline of what is now the city's most populous district, Pudong (top), has been transformed into a towering, futuristic forest bristling with gleaming landmarks such as the Oriental Pearl Tower (completed the year after my first visit), where you can have a gawp from some 15 observation decks, eat in a revolving restaurant, and even spend the night at the Space Hotel.
Especially throughout downtown and central Shanghai, the old and new mingle – usually felicitously, such as the zone known as Xintiandi, an early-20th-century brick neighbourhood once part of the French Concession (one of the European settlements of the late 19th and early 20th centuries) that has been transformed into an upmarket shopping, dining, and watering holes; you can also find the small Shikumen Open House Museum (named after the style of houses found here), shedding light on how some locals lived in the early 20th century.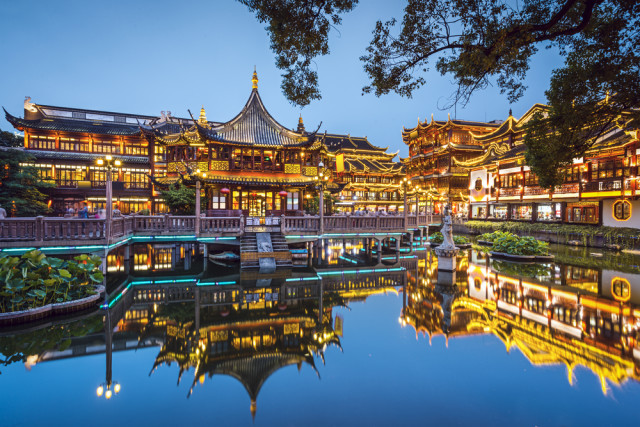 But beyond Pudong's modernity and the hybrids of downtown, there are still corners of this ancient city that amply evoke the classical past, such as the 16th-century Yu Garden, in the northern part of the Old City; its two hectares (acres) include some 40 striking pavillions and pagodas set amid artificial hills and ponds. Another is the Jade Buddha Temple, which though much newer (built in the 1920s) is a remarkable monument to the Buddhist faith, with its centrepiece the eponymous sitting jade Buddha, nearly two metres (more than six feet) high; not far off, the also impressive Jingan Temple includes such spectacular items as a 8.8-m. (29-ft.) silver Buddha as well as an imposing statue of Guanyin, a bodhisattva of mercy, carved from a thousand-year-old camphor tree.
More of that history and legacy can be appreciated in the Shanghai Museum, truly one of the world's most impressive troves of Sinic civilisation, with more than 140,000 artistic and archaeological artifacts dating back three millennia. It's housed since 1996 in a fancy new building in Renmin Dadao (People's Park), if you're still in a museum mood afterward you can stay in the park and visit the Shanghai Urban Planning Exhibition Hall, which lays out in exhibits and dioramas Shanghai's past, present and future. Also here is the Shanghai Museum of Contemporary Art, showcasing a truly world-class avant-garde (modern art fans may also want to head over to Pudong's China Art Museum, Asia's largest art museum).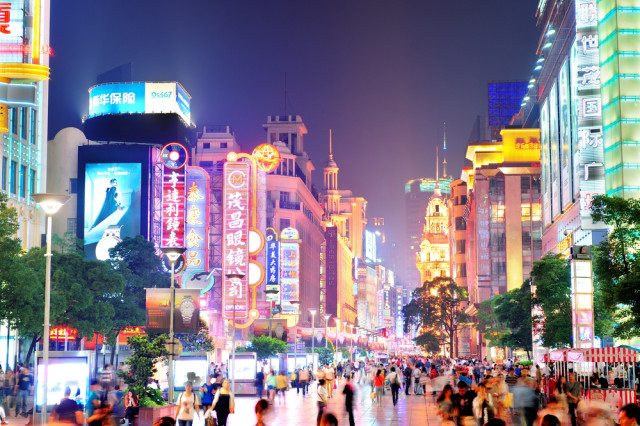 Shopping, dining, and culture are also big draw. You'll likely find yourself more than once on Nanjing Road, the city's commercial thoroughfare where I first experienced the crowds that brought home to me the reality of how immense a population lives in China, and today it's as glitzy and bustling as any prosperous shopping district in the world. Culturally, too, you'll find some of China's most diverse options, from traditional (Chinese acrobatics and opera) to a domestic and international music and club scene, from cool indie holes in the wall to major big-box clubs.
Finally, if you make it over here, don't pass up one or two of the various options for excursions from Shanghai, as well, such as the small outlying canal town of Qibao and the farther flung "water towns" of Nanxun, Tongli, and Zhouzhuang. Another very popular excursion is Suzhou, which in addition to its Venice-like canals is also a city of classic Chinese gardens.
More information: Meet-In-Shanghai.net.
Best Iberia fares from the U.K., from the USA, from Spain.


photos | dibrova, Yang Wei Chen, Sean Pavone, Songquan Deng