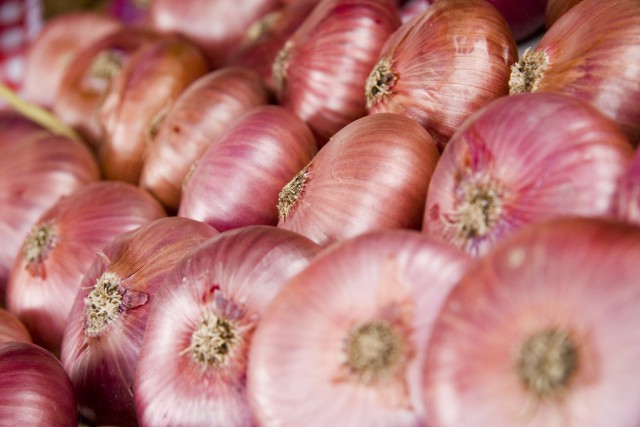 Consider the humble onion. Ubiquitous worldwide, it's practically impossible to imagine many world cuisines without it. And beyond lending flavour to so many countless dishes, onions have also been shown to boost the immune system; regulate blood sugar; reduce inflammation; promote good cholesterol; and even guard against cancer.
Now consider Spain. While this country is culinarily famous for so many things – both dishes and ingredients – one that's lesser known (even among not a few Spaniards) is the distinctive cebolla morada of the Basque Country.

A 40-minute drive southwest of Bilbao, the unassuming farming town of Zalla and its surrounding lands are pleasant and attractive, to be sure, and has a couple of good vineyards producing the crisp Basque white wine known as txakoli. But really, nothing too out of the ordinary for rural northern Spain. Zalla, however, is famous among certain circles – specifically the acolytes of the Slow Food movement, including chef Eneko Atxa of the three-Michelin-starred Azurmendi (a half hour's drive east), along with his counterparts at many of Spain's top restaurants.
Zalla's main claim to fame, you see, is the violet onion (aka purple onion) – mild and sweet, rather than sharp, with a definite terroir in the way of wine, cured ham, and truffles; there are just five producers. Atxa, for example, opines that this cebolla morada is even critical to the authenticity of some Basque dishes, such as salsa vizcaína (a red sauce made primarily from red pepper and sometimes also tomato) and chipirones encebollados (cuttlefish with onions). Azurmendi's chef, in fact, has become this onion's primary ambassador and protector, working to preserve this amazing heritage of food culture in northern Spain.
You can sample fabulous Basque cuisine making copious use of this onion at Zalla's main restaurant, Aretxaga, and the entire town itself celebrates its pride and joy every September during the Enkarterri Fest Gourmet (this year, Sept. 19-20).
More information: VisitEnkarterri.com.
Experience it for yourself, with best Iberia fares to Bilbao from the U.K., from the USA.
photo | Zallatur.com