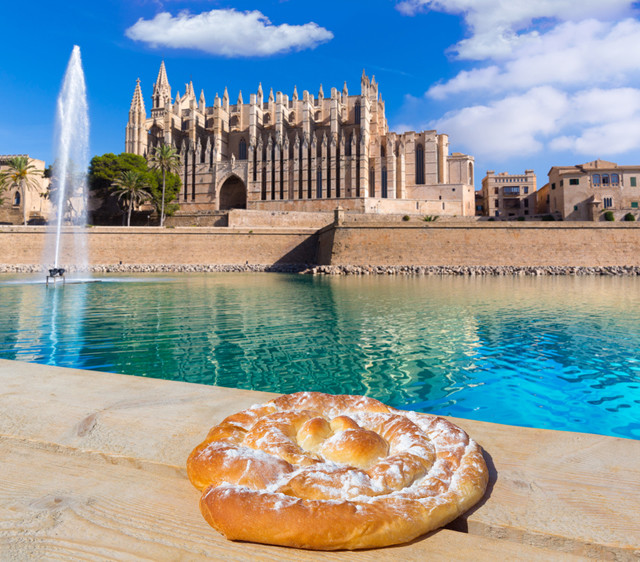 While Spain's Balearic island of Majorca certainly has a reputation as something of a "party isle", its charming, elegant capital Palma de Mallorca manages to be both festive and also a world away from the popular beach resort areas – ideal for a comfy winter getaway (temperatures in the low teens Celsius/low 50s Fahrenheit) for history, culture – and absolutely excellent eating.
Majorca cuisine is heavily influenced of that from the mainland, both Spanish and Catalan, and is largely what you'd expect from a Mediterranean island, with a few interesting twists. Pork is particularly popular, and one prominent local speciality is the highly savoury and spreadable sobrassada pork sausage. You would expect seafood to be another star, and it can be – for example, the prawns from around the town of Sóller. But if freshness is paramount to you, you'll need to check, as other seafood is frozen imports.
The Wine-and-Tapas Trail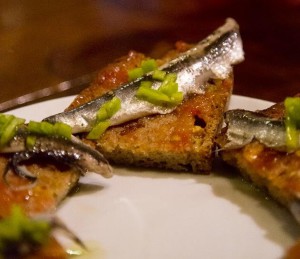 Dominated by its ginormous, 121-metre-high (397-foot) cathedral, La Seu, Palma town is filled with restaurants and tapas bars, but of course there are "tourist traps" and local favourites away from the main streets and squares. Having said that, the Plaça de Santa Eulalia and Plaça de la Seu squares are ringed by many, and well worth sitting outside, grazing, and people-watching (you may need to ask for the tapas menu, or go inside to make your choices visually).
If you want to experience some of the best tapas accompanied by a tutored tasting of Majorca wines, I highly recommend the wine and tapas tour (right) that took us on a four-hour walk to four tapas bars, tasting eight wines and having the sites of old Palma pointed out to us along the way (tours from 90 euros per person).
Then once you've got a bit of wine education under your belt, you can further indulge at Wineling, which offers 48 wines by the glass from the two Majorca denominations of origin, as well as an a nice selection of affordable tapas.
Wine is also very much on the list in addition to spectacular (if expensive) cocktails and desserts at Bar Abaco, which I also highly recommend for its lovely ambiance, in a traditionally decorated Baroque-era townhouse with a bar area filled with opulent, decadent displays of fresh fruit and flowers.
But back to food, among the fancier restaurants hereabouts, one of the best I found in town is Marc Fosh's Michelin-starred Simply Fosh in the Old Town's Hotel Convent de la Missió. It seves up modern Mediterranean cuisine that's light, imaginative, and uses local ingredients (how about loin of venison with pumpkin, orange blossom, anise, and yogurt?). The three-course fixed menu at lunch is quite reasonably priced at 26 euros, and vegetarian versions are available, as well.
On the lighter side, Es Robost on the main shopping street Avinguda de Jaume III, close to El Corte Inglés department store, and specialises in what it calls Majorcan "slow fast food", organic and locally sourced. Examples range from sobrassada sandwiches and tapas of another sausage, camaiot, and Minorca's maó cheese, to Balearic burballes pasta with local julivertada pesto.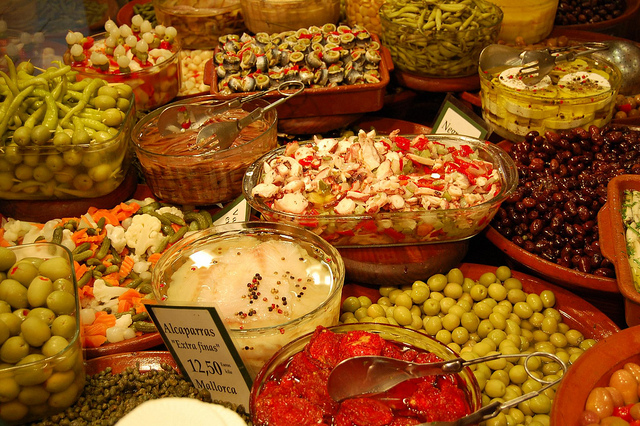 To Market, to Market
As a diehard foodie I find half the fun of travel is what I bring home, and Palma offers lots of opportunities for edible souvenirs – a spot of Balearic sunshine on your plate on your return.
Top of the list: Buy an ensaïmada or ten. These leavened, spiral shape pastries, either plain or filled with a variety of fillings both sweet and sometimes savoury, are often sold in traditional octagonal boxes that are found piled high in the island's bakeries and pastelerías. We visited the traditional pastelería Forn Fondo off the Plaça del Mercat; others particularly well known for ensaïmadas are Horno Santo Cristo on Carrer Paraires and C'an Joan de S'aigo, a ten-minute stroll away on Carrer C'an Sanç.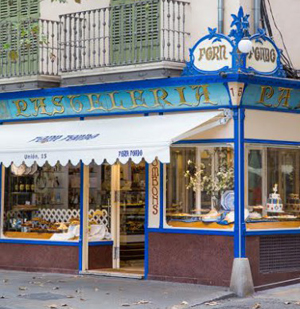 Another foodie/photo op must is the city's main public market, Mercat Olivar (open 7 am to 2 pm daily except Sunday), on two floors in the Plaça Olivar, near the Plaça d'Espanya, and there are also numerous small delicatessens dotted around the city, piled high with cheeses, chorizo, hams, and other delicacies. Sausages and fleur de sel (Balearic gourmet salt, available in myriad flavours) in particular make both budget- and hand-luggage-friendly gifts.
All the while, don't forget the city's highly engaging sites and attractions – in addition to the cathedral (with its the lofty vaulted interior, vibrant stained glass and Gaudí-designed restoration and decoration), spots like the superlative Joan Miró and Juan March art collections; the Gothic Sa Llotja maritime stock exchange; the Banys Arabs, a bath house which offers an intriguing glimpse into the city's medieval Moorish past; and of course the exciting beachfront (my refreshment recommendation: Anima Beach, with a high glamour factor among both staff and patrons).
But for me, there's absolutely no question that my foodie side finds Palma even more delicious.
More information in English: PalmaVirtual.PalmadeMallorca.es.

Best Iberia fares from the UK, from the USA.
Helen Best-Shaw is a full time food and travel blogger at Fuss Free Flavours, as well as a photographer and recipe developer.  When Helen isn't travelling the world, she lives in West London.

photos | holbox, Helen Best-Shaw