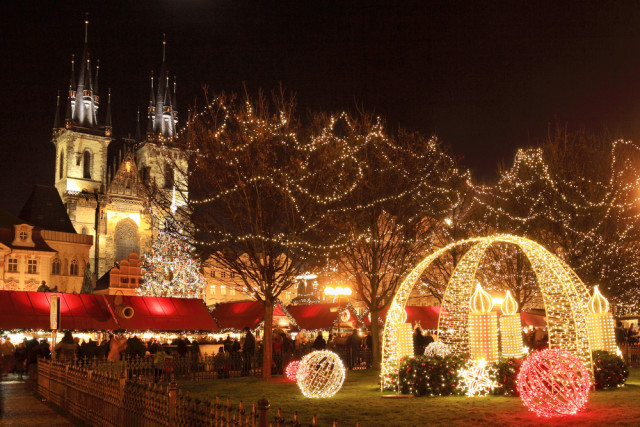 Millennials and other younger folks may find it hard to imagine, but not so long ago, one of Europe's loveliest cities was locked away from most travellers behind the Iron Curtain, and Christmas as a festive public display was non-existent there. These days, the already spectacular cityscape of the city dubbed "magical Prague", imbued with holiday cheer and festooned with holiday decorations and events, makes an irresistible addition to the continent's Christmas travel circuit. It was here in Bohemia, after all, that good King Wenceslaus looked out on the Feast of Stephen.
Amid the picturesque markets and the gaily lit streets and lanes of Old Town Prague, a Yuletide holiday in the Czech Republic's capital is a memorable experience whether you're travelling alone, with friends, or loved ones (even if it's usually too early in the winter to offer that extra postcard dusting of snow).
These days there are five Prague Christmas markets, but most not to miss is the one in Staroměstké Náměstí (quite a mouthful, I know – how about simply Old Town Square), the dramatic plaza in the heart of the historic centre, which beyond its picturesque Baroque facades is also distinguished by the double-spire Týn Church, the Baroque St. Nicholas Church, and of course the world-famous astronomical clock of the former city hall. Come in the late afternoon, and you may be lucky enough to catch performances of Christmas carols by school groups from across the country.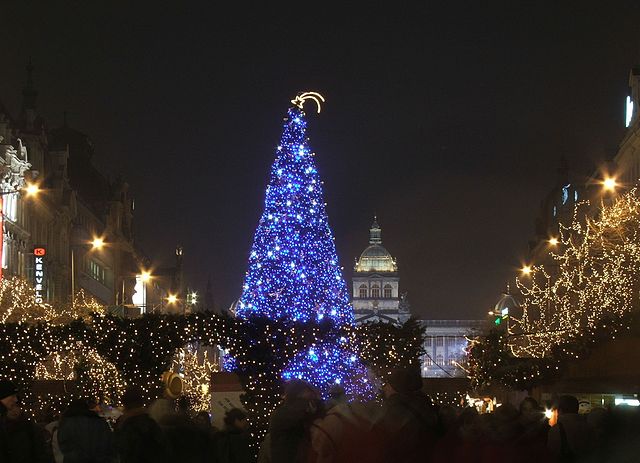 There's another market several blocks away in central Prague's other main square (though it looks more like a boulevard), the more modern Václavské Náměstí (aka Wenceslas Square, as in Good King), home to another of  the bustling Prague Christmas markets (above). Between the two, the regular Havelská Street Market goes full Yule at this time of year, and another significant plaza up beyond Wenceslas, Náměstí Miru (Peace Square), is host to yet another holiday market. Other smaller ones dotted throughout the city include Kampa Island (the islet tucked under the amazing Charles Bridge) and up the hill at majestic Prague Castle. It you still haven't had your fill, you can always hop the metro up to the fairgrounds in the city's Holešovice district.
The gaily lit, colourfully decorated stalls at all of these markets traffic in not just Christmas ornaments and other seasonal baubles, but plenty of the delightful stuff for which this city and country are famous – perfect as Christmas gifts but also splendid mementos of your visit. Some of the top choices include Czech crystal and glassware, puppets, wooden toys, embroidered lace, and dolls decked out in colourful folk costumes.
And of course food plays a big role in the proceedings – from traditional baked goods (including holiday specialities such as vánočka, a braided, brioche-like sweet bread) to hot mulled wine, called svařené víno (or simply svařák for short). Just to add the yummy cherry on top of all this merry and bright.
So as the Czechs say, a hearty Veselé Vánoce (Happy Christmas)!
Best Iberia fares to Prague from the USA, from Spain.

photos | Kajano, Hynek Moravec