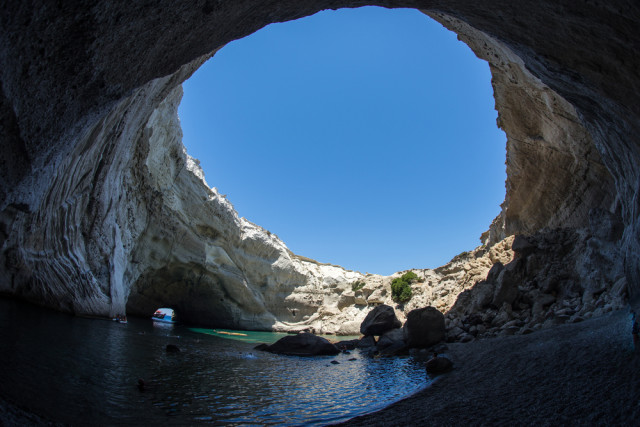 The southernmost of the Cycladic Islands of the Aegean Sea – perhaps best known as the source of the Louvre's immortal Venus de Milo – Milos' most authentic and historic approach is from the sea. Coming into port aboard a commercial ferry or yacht, it's not hard to imagine the Turkish pirate and Ottoman navy general Khair-en-Din (better known as Barbarossa) on the deck of his corsair, red beard flying, as he sailed into the harbour of Adamas.
Milos has always beckoned to sailors because of its 124 kilometres (77 miles) of coastline; 71 beaches; and safe harbour at Pollonia, once favoured by pirates as it offered them three escape routes to the sea.
In addition to those fetching strands, along with classic whitewashed villages and attractions like paleo-Christian catacombs and several good museums, for me a very special highlight of Milos is its spectacular natural rock formations and sea caves, which over the centuries provided shelter, refuge, water, and storage, along with hiding pirate treasure. You can explore various of them via kayak or boat excursions out of Adamas (one of my favourites, the sparkling Sailcat catamaran, picks you up in front of the Hotel Portiani – highly recommended, by the way – and includes lunch aboard prepared by the skipper).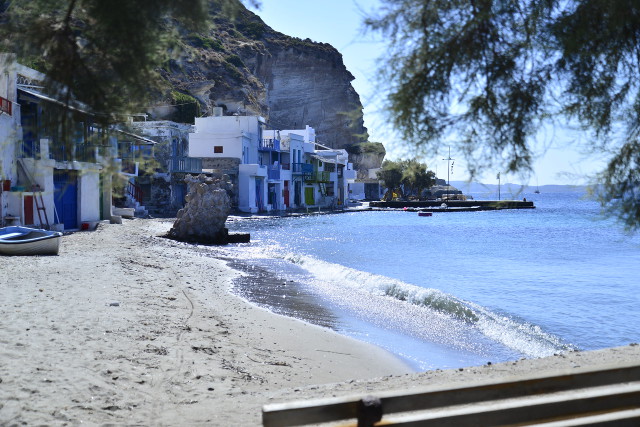 And near the port of Adamas lie one cave of particular note. Natural but expanded by the locals under forced labor by the Nazis during the German occupation of World War II, it was reconfigured by engineers from the island sulphur mines to stash Nazi munitions destined for the North Africa theatre. Milos was the last island in Greece to be liberated in the war, and the cave was also used as a refuge from Allied bombing.
Today, however, the ever-resourceful islanders have come up with new, more pacific uses for this hole in the ground. For starters, the Refuge Project has filled it with art by 17 contemporary Greek artists (see video below), and in addition, its deep, seawater-filled cisterns have just recently been adapted to age locally produced wines by a concern headed by a businessman Panotis Vichos. A blend of Cycladic indigenous white grapes including the popular Assyrtiko is made on the island by winemaker Kostanakis, matured in French oak and then submerged in the cisterns for a year. Sommelier tastings of the initial experimental production of 300 bottles have been positive, and Milos officials including Mayor Gerasimos Damoulakis are hoping that commercial production will bring wine tourism to Milos. Although not yet released to the general public, future vintages of the spilia (cave wines) will be soon available in select restaurants; at Vichos' shop Paradosiaka Edesmata ("Traditional Delights") in Adamas; and via the Kostanakis website.
Other caves called syrmata, dug out by fisherman from the surrounding soft rock walls rising from the beaches, can be seen around the ancient town of Klima (above) and several other seaside villages. After the threat of invasion by pirates and Turks abated in the mid-19th century, these became summer houses. From the water they look like sugar cubes, with rainbow colors painted on the doors and shutters. The syrmata dwellings are much sought after, and traditionally passed down within families. Be respectful and smile when visiting the beach and one of the "old-timers" might invite you in for a biscuit and a peek in to see their boats pulled right into the spotless living rooms.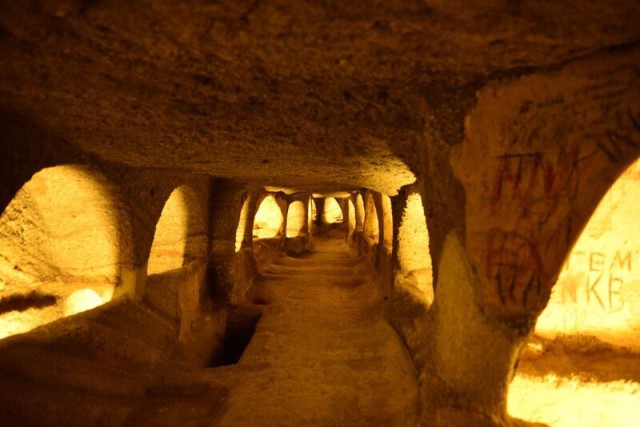 For those who prefer their caves underground, tours are offered of the Catacombs of Milos (above). Located between Klima and the village of Trypiti, they are a series of burial rooms where in the first years of the first millennium Christians held services in secret to avoid persecution by the Romans who then ruled these islands and would not enter the caves of the dead.
Then, nearby on an upper road leading to a partially restored amphitheatre overlooking the sea is a marker indicating the area where the Venus de Milo (dating to circa 150 BC) was discovered by local farmers. A replica of this statue and other ancient discoveries are on view at the Archaeological Museum of Milos in Plaka.
If caves, wine, beaches, beauty and history are not enough, there's always the food. Specialties to try include watermelon pie, gargantuan capers, octopus, crab, grilled skorpina (a local fish), dried tomato paste, wild honeys, and under-the-sand "volcanic" cooking right on the beach at Paliochori. Hungry as a pirate? Try Ergina restaurant in Trypiti for outstanding traditional cooking by the owner; Armenaki in Pollonia, owned by chef/sommelier Antonios Mavrogiannis (do ask him to pair your food with local wine); or Alevromylos restaurant, also chef-owned, and where you should ask for the special rose-geranium infused drink to start.
More information in English: Milos.gr, MyMilos.gr.
Best deals to Athens from the USA, from Spain; Milos is then a 45-minute onward flight from Athens on Aegean Air and 2½ to six hours by boat.

Michelle M. Winner has been traveling the world for most of her life, first as a flight attendant, then a hospitality designer, and for the last 18 years as a travel writer. Her work has appeared in Islands, AFAR.com, and HonestCooking.com, and her website is CulinaryTravel.com.


images | siete_vidas, Kurt Winner