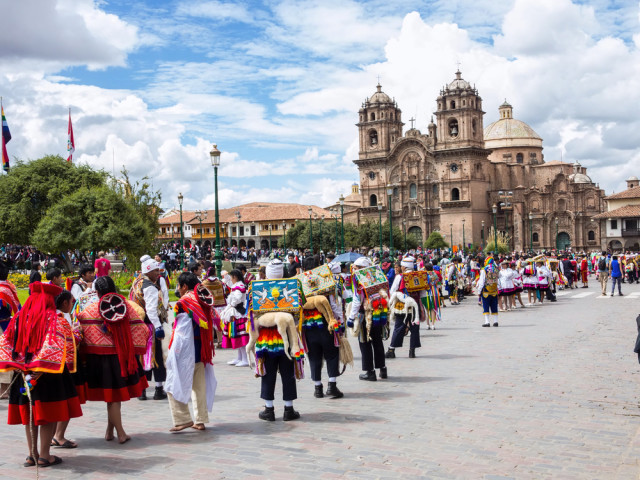 In Peru's south, some 3,400 metres (11,200 feet) up in the Peruvian Andes, one of Latin America's most fascinating small cities is one of the country's most popular destinations thanks to its quite unique mix of adventure travel options but most especially Spanish colonial architecture mingled with extraordinary pre-Columbian Inca sites. It's an absolute bucket-lister for all travellers, and here's why. 
Any exploration of this city of about 435,000 (whose name is also widely spelled Cusco, and in the local Quechua language is Qosq'o, also rendered Qusqu) begins at its Plaza de Armas, the spacious colonial square in the heart of downtown. It's dominated by the city's ornate cathedral (completed in the mid-17th century atop a razed Inca temple), flanked by two other churches, the Iglesia del Triunfo and the Iglesia de Jesús María. Inside, the cathedral is especially notable for its Cuzco School paintings of religious themes given a particularly local twist by converted Inca artists, as well as the venerated crucifix of Our Lord of the Earthquakes, credited with cutting short a huge quake in 1650.
All well and good, but for most visitors, the real draw here is the remarkable remains of the Inca Empire, of which Qosq'o was the longtime capital from the 13th century until the Spanish invasion in 1533 – one of the main reasons it was early on designated a UNESCO World Heritage Site. At the top of the list is mid-15th-century Qorikancha, a once-splendid site containing temples to the moon and the sun, and featuring gold statues and gold-lined walls (looted and melted down immediately, of course). All that remains are an impressively massive foundation of massive interlocking stones, now holding up a Dominican monastery. Another building resting on pre-Columbian foundations is a 17th-century colonial manse which these day houses the Museo Inka, with a fine collection of both Inca artifacts and informational displays about the rise and fall of the empire.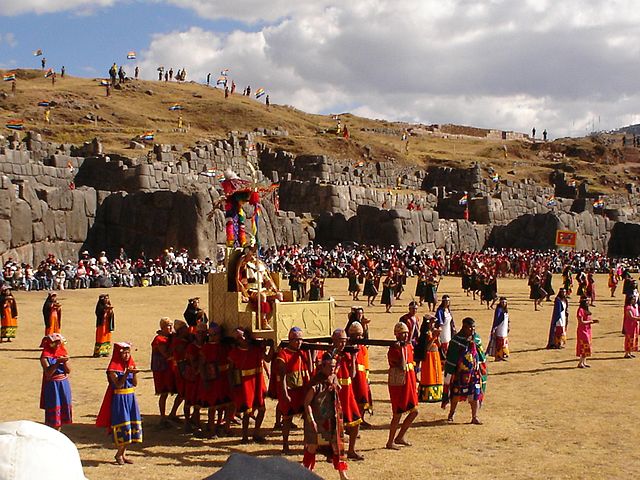 You might, however, see the above as just a warm-up for the main event in Cuzco – actually a short ride north of downtown. The Inca citadel Sacsaywaman was built and then enlarged out of more massive stone blocks in the 12th and 13th centuries, and though it's in ruins today, it's still a breaktaking sight (and if you tour here with a guide, he'll inevitably come out with the observation that the name sounds like "sexy woman" – groan). It's also the site of two of Cuzco's biggest annual festivals: Inti Raymi (above) on June 24 and Warachikuy on the third Sunday in September. Both are colourful extravaganzas with much pageantry, music, dancing, rituals, and other celebrations of traditional Andean culture.
The vibe in the city itself is very dynamic and young these days – tourism rules, and there are plenty of restaurants, pubs, and accommodation for everyone from shoestring-travel backpackers to luxury travellers (who can enjoy the option of soaking in the atmosphere at hotels converted from colonial townhouses, palaces, monasteries, and the like, such as El Monasterio, El Convento Cusco, and El Palacio Inka).
Visitors to Cuzco almost always set aside time as well for an excursion to the legendary "lost city of the Incas", the inimitable Machu Picchu, which can be reached by train or by the heartier/more adventurous, a multiple-day hike along the Inca Trail. Others also explore the Sacred Valley of the Incas to Cuzco's north, particularly the towns along the Urubamba River such as Pisac, Calca, Ollantaytambo, and Urubamba itself, with native Inca markets, their own Inca archaeological sites, and bracing soft-adventure activities in the surrounding countryside.
One final note: one important word for visitors here is soroche – altititude sickness. Up at 3,400 metres (11,150 feet), it's really a thing, and on my first visit, I was told to not eat any heavy meals or do strenuous activity at first. So what did I do? A splendid Andean feast the first night – and almost immediately, trying to walk two blocks uphill back to my hotel, I developed a splitting headache and even found myself practically on hands and knees. It robbed me, as I recall, of nearly a day of experiencing the wonders of Cuzco and its region. Take heed!
For more information, start at the Peru Tourism Board website; many local tour operators also run good informational sites that you can very easily find via search engines.

images | Vladislav T. Jirousek, Cyntia Motta