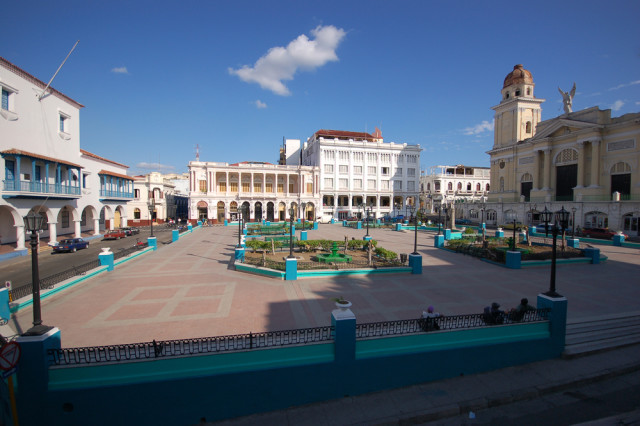 When it comes to cities in Cuba, capital Havana does hog a disproportionate share of the attention – and it's not hard to understand why. But at the southeastern tip of this island country, 870 kilometres (540 miles) from the capital, is another which amply deserves to be part of any visit to Cuba. One of the first of many settlements in the Americas to be named after mother country Spain's revered pilgrimage city of Santiago de Compostela, the bayside port of Santiago de Cuba is this country's second largest urb, and one with a distinctly different personality to Havana's. 
A City of Firsts
With a population just over a half million, Santiago was in fact founded a year earlier (1514) than Havana, and traces of that long history can be found in a small but fine old quarter with cobblestone streets and remarkable landmarks such as the classically Baroque Cathedral of Our Lady of the Assumption, the first in Cuba (the current structure dating back to 1555 after the original burned down). Across from it on the other side of Céspedes Park, the Diego Velázquez House was the residence of the island's first governor; reckoned to be the oldest home still standing in the Americas, it's now a museum of the life and times of colonial Cuba. Speaking of museums, Cuba's first (1899) is the handsome, neoclassical Emilio Bacardí Moreau Museum, an interesting mixed bag of archaeology, Cuban art, and the country's pre-Communist history.
Outside the city centre, tourists are often driven by the Art Deco Moncada Barracks, built in 1938 and where Fidel Castro and Che Guevara's guerrilla band essentially launched the Cuban Revolution with its attack in 1953 (there's a small museum near one of the gates). Other top draws include the San Pedro de la Roca fort (aka El Morro Castle), a UNESCO World Heritage Site thanks to its "exceptional" military architecture, built in the 17th century mainly to protect the city against pirate attacks. And out on the western edge of the city, Santa Ifigenia Cemetery is one of the hemisphere's more distinguished necropolises, in the league of Havana's Colón, Recoleta in Buenos Aires, and even Père Lachaise in Paris; among the notable figures interred here is Cuba's highly revered independence hero (and local son) José Martí.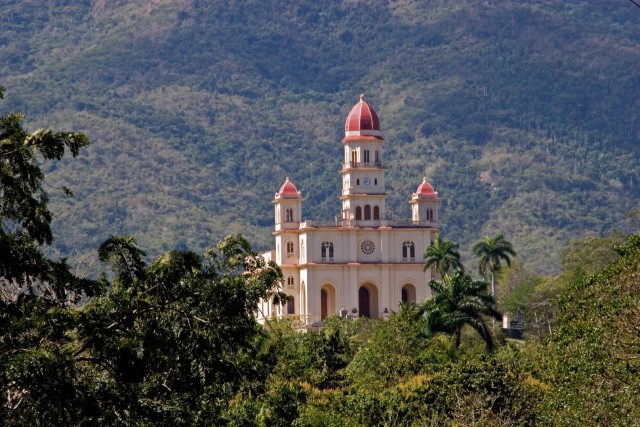 A bit farther afield, some 60 kilometres (37 miles) outside the city, 849-square-km (328 sq-mi.) Baconao Park is a UNESCO World Heritage Biosphere Reserve, and makes a great day trip with a variety of activities. Besides birdwatching and hiking (including up to an enormous boulder called La Gran Piedra, offering sweeping views from atop), there's an aquarium; a botanical garden; a car museum; a park with lifesize sculptures of prehistoric creatures; and a reproduction of a village of the pre-Columbian Taíno Indians, who were largely wiped out by the Spaniards.
But perhaps the most highly notable landmark in the area, in the Sierra Maestra foothills just above Santiago, is the neo-Baroque Basilica of Our Lady of Charity of El Cobre, built in the 1920s and dedicated to Cuba's patron saint – and famous for being the only place in Cuba where regular people can post messages critical of the régime.

Cuban Culture Powerhouse
Besides all these cool attractions, Santiago also is known for its cultural and especially Cuban music scene. The conga originated here, as did son, the root of salsa, along with the likes of 1950s bandleader Desi Arnaz and Buena Vista Social Club's Compay Segundo and Ibrahim Ferrer. Top musical venues include Café Cantante, Casa de la Trova, and Casa del Caribe.
One final note worth making about Santiago is that it's also especially notable as a centre of and music venues, as well as for its high percentage of Afro-Cubans and practice of santería, a Catholic/traditional African hybrid comparable to Haiti's voudon (and in fact, in addition to being the practice among the original Yoruba slaves of the area, it was also bolstered by an influex of Haitian immigrants in the 19th century). There are no formal temples, but visitors can ask around – hotel concierges, owners of their holiday rentals, and so forth – about availability of private worship ceremonies that might be willing to invite them as observers.
If you can make it here the last week in July for the pre-Lenten Carnaval celebration that's one of the Caribbean's most joyous, it will be an unforgettable experience (and be sure to book well ahead, because the lodging situation is still rather more limited than it is in Havana). But even if not,
More information in English:  SantiagodeCubaCity.org.


images | Libor Píška, Sheeper, dubes sonego