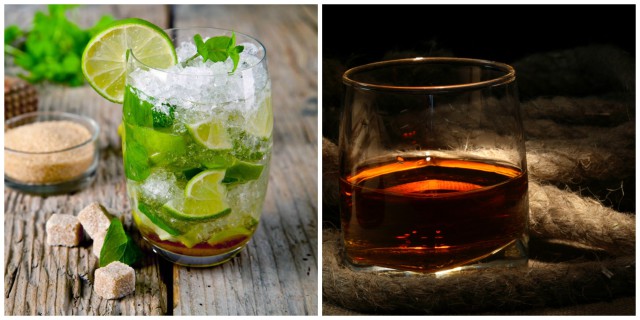 Rum has been with us for many centuries, with fermented precursors originating in antiquity in Asia, the ancestral land of sugarcane. But when cane was established as a huge cash crop in the Caribbean in the 17th century, the discovery of molasses led to its distillation, and popularization in Britain's 13 North American colonies, the U.K. itself, and thence beyond.
Today, many islands and countries of the Americas are still known as the finest and most prolific producers of rum. Here's a round-up of the top five among Iberia destinations – to inspire you to go experience them in situ and in person – whether mixed in the likes of mojitos and daiquiris, or savoured in a snifter!
Cuba
For many around the world, this country has long been synonymous with top-flight rum, and Havana Club (dating back to 1878) is its standard-bearer, as well as one of the world's top selling brands. There are around 10 grades and ages, ranging from white Añejo Blanco (aged one year), used as a mixer, up the ladder through several sipping rums, culminating in its richly amber 15-year-old blend. Various other less famous Cuban brands definitely have their fans, as well, such as Matusalem, Ron Santiago, and Ron Varadero.
Dominican Republic
The ubiquitous names in the birthplace of rum are Brugal, Barceló, and Bermúdez (this last established by the descendants of a sailor on the Christopher Columbus expedition who first brought sugarcane to the Americas); all three offer distillery tours. As with Cuban, there is a bewildering variety on tap, from workmanlike, white mixing rums to sippers of exquisite smoothness and complexity (the rarer additions costing thousands). There are other fine brands, as well, including Macorix, Siboney, and newfangled boutique brands such as South Bay.
Guatemala
There isn't the diversity of product here you'll find in the Caribbean and elsewhere in the Americas – in fact, there are basically two main brands, Botrán and Zacapa. Both of their rums run to the sweet and syrupy side (often in a good way, if that's your taste), and other unique characteristics include use of sugarcane subtly flavored by being raised in volcanic soil, as well as some of their rums being aged in hilly areas up to 2,300 feet above sea level, where the cool air slows down the aging process. The main difference between the two is reputation: Zacapa is considered the more glamorous one (and more widely exported) while Botrán is more of a supermarket and neighborhood pub staple.
Nicaragua
The handful of rum producers in Central America's largest country include Fortuna, Mombacho, and Plantation, but the most heralded is Flor de Caña, produced since the 1930s and winner of numerous international awards, especially in the past 15 years or so.  FDC currently produces 10 rums, with the top of the line being Centenario 25 years. Its distillery and slick visitor center in the northwest of the country make an interesting visit.
Panama
Another small country, Panama, has a handful of brands including, most prominently, Abuelo, Malecón, Panamonte, and Zafra. Venerable Abuelo and newcomer Panamonte are perhaps among the most prestigious (one of the best in the world at the moment is limited-edition Ron Abuelo Centuria, a dark blend aged up to 30 years). You can also visit Abuelo's Hacienda San Isidro, in a valley three or so hours' drive from Panama City.
USA
"Demon rum" has been popular in the United States since colonial days, and this country remains the world's largest producer – thanks these days largely to U.S. Commonwealth Puerto Rico, home to Don Q, Captain Morgan, and especially Bacardí, privately held by the eponymous family of Cuban exiles. Bacardí is the king of the cane. It offers more than two dozen products. The Bacardí factory outside San Juan is quite the multimedia extravaganza. There are also dozens of fine boutique and regional rum producers all across the country, such as Bayou (Louisiana), Cruzan (U.S. Virgin Islands), Maui Dark (Hawaii), Owney's (New York City), and Privateer (Massachusetts); many also welcome visitors.
Venezuela
Local producers include Cacique (the top selling), Pampero, and Diplomático. But in some ways the most notable is also the hemisphere's oldest: Hacienda Santa Teresa, established way back in 1796. It uses the solera method of aging, similar to that of Spanish Sherry. Its top of the line is Santa Teresa 1796, a heady blend of rums from between four and 25 years old.  Located outside El Consejo, an hour southwest of Caracas, Hacienda Santa Teresa is another great place to visit, also offering mixology workshops and a fine restaurant.
Cheers, and see you on the American rum trail!
Sheri de Borchgrave is a longtime wine and spirits writer who has written for many prestigious publications including Travel+Leisure, Islands, The Robb Report, and Cottages & Gardens, where among other things she has a column called "Liquid Liaisons".  And Sheri is of course a particular fan of rum.


images| Shutterstock