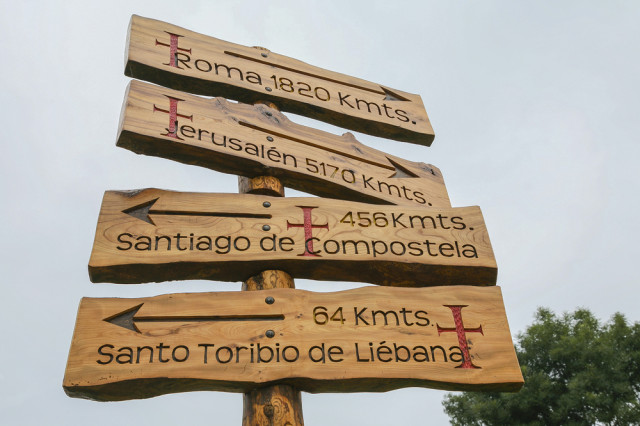 You've no doubt heard of northern Spain's Camino de Santiago (Way of St. James), the pilgrimage route to Santiago de Compostela. And quite likely, too, the north's region of Cantabria. But did you know that one of the most revered sections of the routes to one of Christendom's most revered sites runs through this lush, green land? 
This 53-kilometre (33-mile) stretch, called the Camino Lebaniego (Liébana Way) is actually a bit of a detour south into Cantabria's lovely hinterland, and is named for its destination, the Romanesque monastery of Santo Toribio de Liébana, built over several centuries and completed by the early 12th century. This, believe it or not, is considered on a par with Jerusalem, Rome, and Santiago as one of the four most sacred spots of Catholicism, thanks in large measure to its possession of what the faithful believe to be a splinter of the Lignum Crucis, the cross to which Christ was nailed. Furthermore, early 2017 is slated to be particularly big hereabouts as it's this monastery's "jubilee year", celebrated since 1512 in years in which the April 12th feast day of St. Tiburius falls on a Sunday; all sins are forgiven the faithful who come to observe the occasion after prayer, confession, and a pilgrims' mass.
Those who traverse La Lebaniega (on foot, horseback, or bike), known also as La Lebaniega, even have their own monikers, crucenos or cruceros. In addition to a specific set of stops, it also has the distinction of connecting and creating a crossroads with the two main east-to-west routes to Santiago, the French Way and the Northern Way.
But actually, any year, or time of year, the La Lebaniega offers not just the potential for spiritual growth and self discovery, but also some of Spain's more spectacular valleys, hills (even mountains, of the Picos de Europa), rivers, and meadows, as well as inspiring architecture dating back more than a millennium.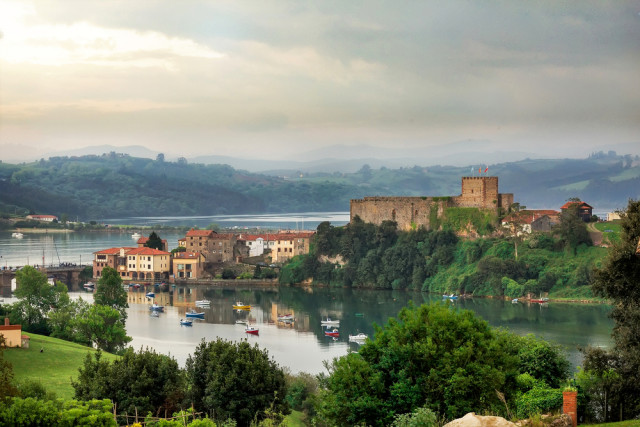 The route begins in the historic beach town of San Vicente de la Barquera, which apart from the friendly welcome accorded to pilgrims is also distinguished by impressive landmarks such as its medieval castle, bridge, and Gothic church of Our Lady of Los Ángeles (right next door to the pilgrims' hostel, in fact). Near town, Oyambre Nature Park) offers an exquisite taste of Cantabria ecotourism offerings.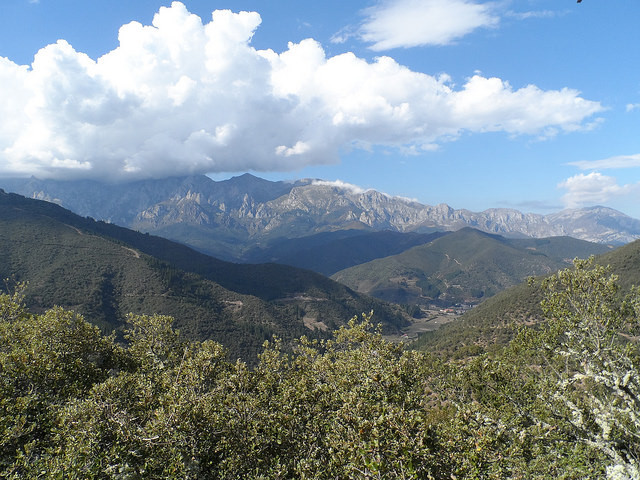 Next stop, barely three km (two mi.) south, is the town of La Acebosa, followed by Hortigal, after which the roads are signposted as part of the Camino. The scenery becomes hillier, with the bucolic greenery surrounding you lending a sense of freedom and connection to the natural world.
The first leg of the route passes through villages and towns including Serdio, Gandarilla, and Bielva (population just over 200), this last distinguished by a small 19th-century hermitage that's home to the Christ of Bielva, a folk carving venerated by locals and pilgrims and honoured with a festival come mid-May; at all times of year, some pilgrims approach the nearly 300 steps to the hermitage barefoot and on their knees.
In village along the way, even tinier Cabanzón, will impress with its 12th-century tower-fortress and its signature "Encinona", an evergreen holly oak that's one of the region's oldest trees, with a width of more than 10 metres (33 feet); beneath its dramatic canopy is a bench where folks can sit and drink in the lovely landscape around the nearby Nansa River. The endpoint of the first third of the Lebaniega is usually Cades, known for its mid-18th-century foundry, open for tours and demonstrations.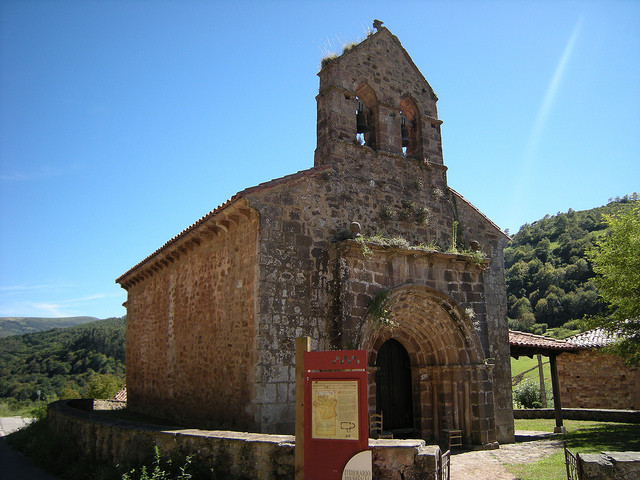 The second stage picks up at Sobrelapeña, whose leafy surrounding include a natural spring that provides a great pick-me-up to travellers. Then just at the entrance to the town of La Fuente you'll find the Santa Juliana Church, a superb (and superbly preserved) rural exemplar of Romanesque dating from the beginning of the 13th century, featuring a wooden nave and some quite beautiful columns. Continue up to Burió, then along country roads to Collado de Hoz and its overlook, 658 metres (2,160 feet) above sea level, with panoramic views of the Lamasón Valley – one of the most outstanding natural scenes you'll find on the entire Lebaniega.
A dip in the route will then take you down to Cicera, another lovely town especially known among pilgrims for its magnificent pilgrims' hostel as well as its parish church, built in mountain Baroque style. Heading back uphill again, we pass through a dense forest of oaks, chestnuts, and beeches covering the Arceón Pass and La Hermida Pass, more panoramic spots whose views will totally make your jaw drop.
From there, it's on to Lebeña, with standouts including the exquisite, 10th-century Santa María Church, whose slender columns, vaults, and other features comprise one of Spain's foremost gems of the Mozarabic style characteristic of Moorish craftsmen who converted to Christianity after the Reconquest. This second stage of the Lebaniega ends at Cabañes up in the eastern Picos de Europa, another treasure both scenically and architecturally.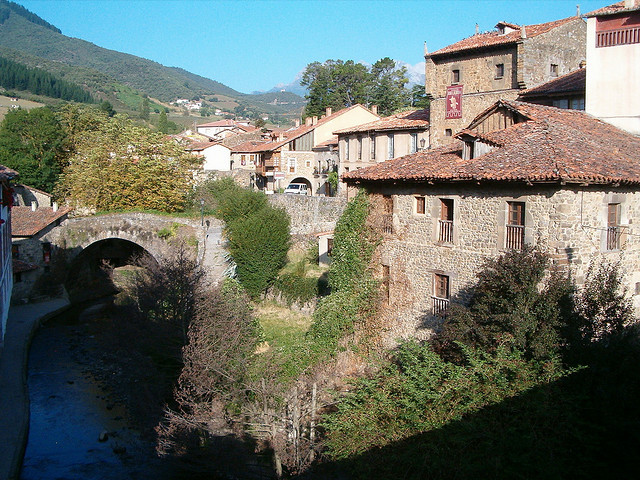 The home stretch is the shortest of the three – only about 13 km (eight mi.), which allows us to focus even more on some of its high points. Coming down from Cabañes, pilgrims pass through the Habario de Pendes, a forest of more than 200 ancient and monumental chestnut trees, then through the town of Castro Cillorigo, whose top draw is the 17th-century San Francisco Hermitage. This area of the shire of Liébana is a roomy plain which marks the end of the mountainous part of the Lebaniega; from here on down, it's flatlands all the way, though still replete with magnificent scenery.
Next up down here is Tama, site of the Picos de Europa Interpretation Centre, where you can learn in detail about the topology, flora, fauna, and human cultures of this region throughout history. Then comes the penultimate stop, Potes, at the meeting point of Quiviesa and Deva rivers as well as the shire's four valleys; its architecture and cobblestone streets are like something right out of a medieval legend; especially don't miss the Torre del Infantado, the 14th-century bastion that today houses the town hall, and a hearty bowl of cocido lebaniego, the quintessential local stew of chickpeas, potatoes, and pork products.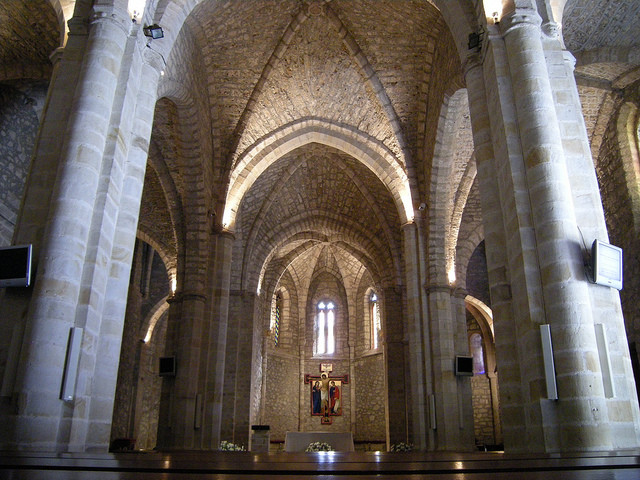 Finally, some four km (2½ mi.) from Potes, lies the holy grail (so to speak) of the Camino Lebaniego. Cantabria's westernmost town, Camaleño, is the proud home of the St. Toribius Monastery, a mix of Baroque and Gothic. A Franciscan monk explains to visitors the history of the monastery and its precious relic – the wood believed to be part of the "true cross", housed in an elaborate, cross-shaped gold case – and the faithful also have the opportunity to touch and kiss it. The smaller of its two front doors, the Puerta del Perdón (Door of Forgiveness) is opened only during jubilee years to admit pilgrims.
Finally, a couple of notes about practical preparations for this extraordinary trek. Pilgrims will want to bring sufficient cash to last them the entire route, as there are no ATMs anywhere along here (they will, however, find free wi-fi along some sections!). It's also a good idea to reserve a spot at pilgrim shelters and hostels ahead of time. Get details on these and other aspects of the entire Camino Lebaniego at CaminoLebaniego.com/en.

images | José Ramón Solsona; Juan Carlos B; Chris; José Antonio Gil Martínez; Sergio; José Antonio Gil Martínez.