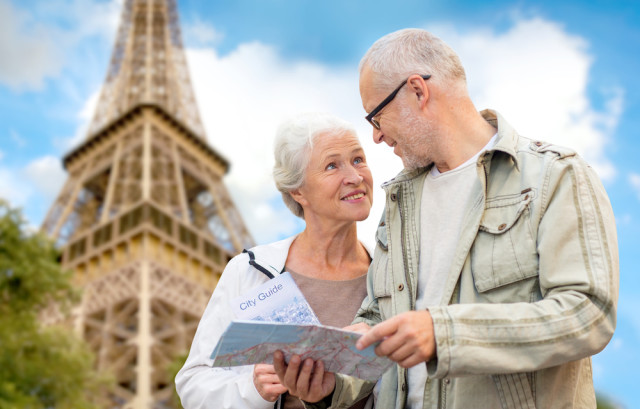 One of the many marvellous features travel today is the ever expanding options and destinations open to my generation – baby boomers in our 60s and beyond – a generation that possibly more than any other in history has retained its vigour and curiosity for continuing to discover the world in their "golden years".
And of course many are the places where folks "of an age" can indulge their travel bug – from exquisite city breaks to soft adventure on every continent. My own preferences lean toward the former, so here are 9 of my own top choices, based on their mix of attractions/culture as well as ease of getting around via walking and/or public transport.
Barcelona
The Mediterranean's most exciting city is an awesome amalgm of beaches, culture, and shopping/dining/nightlife. The most visited tourist attraction (and one of the world's most photographed buildings) of Catalonia's capital is the Sagrada Familia, the delightfully phantasmagorical church designed by Antoni Gaudí and largely finished but not completely until the mid-2020s. Other early-20-century modernist architecture is also a huge draw, from Gaudí's Casa Batlló to the spectacular opera house Palau de la Música.
The historic Gothic Quarter is a remarkable area dating back to Roman times, while the Ramblas area is a bit more modern and funky, and the waterfront (Barceloneta, Port Vell, Port Olímpic) has become a hot go-to spot for dining, nightlife, and some attractions such as the superb aquarium. The city's museums are superlative – especially if you're a fan of Dalí, Picasso and Miró – and so are the restaurants, with Catalan cuisine a world star, with options for all pocketbooks.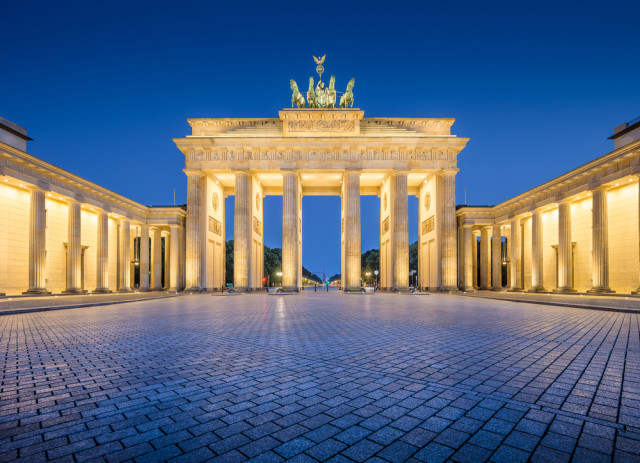 Berlin
An elegant city and major influencer of world history in both the 19th and 20th centuries, Berlin had a rough few decades in World War II (when it was massively bombed) and the Cold War (when it was traumatically divided), but since east and west were reunited in 1989, it has become a dynamic and absolute bucket-list destination, with a remarkable menu of historic sites and cultural activities. Graffiti covers the few remaining chunks of the Berlin Wall, and the Communist-era crossing at Checkpoint Charlie is a major tourist attraction, as is the Holocaust Memorial, built in 2005.
Other emotional high points of my visits to Germany's capital include the iconic Brandenburg Gate, the Reichstag Building, and the awesome Pergamon Museum (home to the world-famous Ishtar Gate among other treasures). Also do visit the august Adlon Hotel mentioned in myriad spy novels – before you go, read one or two of them, as well as Christopher Isherwood's novels Mr Norris Changes Trains and Goodbye to Berlin (inspiration for the musical Cabaret) set before WWII.
Buenos Aires
Don't cry for me, I absolutely love this charming and wonderful South American capital with its strong European feel. The iconic and beautiful Casa Rosada, where Evita Perón addressed her adoring public from the balcony; the impressive Plaza de Mayo in the center of the city; MALBA the outstanding museum of Hispanic art, Teatro Colón and La Recoleta, the elaborate cemetery which includes Evita's tomb is buried, are all on the must-see list. And of course sample the legendary Argentina beef and Malbec wine at a parrillada restaurant or three.
This city is also the jump-off point for many other fascinating Argentina destinations including spectacular nature in Patagonia; skiing/snow sports in Bariloche and other resorts during what's summer up here in our hemisphere; and Mendoza wine country.
Jerusalem
A focal point for Christianity, Islam, and Judaism with emotional pull for millions across the globe, Israel's capital is today a fascinating mix of ancient and modern, religious and secular. The Old City is divided into Jewish, Armenian, Christian, and Muslim sectors, and a promenade atop its ancient wall offers a magnificent view out over the whole thing. The Western Wall, the Church of the Holy Sepulchre, the Tower of David, and the Dome of the Rock are key sites, as is the modern Yad Vashem, Israel's memorial to the Holocaust. To the east is the Mount of Olives, with several key churches such as the Chapel of the Ascension and the Church of Mary Magdalene. The purported Tomb of the Virgin Mary is below the Mount.
There are museums galore, too, including the Rockefeller Museum and Bible Lands Museum (both packed with fascinating archaeology), the Islamic Art Museum, and even some quirky but cool niche spots such as the Museum of Italian Jewish Art. Beyond tasty local Mediterranean fare, restaurants feature cuisine from all over the world, while nightlife is often centered along the Ben Yehuda Pedestrian Mall or in the German Colony. Shoppers will be in heaven here, too, trust me!
Las Vegas
People tend to either love or hate the world's gambling capital – but in any case, it's a particular favourite with boomer travellers.  Don't expect much history or culture – unless of course you count all the glitzy stage shows. This Disneyland for adults (returning to its original strength after a flirtation with family travel a few years ago) is open 24 hours a day with entertainment of all stripes – with shopping and dining taking pride of place alongside gaming and shows in recent years.
Beyond "the Strip" – four miles of casinos – Vegas now also offers a cleaned-up downtown as well as funky attractions like the Liberace Museum, and the Mob Museum; day trips include a trek to spectacular Red Rock Canyon and Hoover Dam. On the dining side, the once-famous $3 breakfast has gone the way of high-button shoes, but for the most part, eating out is still moderately priced, unless you opt for the ever burgeoning fine dining restaurants, including local outposts of some of the world's most famous chefs.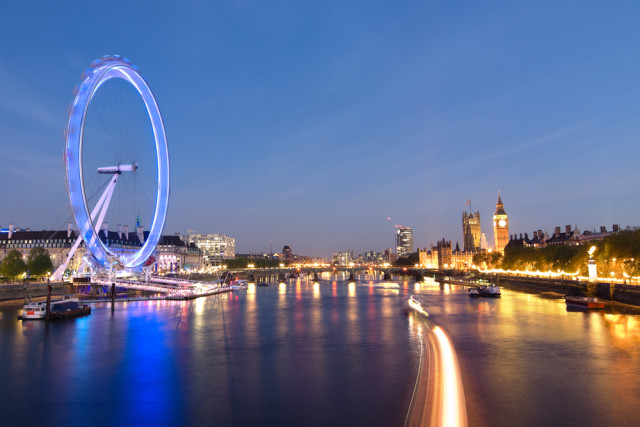 London



You've no doubt heard the Samuel Johnson quote "When a man is tired of London, he is tired of life; for there is in London all that life can afford." The question is, can you afford life in London – it's gotten quite pricey especially on the accommodations and theatre side, although the dining scene continues to offer good options at all price points (don't miss the outstanding Chinese food in Soho).
This has also long been one of my own favorite cities for more than 30 years. My husband and I fell in love with the theatre here and over the years have greatly enjoyed classics such as the Buckingham Palace changing of the guard; the Tower of London; the National Gallery; Madame Tussaud's Wax Museum; St. Paul's Cathedral; Westminster Abbey; museums like the Tate and the British Museum; the London Eye; the orators at Hyde Park speakers' corner preaching their varied and, um, interesting pronouncements; high tea at Brown's Hotel, the Ritz, and various other spots; and shopping 'til we dropped at Petticoat Lane, Portobello Road, Harrod's, and Fortnum and Mason.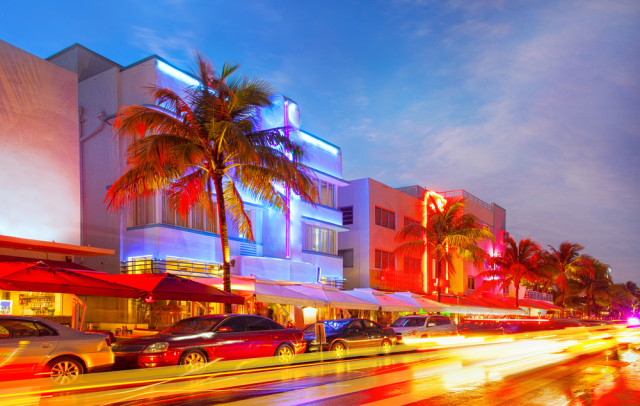 Miami
Closer to home for me, Miami has in recent years been remade from a smallish, sleepy Southern city with lovely beaches into a world-class, cosmopolitan melting pot – not just Cuban and other Latin Americans but also Russians, French, Indians – with an increasingly impressive dining and cultural scene. Most attention goes to Miami Beach – especially South Beach – but other fascinating areas of Greater Miami of most interest to visitors include Coral Gables, Coconut Grove, Wynwood, and Little Havana (while way out west is the majestic Everglades).
And though Miami is now a major business centre, tourism of course remains a vital local mainstay, and new hotels, resorts, and restaurants continue to spring up every year as visitors flock to not just the beaches but local allures such as South Beach's Art Deco district; museums old and new such as the quirky Wolfsonian; the Bass Museum of Art; the historic Vizcaya Mansion; the Miami Children's Museum; the newish PAMM contemporary art museum; and the Museum of Science, about to expand into spectacularly flashy new quarters. Other important attractions include Fairchild Tropical Garden and Jungle Island.
Clubbers are also attracted by SoBe's now legendary nightlife, but there are also Latin clubs in mainland Miami. Live music and other performing arts are also booming, with stars added in recent years like the Arsht Center and the New World Symphony's fancy new Frank-Gehry-designed concert hall in South Beach.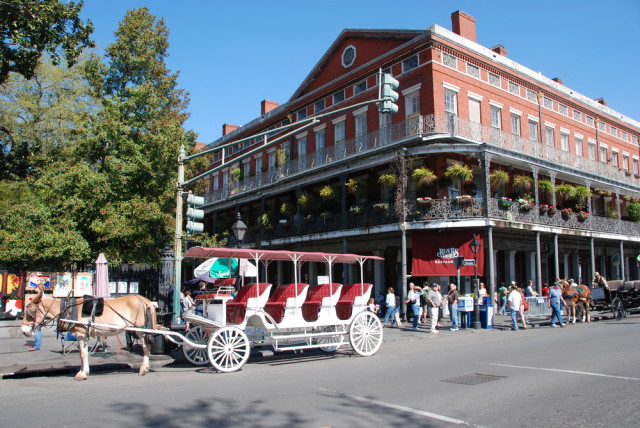 New Orleans
The "Big Easy" is a really easy choice for boomers thanks the compact walkability of the main neighbourhoods of interest to visitors along with other unique charms like its inimitable jazz; fine dining with a Cajun accent; historic sites; and eclectic nightlife. To start with, there's its unique mix reflecting American, African and French cultures. A prime example is Jackson Square in the French Quarter, (aka Vieux Carré), a national landmark, named for then general Andrew Jackson, victor in the 1815 Battle of New Orleans, whose statue is here in front of St. Louis Cathedral. A short walk brings you to the historic Pontalba buildings with shops and eateries (Café du Monde is part of the French Market and famous worldwide for its beignets and chicory coffee). 
World-class museums include the outstanding National WWII Museum and the New Orleans Museum of Art, ranging from the pre-Columbian Americas through European Old Masters and global contemporary stars. Nature lovers can do their thing at the Audubon Butterfly Gardens, Audubon Zoo, and Aquarium of the Americas.
NOLA's classic Spanish-era architecture is what especially defines the old quarter, of course, as well as its many 19th-century neoclassical additions – a stroll along St. Charles Avenue shows off some outstanding homes, and outisde the city along the Mississippi River, some elegant plantation houses are open for visits. Don't miss the eclectic variety of tours, as well; one of the most interesting is the tour of its distinctive above-ground cemeteries, but others include the ghost, voodoo, and "haunted history" tours; horse and carriage tours; of course culinary tours including dining landmarks such as Antoine's, Galatoire's, Brennan's and Commander's Palace.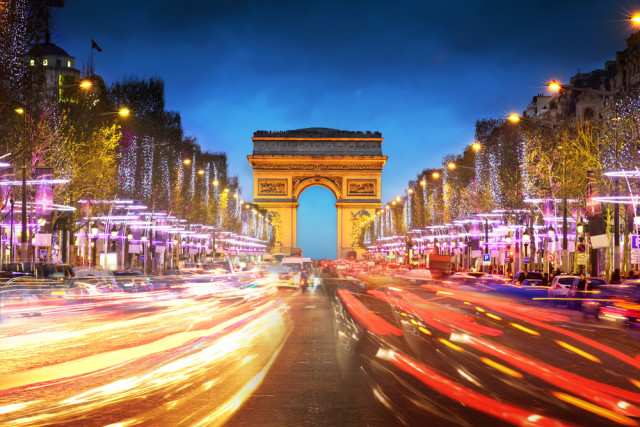 Paris
Really, who out there doesn't love the City of Light? Widely acclaimed as one of the world's most romantic big cities thanks to experiences such as strolling along the Seine; a moonlight cruises on the Bâteaux Mouches; drinking in the treasures of the Louvre Museum; or gazing at Nôtre Dame cathedral; there is something infectious about this city – once you've visited, you always want to return.
As with London, the musts here are mostly well known, including the Eiffel Tower; the Champs Elysées and Arc de Triomphe; other museums such as the Pompidou Centre, the Musée d'Orsay and the even newer Musée du Quai Branly, focussing on world cultures; historic landmarks such as Les Invalides and the Pére Lachaise Cemetery; magnificent gardens such as the Jardins du Luxembourg; and neighbourhoods like the medieval (and newly fashionable) Marais and artsy Montmartre.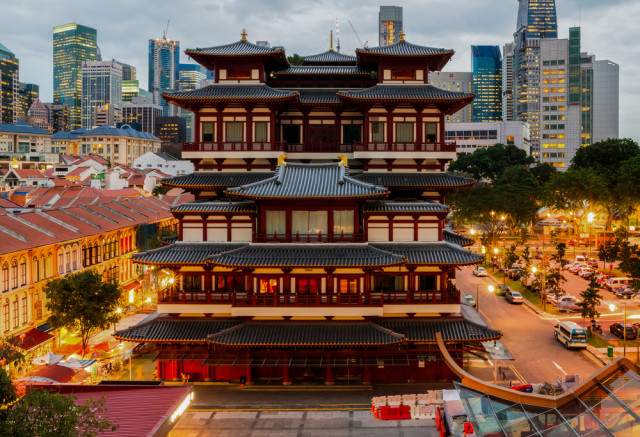 Singapore
What particularly fascinates about this beautiful, wealthy island city-state off the coast of Malaysia isn't just its highrise skyline and cosmopolitan vibe but its multicultural mosaic of Malay, Chinese, and Indian cultures – reflected in restaurants, street markets, temples (like the Buddha Tooth Relic Temple, above), and neighbourhoods such as Chinatown and Little India. In addition to great museums such as National Museum of Singapore, the Singapore Art Museum, Asian Civilisations Museum, and ArtScience Museum, other attractions include Orchard Road with seemingly miles of shopping opportunities.
Glitzy new entertainment complexes have been added to the mix in recent years, such as  Sentosa Island, long home to colonial-era Fort Siloso and a fine beach, but now also golf courses, various resorts/hotels; and the Universal Studios theme park complex. Also fairly recent, the Marina Bay Sands casino complex stars theatres, a shopping mall, a skating rink, and an elevated infinity pool. Right alonside is the three-year-old Gardens by the Bay, a garden complex featuring among other things a pair of huge, futuristic greenhouses the Flower Dome and the Cloud Forest.
Marcia Levin is a Hollywood, Florida-based travel writer who specialises in topics of interest to seniors and cruise fans. A past president of the Society of American Travel Writers, her work has recently appeared in AAA Living, Porthole magazine, and numerous websites such as NeverStopTraveling.com. 

images | Syda Productions, Kanuman, canadastock, Anibal Trejo, Sean Pavone, LittleStocker, ollirg, fotomak, pisaphotography, IM_photo, Ralf Siemieniec