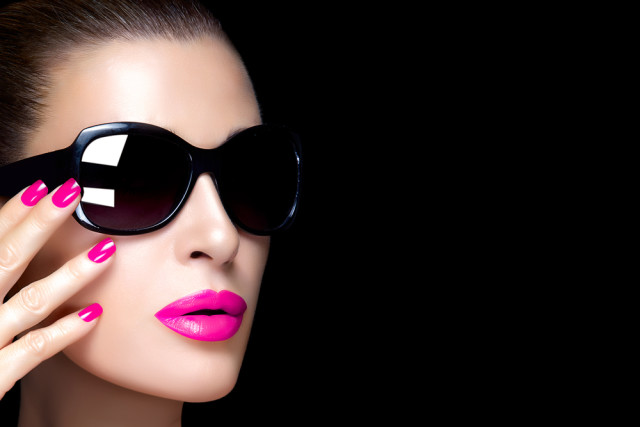 A good friend whose young, rich, sophisticated relatives were coming to town asked me for dining recommendations for beautiful people-watching. I came up with this glamorous dozen, with some input from former Ocean Drive editor in chief Suzy Buckley Woodward and stylish PR man about town Nick d'Annunzio.
Already a hotspot in London, St. Tropez, St Barths, New York City, São Paulo, the South Beach version not only has delicious nouvel French cuisine, but as the night goes on the party becomes livelier. Servers dressed as Superman and Wonder Woman deliver magnums of champagne to tables as the music gets louder and pretty women start dancing on their chairs. Real Housewives of New York Countess Luann DuEpps is a fan. 220 21 St., Miami Beach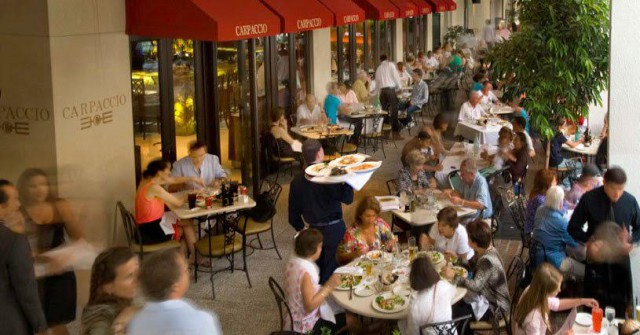 The number-one dining spot in one of America's priciest shopping malls is Carpaccio (Mediterranean/Italian), and number two is Makoto (Japanese). Both are tops for people-watching for high fashion and big bling, as they're where the rich go to refuel after dropping thousands on haute couture at Chloé or The Webster, watches at de Grisogono, and Neiman Marcus. At Makoto, try to snag an outdoor table outside as inside it can get a bit noisy. 9700 Collins Ave., Bal Harbour
You'll feel at home in this Mediterranean-style SoBe villa boutique hotel/restaurant, whether sitting in the cozy library or the lantern-lit garden. Make sure to reserve well in advance, because it's always drawing a crowd with its Italian cuisine and romantic ambiance. Join the 250-member social club to never have to wait and to access the secluded upstairs bar. Crowd heavy with hot women and, er, generous men. 17 James Ave, Miami Beach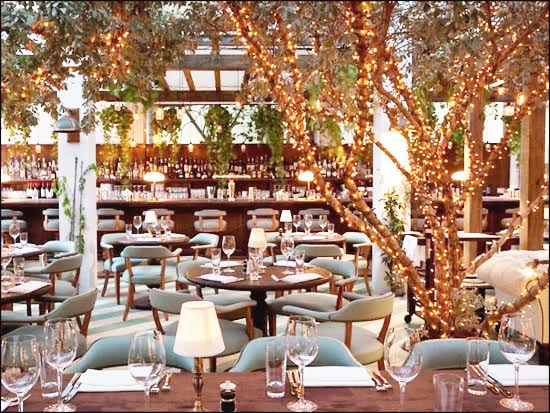 International jet setters, especially the fashion/media/music/art crowd, love the Venetian cuisines and garden-courtyard setting, dining al fresco under twinkling-light-bedecked trees.  Its location in mid-Beach's super-chic Soho Beach House hotel (other locations in Los Angeles and London) also makes this place a true hotspot. Expect to spot celebs like Cameron Diaz and Rhianna. 4385 Collins Ave., Miami Beach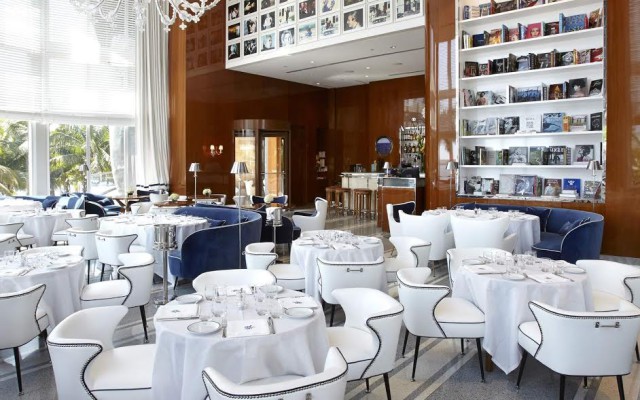 The Italians always know how to make a donna feel feel glamorous. Here, just off business thoroughfare Brickell Avenue, it's sexy décor – evoking a beautiful old luxury streamliner – designed to make you the focal point and provide a view of who's coming in the door. Its owner is an international playboy, so the cream of the models crop is always on hand.  465 Brickell Ave., Miami
Another recent Brickell addition, this über-chic modern Peruvian hotspot (Miami's latest dining rage) with locations in London and Dubai has already become a true power spot for both lunch and dinner (more power by day, loungier/sexier by night). With a seductive ceviche menu and an exclusive members' only room, it's always fun to watch who's coming in and who's leaving with whom. 999 Brickell Ave., Miami
Miami's best place for a pre-party dinner, where you'll find yourself surrounded by models and bottles before the night even begins in earnest. Enjoy the terrace, inventive new American cookery, and celeb sightings all year around – then if you're so inclined, join the parade of people hoping to be admitted to W's A-list Wall nightclub. 2201 Collins Ave., Miami Beach

Italian and nouvel Chinese, respectively, these on-premises restaurants of the ginormous, glamorous mid-Beach Fontainebleau Hotel are hottie hunting grounds especially late night on the weekends because it gets diners en route to the resort's also ginormous, wildly popular LIV nightclub. 4441 Collins Ave., Miami Beach
A scene dining powerhouse since 2004, this modern steakhouse in lower SoBe (try the truffle lobster mac 'n' cheese!) is still one of the hardest reservations in town – and expect to wait even with a reservation. Enduringly popular with Miami Heat b-ballers, pop stars, and well-heeled beautiful people on any given night of the week. 112 Ocean Dr., Miami Beach
For a change of pace from downtown and the Beach, this glam seafood joint opened 2013 as Seasalt & Pepper in a converted warehouse on a gritty stretch of the Miami River west of downtown. You can drive here like a commoner, but far better to pull up by yacht. A-listers like Beyoncé, Ryan Philippe, Nicky and Paris Hilton, Rafael Nadal, Sofia Vergara, and David Beckham are regulars. 422 NW North River Dr., Miami
Young hipster, Eurotrash, and foodie central, on the premises of the hip Freehand Miami hotel/hostel just north of SoBe. Savour a James-Beard-award-winning signature cocktail from master mixologists at the Broken Shaker bar, then take a seat in this nostalgic 1930's-homely restaurant with an internationally inflected locavore menu whose fish is locally caught and produce grown right in the garden on-property. 2727 Indian Creek Dr., Miami Beach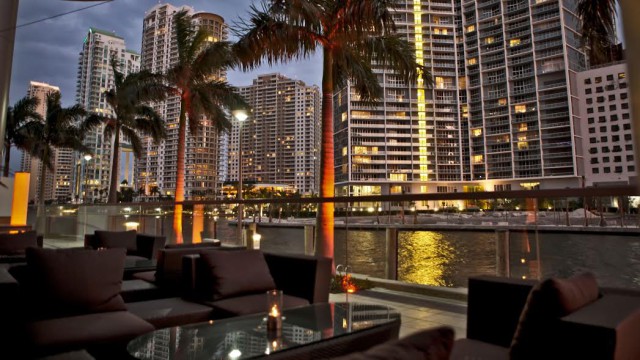 The fancy-mod Epic Hotel's premier eatery, this minimalist, Japanese-fusion hotspot would be a Zen dining experience if it weren't so buzzing. A favourite among Miami Heat players and the celeb likes of Christian Slater and Jennifer Aniston. 270 Biscayne Blvd. Way, Miami
Honourable mentions go downtown's Il Gabbiano especially for power lunching; then in SoBe, Juvia, nine floors up with great views, a hot bar scene, and Asian/Peruvian-fusion nibbles; small but sexy northern Italian Quattro on the bustling Lincoln Road pedestrian mall; and Prime Italian near the bottom of Ocean Drive.
Many of these also offer superb deals during the Miami Spice promotion every August and September. Beautiful people, beautiful food, beautiful prices! 🙂
On her blog MiamiCurated, Karen Weiner Escalera covers the very best South Florida food, fashion, culture, beauty, entertainment, luxury lifestyle, and general fabulosity.

images | Casther, Karen Weiner Escalera, Freehand, Zuma