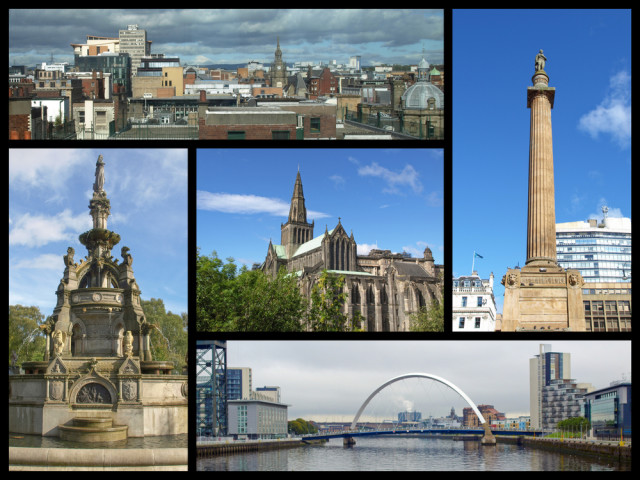 Astride the River Clyde in the western Lowlands, Scotland's largest city (pop. 1.75 million/greater metro area 2.2 million) is also, in the estimation of many, its most exciting, the grand neoclassical architecture of the past is joined by 21st-century starchitecture (the 2006 Clyde Arc, aka, both now a backdrop to a renaissance that's been booming since the 1980s in the arts, design, culture, shopping scene, and other areas. And summer is when locals and visitors alike enjoy this heady mix of earthy and chic to the max.
This area had been settled since prehistoric times, but really started growing in importance as a city beginning in the 10th century. Today the medieval street plan and street names of Glasgow's historic core remains intact, but of the buildings along these streets very little of the Middle Ages is left but for the likes of Gothic St. Mungo's Cathedral, begun in the 12th century (though technically no longer a cathedral); the ruin of Crookston Castle; Provand's Lordship, built as a hospital and now a museum of medieval life and times; and Provan Hall, a country house on the eastern outskirts, now also open as a museum.
What's rather more plentiful is stately Victorian and Edwardian, such as the Glasgow City Chambers (seat of the municipal councils; free tours available), the main building of the University of Glasgow, and the Kelvingrove Art Gallery and Museum. This last is a sprawling, locally beloved pile built in 1901 in red sandstone and neo-Spanish-Baroque style, and its marvelously eclectic holdings range from painting to natural history to an acclaimed gallery of arms and armour.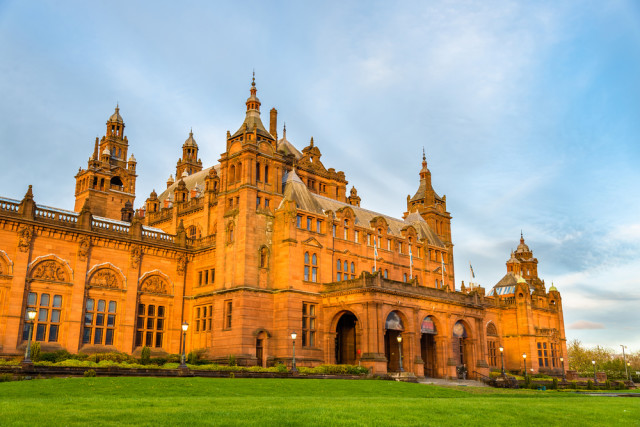 If you're hungry for more art, head five kilometres (three miles) south of city centre to Pollok Country Park, home to the Burrell Collection, another highly eclectic collection including Gothic, Chinese, and Islamic art, European medieval stained glass, and paintings by the likes of Degas and Cézanne. Then among the more striking 21-century landmarks is Zaha Hadid-designed Riverside Museum at Glasgow Harbour, focussing on transport, from the world's first bicycle to full-scale ships and trains (another, the Clyde Arc, aka the "Squinty Bridge" over the river, has become a modern-day symbol of the city).
Shopping is another Glaswegian strong point, with the scene here surpassed in the U.K. only by London, centred on centre city areas such as Princes Square, Enoch Centre, and Buchanan Galleries (collectively known as the "Style Mile") for the most famous British and international brands, and the West End for more indie fare, including boutiques, vintage clothing, and antiquarian booksellers (on weekends everyone heads to the East End's reknowned Barras, a mix of indoor/outdoor flea markets, shops, and eateries).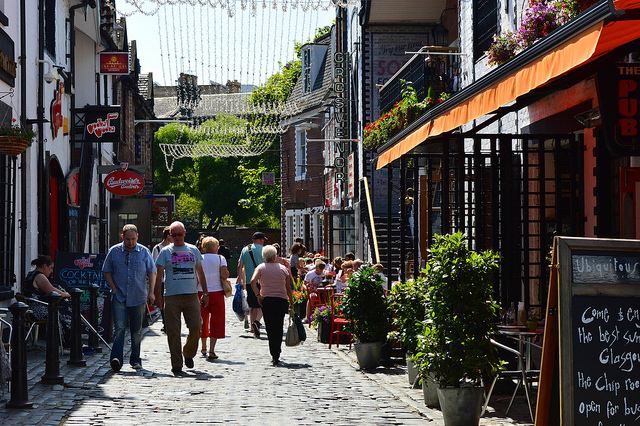 And the West End streets such as Ashton Lane can also provide reason to hang out here far into the night, with restaurants both upmarket Scottish and international standing cheek by jowl with chippies, noodle and sandwich shops, and other relatively cheap yet tasty eateries.  Pubs and clubs, of course, too – although one of the city's best known live-music venues, specialising in indie and alt rock, is back over in centre city: 25-year-old King Tut's Wah Wah Hut.
Finally, visitors to Glasgow should very much consider building in time for a day trip or two, to the likes of Loch Lomond, Loch Ness, Stirling Castle, Rosslyn Chapel, and the whisky trail.
More info: VisitScotland.com.


images | Claudio Divizia, Leonid Andronov, mariancraig