As June 28th is  Gay Pride Day – and today gay marriage equality has just been extended nationwide in the United States – what better weekend to follow up my 2014 survey of top gay travel destinations in Europe with another batch in the USA and Canada — including of course New York City, where Pride was born 46 years ago. Both countries offer up a marvelous menu of diverse (and sometimes delightfully unique) destinations urban, but also beachy and rural, for singles, couples, and families alike).


Boston/Provincetown
As the biggest city of the first U.S. state to legalise marriage equality, and with its plethora of world-class colleges (Harvard and MIT are just the start), besides being plenty of fun, "Beantown"is a political and intellectual hub for LGBT visitors. With so much gorgeous architecture and diverse neighbourhoods in a compact area, walking is especially gratifying here. Boston has a long and vibrant queer history, and combining the two, you can explore Boston's incredibly rich homo past strolling the LGBT Equality Trail. The original Freedom Trail is also a must-see, as is Boston's newest urban green space, the Rose Kennedy Greenway. The historic "gaybourhood" of the South End has evolved into a much more diverse neighborhood where you're more likely to see baby strollers than rainbow flags, but it's still plenty queer; many  LGBT Bostonians, meanwhile, have moved into other parts of the greater Boston area, including Jamaica Plain and Somerville.

For the perfect add-on to your visit, take a 90-minute ferry ride (Boston Harbor Cruises or Bay State Cruise Company) to Provincetown, a delightful gay beach resort at the tip of Cape Cod with a long history. Massachusetts' founding Pilgrims landed here before moving on to Plymouth; Portuguese immigrants founded a fishing village; artists and their entourages discovered the gorgeous light and landscapes in the early years of the 20th century; and as an offshoot of that, the LGBT community created a fabulous summer escape. Today history and beaches mix in P-town with fabulous guesthouses, shopping, dining, and gay nightlife.
Chicago
The "Windy City" is in many ways our most quintessentially "American" urb, the cosmopolitan heart of the Midwest, the home of deep-dish pizza, and more recently Barack Obama and Oprah Winfrey. And with sports teams with names like Cubs and Bears, you know it's one hell of a queer burg. "Chi-Town" is an icon, a foodie town, an LGBT hub attracting most of the region's homos, and an innovator in art and culture; it's America's "Second City" that's becoming first in just about everything. The gay area is Lakeview (aka Boystown), with a charming village feel, totally walkable, and loaded with pubs, restaurants, coffee shops, and shops. Wicker Park to the southwest, meanwhile, is the city's hipster 'hood.
Winters can be brutal, but in warmer seasons, this sunny city is cooled by breezes from Lake Michigan. Be sure to pack your swimsuit for the unexpected treat of a beach resort right in the heart of a metropolis, and check out the hot, hard-bodied Midwesterners frolicking in the gentle, oceanlike swells and sprawling along seemingly endless gay strand (officially Kathy Osterman Beach, but popularly dubbed Hollywood Beach).
Fort Lauderdale/Miami/Key West
Fort Lauderdale has become South Florida's premier destination for a homo holiday,  the appeal of which is its relaxed, friendly, unpretentious vibe: No velvet ropes, no fashion police, very little attitude in general. From beach to pool and dining to nightlife, shopping, and sightseeing, Lauderdale's hospitality pros work hard to make sure that everyone has fun in the sun. Greater Fort Lauderdale is divided by the Intracoastal Waterway: to its east, Fort Lauderdale Beach is where you'll find the beach and most of the resorts — both mainstream and gay — along with some restaurants and other attractions such as historic Bonnet House and and Hugh Taylor Birch Park. Everything else is west of the Intracoastal, including Wilton Manors, the hub of local gay life.
Base yourself in Ft. Lauderdale but do plan overnights to the pair of other nearby gay hotspots. Miami is some 45 minutes south, the Cote d'Azur meets Los Angeles meets Copacabana, with a strong Latin American (especially Cuban) flavour; sprinkled with gay history, clubs, and a very sexy homo-popular beach; and hosting of two mega circuit parties, the White Party and the Winter Party (above).
Key West, a four-hour drive or hourlong flight away, was like Provincetown an artsy/bohemian colony which started to develop into an on-the-down-low gay getaway in the '60s, but in recent years it has faded a bit — for example it's lost most of its specifically gay guesthouses. But gay bars and drag queens are still plenty in evidence on Old Town's main thoroughfare, Duval Street, and KW is once again luring discerning queer travelers back with upgraded lodging; chef-driven, locally-sourced restaurants; tony yet relaxed wine and cocktail bars; and arts offerings both sublime and occasionally silly.
Los Angeles/Palm Springs
If you created a heat map of everything I love in L.A., West Hollywood would be the white-hot center. Virtually everything worth seeing lies within a 15-mile radius of here, making it a super convenient place to base yourself for an epic El-Lay holiday. WeHo bridges Beverly Hills and Hollywood physically, economically and in spirit. It's still one of the gayest of local neighbourhoods, in that rainbow-flag waving, sexy-underpants-shopping kind of way. And no queer visit is complete without a stroll down Santa Monica Boulevard; between Robertson and Crescent Heights Boulevard, by day you'll find a range of local shopping, casual eateries, and an endless number of coffee places. By night, that becomes a vibrant scene centred as much out on the footpaths as in the pubs and clubs.
Then, if you're a fan of intense dry heat, endless blue skies, swaying palm trees, sparkling blue pools, "Midcentury Modern" architecture, and gay guesthouses (some quite frisky indeed), absolutely pair a visit to WeHo with a side trip to Palm Springs (even the current mayor is gay!), a 2½-hour drive east into the desert.
https://youtu.be/IkBbw_kHE9Q
Montreal
Like they say, good boys go to heaven, bad boys go to Montreal, IMHO one of the coolest and most fun cities on the planet, with lots of entertainment and attractions for boys (and girls) both good and bad. In the colder months, with much of the downtown area connected through underground shopping passages, it's easy to get around without too much exposure to the cold. But it's In the warmer months that Montreal truly comes alive, and Rue St. Catherine, in the heart of the Gay Village, becomes a pedestrian zone with an irresistible energy, packed outdoor restaurants, bars – even a sauna.
The city hosts a huge array of festivals all year long but especially in summer and fall, with Jazz Fest probably the best known mainstream and Black and Blue on the gay side. And BTW, while Canada is officially a bilingual country, French is the official language of Quebec province. You'll see and hear French all around you, but have no trouble communicating in English, making it a delightfully foreign, yet easily accessible destination for English-speakers.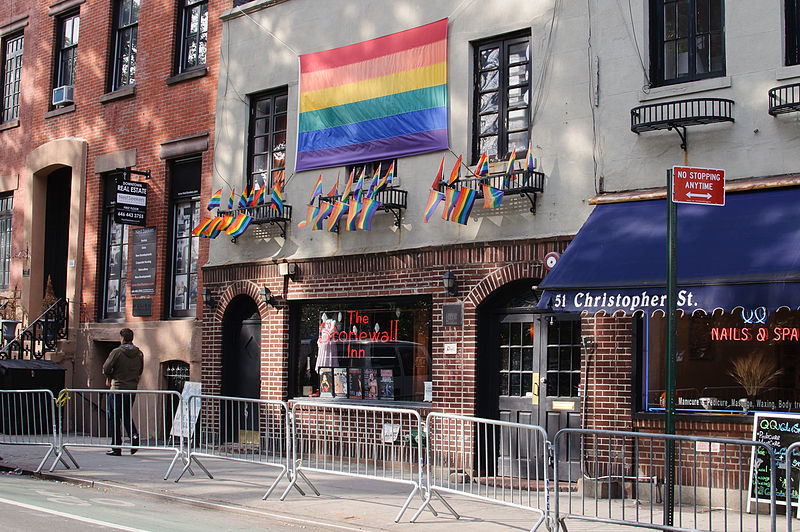 New York City/Fire Island
Geographically, New York has five boroughs, but the Big Apple is really a patchwork of neighbourhoods, each presenting unique opportunities for exploration. After checking off the must-sees— Times Square, the Statue of Liberty, Central Park, Fifth Avenue — first-time gay visitors will want to focus their time on Chelsea, Hell's Kitchen, and Greenwich Village (where Christopher Street's Stonewall Inn, operated on the site of the original bar where the "gay liberation" movement was born and granted historic landmark status just this week) in the borough of Manhattan, as well as Williamsburg, Brooklyn. Though you'll find LGBT New Yorkers and visitors all over the city, these are the areas that attract the biggest concentration of queer locals and tourists alike with their vibrant street scenes, great restaurants, pubs/clubs, and cultural attractions. And you can use the subway (Underground) or Citi Bike hired at on-street station to travel quickly, cheaply, and safely. Also check out the newly opened Whitney Museum of American Art in the lower West Side's Meatpacking District, as well as the newly expanded High Line, a popular and delightful elevated park stretching from nearby Gansevoort Street to West 35th.
June through September, also hop on a train at Pennsylvania Station to the ferry to The Pines and Cherry Grove, car-free gay beach resorts side by side on Fire Island, only two hours (and a world) away from the big city.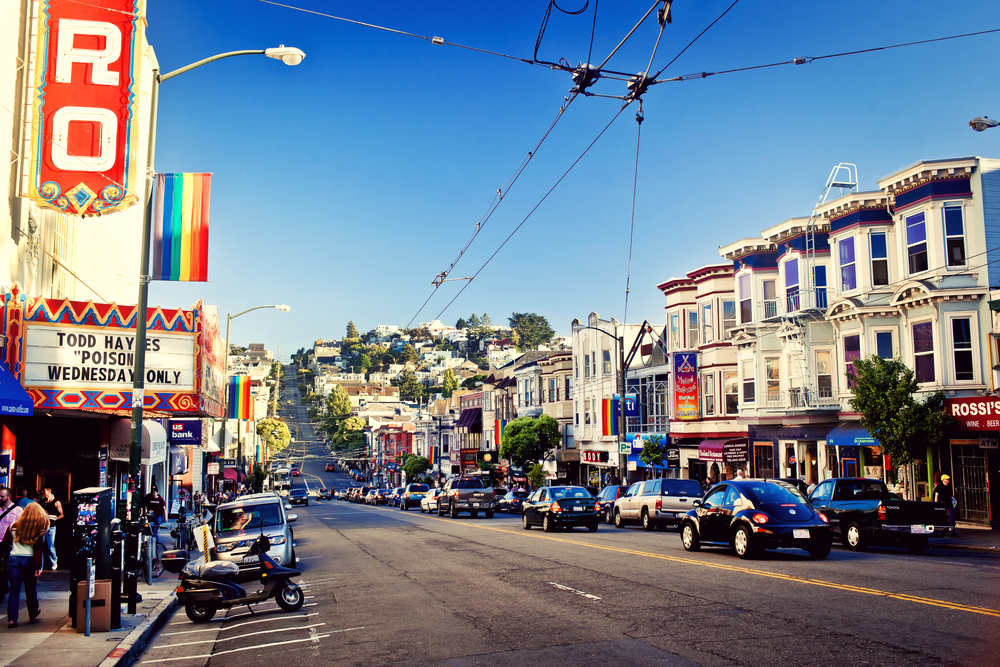 San Francisco/Sonoma 
The "City By the Bay" is a realm of true equality as well as diversity, a place where educated young professionals rush to work past practically naked exhibitionists who sip coffee across the street from panhandling skater punks strumming acoustic guitars while transvestites sing along. It's where sophisticated, Michelin-starred restaurants stand beside gaudy, innuendo-flinging porn shops. Welcome to the beautiful, noble, tacky, drama-queeny and never-boring melting pot which is in many ways the epicentre of American gay life.
Start your exploration in San Francisco's legendary Castro, perhaps the world's most historic gaybourhood, a place where uninhibited young queer nightlife flourishes next door to the domestic tranquillity of same-sex couples nesting in their Victorian houses and flats. Its streets are lined with rainbow flags, gay-owned shops, historical gay landmarks, a new LGBT "walk of fame", and a monument to 1970s pioneer Harvey Milk.
These days San Francisco is awash in high-tech money, which drives up prices for visitors and locals alike, but also worth the splurge, guaranteeing you'll enjoy some of the best accommodations, dining and nightlife in the U.S.
Make time, too, for an overnight or two in Sonoma County, over the jaw-dropping Golden Gate Bridge and about 45 minutes north. Amid these wooded hills you'll find  some the world's most beautiful vineyards, best wine, and fine dining (including, yes, gay guesthouses and even wine estates!).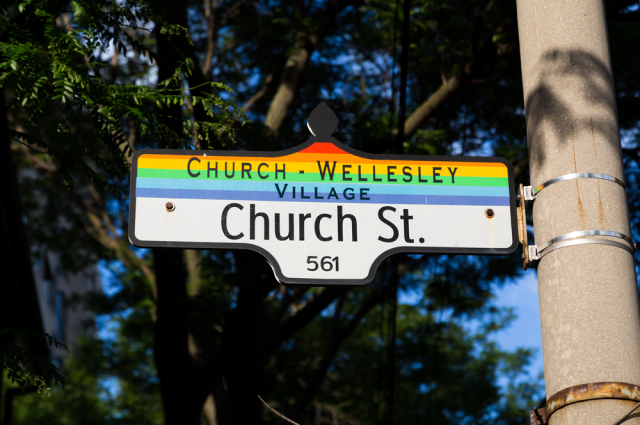 Toronto
The booming, diverse capital of Ontario boasts a dazzling architectural scene and a super-welcoming gay community. It has all of the touristic riches of a major world city, but with a distinctly Canadian friendliness. And when the weather turns warm, Toronto bursts forth with outdoor activities, on and off Lake Ontario. Home to Canada's largest LGBT community, The Village is located at the city's downtown core, with its centre the intersection of Church and Wellesley Streets. You'll see gay men and women throng the gaybourhood's many cafés, restaurants, shops, and pubs. Another must-visit area is the vibrant (and suspiciously appropriately named) Queen Street West, between Bathurst Street and Gladstone Avenue, featuring its own unique restaurants, boutiques, and diverse art galleries.
Toronto has also become known for intriguing architecture, including Toronto-born Frank Gehry's first hometown commission, the AGO; the playful, gorgeous Sharp Centre for Design, all checkerboard and gangly legs perched 25 metres (85 feet) above street level; and the Royal Ontario Museum with its icy spikes. Speaking of spikes, you'll also want to visit the Bata Shoe Museum, housing more than 12,500 items of footwear (take that, Imelda!).
Done for now – Happy Pride, and stay tuned for gay Latin America, coming up soon!

images| Aleksandar Mijatovic, tedeytan, InSapphoWeTrust, Andrey Bayda