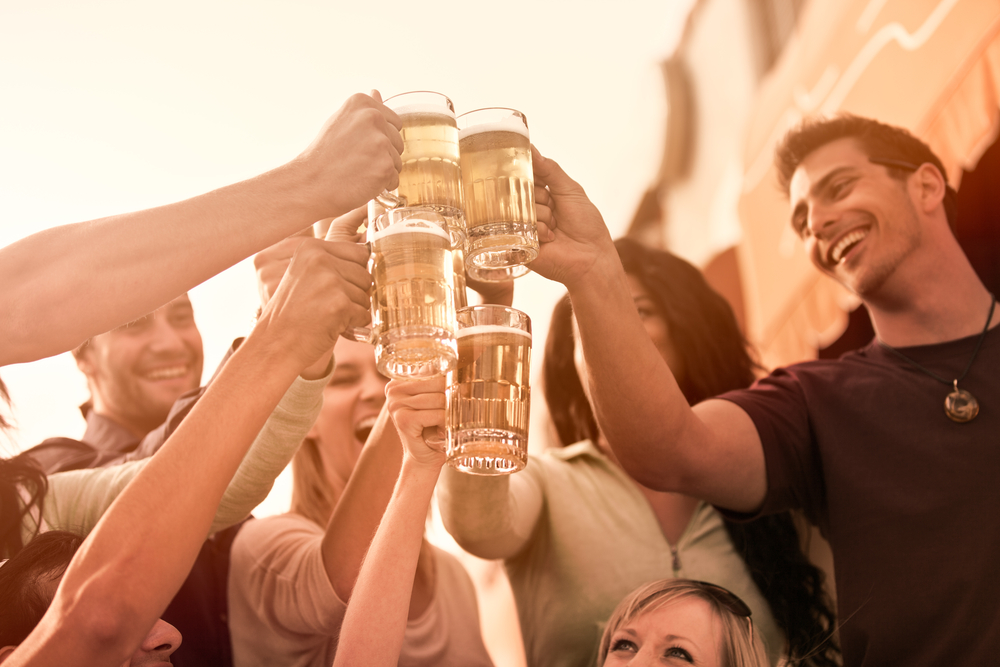 Over the generations, beer has enjoyed arguably even more popularity than wine throughout much of the world, yet has tended to garner less respect as a object of connoisseurship (relatively speaking only, of course – the Internet is virtually awash in beer lore, and microbrews have famously become one of the top foodie growth industries of the 21st century).
Nearly every country in the world brews at least a couple of very creditable beers (one of my favourite travel memories is watching locals sing and sway to rousing German drinking songs while hoisting local Hansa Urbock in Windhoek, Namibia), but my business here for the time being is to offer a very rough primer to the top countries (all of which happen to be in Europe) most identified with beer (in some cases because the most popular styles in the world were invented/perfected there).
Belgium
A small country that looms large in the beer world, with 180 breweries and a brewing tradition dating back to the 12th century. The styles include amber, golden, and brown ales, strong brown Dubbel, and most notably, Lambics, which have a dry, ciderlike quality (in fact, many of these actually contain fruit, such as Kriek, made with sour cherries). Trappist monasteries such as Chimay make a good portion of the artesanal beers and ales in Belgium, and beer features in local cuisine, as well, such as a beef stew called carbonade. You can visit breweries in various cities, including Antwerp, Bruges, Brussels, and Ghent.
Czech Republic
Another small country with more than a thousand years of beer history, it manages to boasts the world's highest per-capita beer consumption (having lived in Prague, I can attest to that!), and lays claim to the invention of Pilsener (in the eponymous city of Plzeň). Pale ales are popular but the offerings run the gamut. You can visit breweries in cities such as Plzeň, Prague, and České Budějovice (which when German was also commonly spoken here in Bohemia was known as Budweis – ring a bell?); there's also a beer museum in Plzeň. In the capital there are pubs on every corner (remember seeing drinkers passed out in front of my local pub at 8 AM), as well as atmospheric old spots to lift a glass, accompanied sometimes by some hearty Czech fare; top choices include U Fleků (which, however, tends to be a bit touristy), U Vejvodů (my personal favourite), and U Zlatého Tigra.
Germany
This large country is frankly impossible to capture in a paragraph, so huge and varied is its beer scene. The dozens of available styles include Pils, Alt, Kölsch, Weissbier, Helles, and Dunkel, and their brewing has been governed for centuries by a "purity law" dating back to the Middle Ages. There's definitely more of a scene down south; nearly half of the country's breweries located in Bavaria (including the world's oldest still in operation), and the classic destination of all time has to be Munich, famous for its annual Oktoberfest, as well as a half-dozen breweries plus institutions such as the Hofbräuhaus beer hall and Chinesischer Turm beer garden.
Ireland
In the Oud Soused – er, Sod – pubs are of course thick on the ground, from Dublin on down to the tiniest hedgerow village.  The country is of course most famous for the dark, sweetish Guinness ale, which can be experienced like nobody's business in Dublin's Guinness Storehouse tour. Another classic or more recent vintage (est. 1996) is Porterhouse Brewing Company, which brews a bunch of beers from the classic to the outré (chocolate truffle stout, anyone?) and runs five pubs in Dublin, Cork, and Wicklow. Plenty of local and microbrews sloshing around, as well, of course. More info: DublinPubScene.com.
I'll follow up in more detail on beer in some of these destinations in future posts. Finally, don't forget that there's great beer in Spain, too, even if it isn't a brewing powerhouse. But wherever you seek your suds – salud (cheers)! 🙂

image | Deborah Kolb/Shutterstock