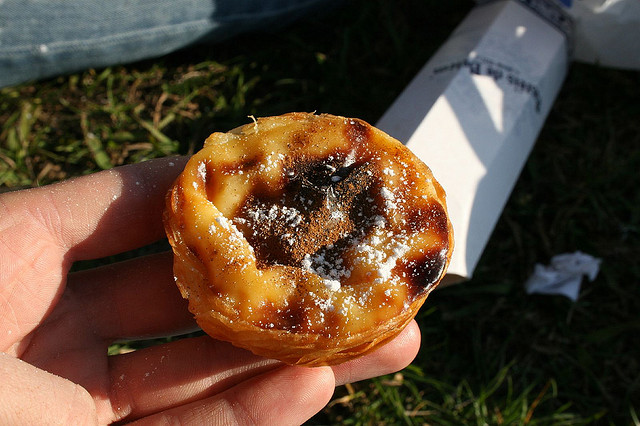 The capital of Portugal has a traditionally had a rep as something of a faded, melancholic city. But apart from the fact that this view is fairly exaggerated, not to mention a bit outdated (in fact, Lisbon has enjoyed something of a renaissance of late, complete with its obligatory dose of hipsterism), it might surprise some to know that the city of saudade is also known for its sweets.
Famously top of the list hereabouts are pastéis de Belém ("Bethlehem pastries", top), aka pastéis de nata (cream pastries), egg-custard-based tartlets in crunchy puff pastry shell, delicious either warm or cold.
The name comes not directly from the Palestinian city famous for the Christian nativity but rather from the outlying Lisbon district Belém, location of the Jerónimos Monastery, where the goodies were first invented by lay bakers dating back before the 18th century. The original recipe is one of the world's most closely guarded culinary secrets – known to only three people on the planet – though creditable imitations are available elsewhere, especially in places the Portuguese colonised (Brazil, Macau) or emigrated to (coastal parts of the U.S. state of Massachusetts).
Fortunately, it's no secret where you can find the original article in Lisbon. The best places to pick up these sweet deals include the early-20th-century Art Deco café A Brasileira (Rua Garrett 120), in downtown's Chiado district, famous, too as a gathering place for bohemians, intelectuals, and artists such as Fernando Pessoa, one of Portugal's most famous poets.
Another historic coffeehouse that's a fabulous setting for enjoying pastéis de Belém is the Café Nicola, in the lovely downtown Praça do Rossio. One of the most venerable institutions on this plaza (a major social/commercial hub of the city), it dates from 1929 and was another very popular intelectual hangout back in the day.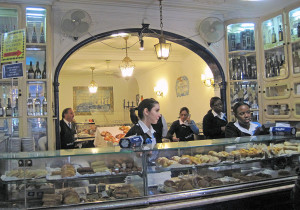 However, foodies and the sweet of tooth will undoubtedly wish to head right to the source: the Fábrica Pastéis de Belém (Rua de Belém 84-92). Just down the street from the monastery in which these custard tarts originated, this particular pastelaria (sweet shop) has been the one turning out pastéis de Belém according to the original secret recipe since 1837, when an anticlerical revolution shut down the monastery and the local sugar refinery connected with it. One desperate but knowledgable soul decided to go into business selling the tarts (of which the unassuming-looking, three-story factory now turns out some 20,000 daily for establishments in Lisbon and surrounding areas; at one time it peaked around 50,000). In addition, there's also a café with spacious salons which can get noisy at times!
Other products you can buy and eat here include lovely jams, lacinhos (bowties), bolachinas do bom successo ("good-luck cookies"), suspiros ("breaths', meringue cakes), and various other traditional delicacies.
It makes a tasty tour and café experience indeed – and while the café may not be quite as aesthetically engaging as the likes of A Brasileira and Nicola, it's cool indeed to come to experience one of the culinary classics of Europe right at its source.
Best fares to Lisbon from the USA, from Spain. 


image | Nicolas Mirguet