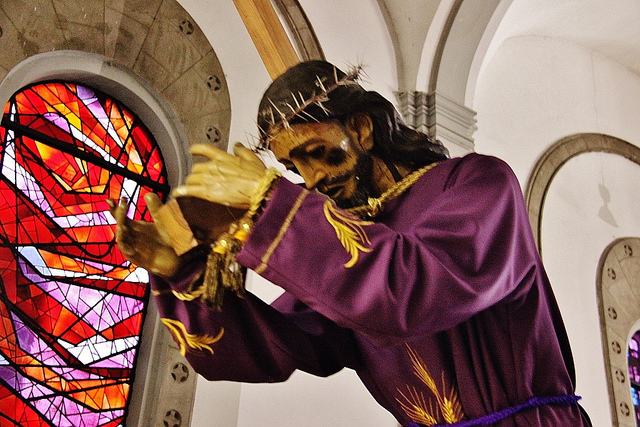 Unlike as is increasingly the case with Christmas, in Ibero-America Semana Santa (Holy Week, aka Easter week and the last week of Lent), going on right now, is still an almost exclusively religious observance, largely sans the Anglo-Saxon-style Easter-egg rolls, el conejito de Pascua (the Easter bunny), and such (except perhaps for some supermarket promotions). But it is still very much an occasion for ostentatious pomp and spectacle in practically every Latin country, just as it is in many places in mother countries Spain and Portugal. Over the course of my travels, I've found the following to be the places where it's perhaps the most riveting.
Brazil
Though celebrated in various localities, especially notable is the 263-year-old former gold-mining town of Campanha in Minais Gerais, a 351-kilometre (218-mile) drive northwest of Rio de Janeiro and 283 km (176 miles) northeast of São Paolo. It's noted for its artisans and crafts but really pulls out the stops at this time of year in its historic Semana Santa celebration. Highlights include Monday's Procissão do Depósito procession, featuring a bloody, life-size Christ statue. Good Friday sees the week's main event, the "Descent from the Cross" followed by the funeral "Procession of Our Dead Lord". Saturday, key streets are covered with an array of colourful carpets to prepare for Easter Sunday, when choirs and bands do their thing, culminating in fireworks and a mass that ends with Handel's "Hallelujah Chorus".
Mexico
Here the best known celebrations include that of Iztapalapa, a densely populated outlying area of Mexico City, which since 1843 has staged a passion play with a cast of thousands; more than a million spectators; processions including locals dragging crosses and wearing crowns of thorns; and distinctly local touches such as Aztec drums and flutes. Another passion play (top) is enacted in the municipality of Tlalnepantla, on the northern outskirts of Mexico City.
But also unique is the observance in the Guerrero city of Taxco, 170 km (106 miles) southwest of from Mexico City and famous for its silver. Colourful processions and pre-Columbian music figure here, as well, but the most striking (literally!) element is the brotherhoods whose hooded but barechested members march whipping themselves – for the squeamish, for sure…
Nicaragua
Rich in colonial-era architecture, the Nicaragua cities of Granada and León both make lovely backdrops to the Easter pomp and circumstance that goes on for days, as well as offering their own local traditions, such as the carpets of alfombras pasionarias ("Passion carpets"), artfully arranged layers of coloured sawdust and other materials on the streets of the León neighbourhood of Sutiava.
In the Granada-area town of Nandaime, the "pilgrim carts" are a procession of more than 100 traditional oxcarts and tens of thousands of faithful, all slowly making their way southward over four days to the Sanctuary of Jesús del Rescate of Popoyupa in Rivas.
Peru
You'll find celebrations going on in various of the country's cities and towns, including Lima and Cuzco. But a pair that particularly stand out include one of this country's churchiest spots, Ayacucho in the Andes, with not just religious processions throughout the week (culminating in a pre-dawn Easter Sunday candlelight procession), but also a variety of of cultural events, food festival, even a running of the bulls. A six-hour drive northwest (and about five hours from Lima), the small city of Tarma, also in the Andes, is another top draw, where in addition to all the processions the defining feature is elaborate carpets and arches of flowers all over the place.
Find best fares to all the above from the U.K. here and from Spain here.


image | Enrique López-Tamayo Biosca on Flickr