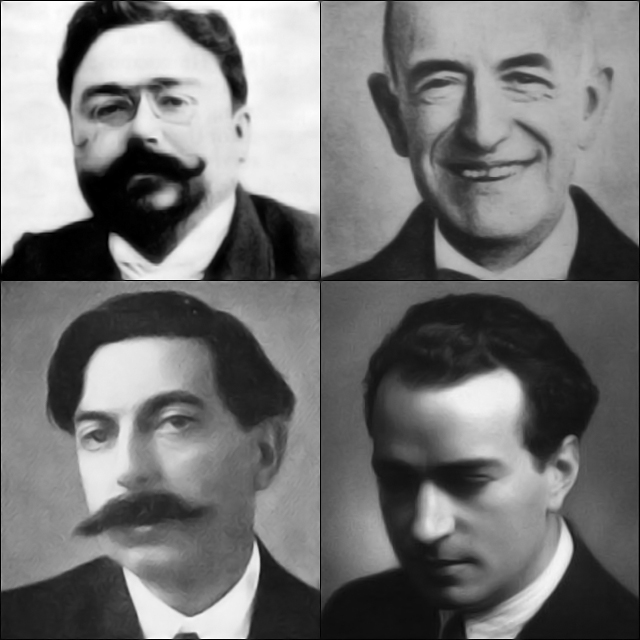 When it comes to the fine arts in Europe, Spain has produced a phenomenal wealth of painting and literature, while in terms of music – the glories of flamenco notwithstanding, its classical composers have not become household names, tending to take a back seat to those of countries such as Italy, Germany, and France.
Yet I do firmly believe that Spanish composers have produced some of the loveliest, most evocative music ever created – and chances are you yourself have heard more of their work than you might suspect (they are especially dominant when it comes to classical guitar). I could cite dozens, but in the interest of brevity, for now I'll limit myself to a rundown of the top 4 figures in Spanish classical music (all from the past 150 years).
Isaac Albéniz
A child piano prodigy born in a small Girona town, Albéniz (upper left) 1860-1909) was inspired by Spanish folk music, especially of the country's south. He's most famous for Iberia (have a listen above), a suite of 12 piano pieces with an evocative, romantic, impressionistic style reminiscent of some of the French masters of the day such as Debussy and Ravel. His influence on later composers was unmistakable, and his work has even popped up in recent pop culture, such as the Doors' Spanish Caravan and the movie Vicky Cristina Barcelona. (Speaking of which, if you're so inclined, you can pay homage at his grave in Barcelona's Montjuïc Cemetery.)
Manuel de Falla
Born in 1876 in Cádiz to a Valencian father and Catalan mother, Falla (upper right) was also influenced by the sounds of Andalusia, particularly flamenco, as well as the likes of Debussy, Ravel, Albéniz, Stravinsky, Diaghilev, and even Pablo Picasso, to all of whom he was exposed while living and working in Paris from 1907 to 1914. Best known for the piece Nights in the Gardens of Spain (above) and the ballets El Amor Brujo (Bewitched Love) and El Sombrero de Tres Picos (The Three-Cornered Hat). He lived in Granada for many years until he exiled himself to Argentina after Francisco Franco forces' victory in the Spanish Civil War, and his house near the Alhambra has been made into a museum. Such was his reputation in Spain that despite this, the Franco regime eventually put him on the 100- peseta banknote.
Enrique Granados
Born in Lleida, Catalonia in 1867, Granados' (lower left) best kown works include Spanish Dances and Goyescas (above), the latter based on the dramatic paintings of Francisco Goya. He died prematurely during World War I when a ship on which he was travelling was torpedoed by a German U-boat. Parenthetically, there's a lovely street named after him (Carrer Enric Granados, using the Catalan rendering of his name) in Barcelona's Eixample district two blocks west of Rambla de Catalunya).
https://youtu.be/r2Xdlgii-Rc
Joaquín Rodrigo
I must admit, JRod, as I whimsically dub him (lower right), is my favourite of this quartet, since I find his sound the most memorable and distinctive – and in fact, of the four you're most likely to have heard Rodrigo works such as Fantasía Para un Gentilhombre and especially Concierto de Aranjuez (which I was actually first introduced to as a youngster through the adaptation of jazz legend Miles Davis in Sketches of Spain). Born in the ancient and splendid little Valencian city of Sagunt in 1901, he lost most of his sight to diptheria as a small child, making his achievements all the more impressive. Before his death in 1999 he was granted the hereditary title Marquis of the Gardens of Aranjuez by King Juan Carlos I.