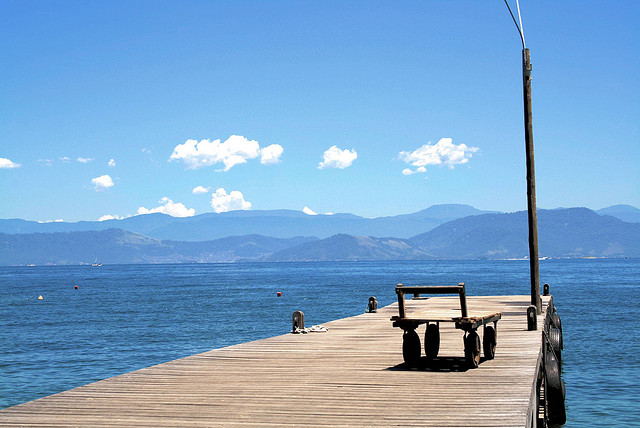 A fairly short hop away from the samba and bustle of Rio de Janeiro, you can escape to a variety of tropical paradises, both inland and on the coast. One of the most superb examples of the latter is 150 kilometres (93 miles) away: the city of Angra dos Reis (pop. 169,000) includes within its borders no fewer than 365 offshore islands, one more stunning than the next. The largest of them carries the highly original name of Ilha Grande (Big Island). 
Once isolated enough to be home to a pirate hideout, leper colony, and prison, this still largely undeveloped island of 193 square kilometres (75 square miles), reached via ferry, water taxi, and other boats out of Angra dos Reis, there are no paved roads and no motorised vehicles, but an abundance of unspoiled landscapes and castaway beaches. It's become popular with nature-lovers to hike in its outback, frolic or boat in its waters, and appreciate the slow, simple rhythms of its little villages and towns (the local population is around 6,000).
The largest of those towns is Vila do Abraão (above), which offers spots for visitors to shop, eat, drink, and sleep. But the real attractions are outside town, such as the nearby Pico do Papagaio mountain, 982 metres (3,222 feet) high, offering truly breathtaking views over the island – just be aware it's reachable only by hiking 6 km (over 3½ miles) each way!
Fifteen km (just over 9 mi.) outside Abraão, you'll find Bananal, which besides a charming little fishing village and pretty beach offers more great hiking opportunities and an overlook above with more stunning views.  Other sweet little spots along the coast include settlements such as Enseada das Estrelas and Freguesía de Santana, as well as beaches such as Praia Feiticeira. For sunsets, head to the village and beach of Aventureiro, known also for one of its palm trees growing in a curious L shape; in the hills above the Pedra da Sundara overlook is another spot with views that are positively cinematic.
More beaches? Where do I start – in addition to the ones mentioned above, there are some 100 others, a virtual cornucopia of palm fringed, golden sands; many are best reached by boat from Abraão. One of Ilha Grande's most celebrated is Praia Dois Rios, site of the above-mentioned penal colony until as late as 1994 (you can still see the somewhat creepy ruins) as well as mangroves. Another strand with lots of fans is Praia de Lopes Mendes (above), where some of the currents are on the stronger side (making it especially gnarly for surfing).
There are of course dozens more I could mention – Aroeira, Mangues, Pouso, Parnaioca, and Cachadaço, to name just a handful – any of which will delight beach bunnies. Some also feature fabulous snorkeling and diving, such as Açaiá, where there's also an underwater grotto accessible via a cave on land. The kicker is that the water down here is also an amazing phosphorescent turquoise-green. Way cool, but probably not for claustrophobes.
Boa viagem (bon voyage)!
More information: www.Hotel-IlhaGrande.com
Best fares to Rio from the U.K., from Spain.
 

image | Anderson Mancini, Fulviusbsas