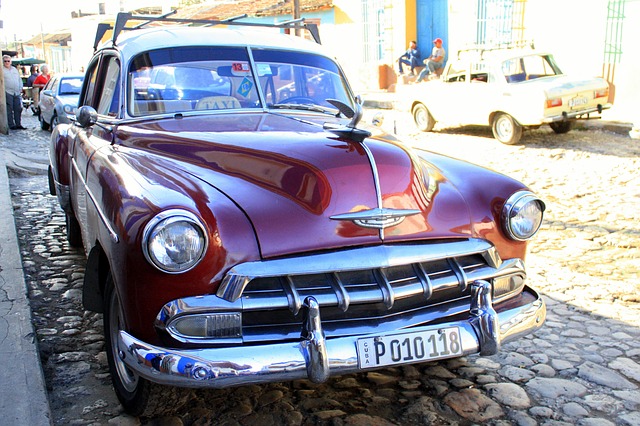 Iberia is thrilled to announce it is re-establishing its Havana route as of 1 June, 2015, and as someone who has travelled extensively in Cuba in recent years, I can attest that while the capital city and the beaches understandably get much of the attention from visitors, there are dozens of other spectacular spots to visit, as well. Here, then, is a quick guide to some of its most compelling destinations (with more detailed posts down the road a piece).
Havana
With just over two million residents, Cuba's capital was once known as the "Paris of the Caribbean" thanks to its impressive architecture, culture, and general atmosphere. Today it arguably remains one of a kind in the entire world, its urban allures mixing with an earthy, informal vibe as well as a vibrant arts and music scene. And thanks to lack of redevelopment after the 1959 Cuban Revolution, much of the cityscape has a famously vintage feel to it, sometimes nearly cinematically so. Habana Vieja, the Spanish colonial core radiating out from the bayside Plaza de Armas, which marks the spot where San Cristóbal de la Habana was founded in 1514, is a maze of cobblestone streets and picturesque squares, which have been largely restored and designated a UNESCO World Heritage Site.  Adjacent to this, the grittier Centro Habana/Cayo Hueso, El Vedado, and Playa districts have a more 19th-  and early-20th-century look, with an eclectic mix of neoclassical, Beaux-Arts and Art Deco. In most of these areas you'll also notice a lively street life that's truly a testament to the ability of Cubans to persevere in difficult circumstances. For more on Havana, click here.
Cayo Coco
An island off the south coast connected by causeway to the city of Morón (no, it doesn't mean "idiot" and is pronounced Mo-rone), it is the setting of Ernest Hemingway's The Old Man and the Sea (as well as his later Islands in the Stream). Today, served by its own on-island airport, it's one of Cuba's premier beach resort destinations, with gorgeous sands and waters lined by a dozen mostly all-inclusive resorts (including many of Spain's top chains).
Cienfuegos
Named after a colonial-era governor, not Camilo Cienfuegos, the revolutionary comrade of Fidel Castro and Che Guevara who died in a suspicious plane crash, this gracious south-coast seaport dubbed "the pearl of the south" is a centre of what little sugar industry remains in Cuba, and famous for its 19th-century neoclassical buildings (and as a result, a UNESCO World Heritage Site). Fun fact: Cienfuegos is the birthplace of several U.S. major league baseball players as well as the actress Maria Conchita Alonso.
Pinar del Río/Viñales
Cuba's westernmost province, "Pine Grove by the River" is a highly scenic and largely bucolic affair with a pleasant capital city and expansive farmlands famously encompassing one of the island's main mountain ranges as well as the Vuelta Abajo, the country's tobacco heartland, and the area's highlight, the valley of Viñales. Much photographed and painted, the 705-square-kilometre (272-square-mile) plain is surrounded by distinctive limestone karst hills the locals call mogotes – which is why, along with its well preserved traditional architecture, crafts, and way of life, Viñales has been a UNESCO World Heritage Site since 1999. The farmland here is among Cuba's richest, and is considered to produce the best of its cigars and coffee – products central to Cuban history and identity.
Santiago de Cuba
The country's second most important city (and in fact founded a year before Havana, in 1514), Santiago has given the world many notable figures, including Cuba's revered independence heros José Martí and Antonio Maceo, Lucy-loving bandleader Desi Arnaz, and Compay Segundo and Ibrahim Ferrer of Buena Vista Social Club fame. It offers visitors a small but fine old quarter, as well as the UNESCO World Heritage San Pedro de la Roca fort, built in the 17th century. Another highly notable landmark, in a hill town just outside the city, is the Basilica of Our Lady of Charity of El Cobre, dedicated to Cuba's patron saint – and famous for being the only place in Cuba where regular people can post messages critical of the régime. Santiago also is reputed for its cultural scene (son, the root of salsa, originated here) and music venues, as well as for its high percentage of Afro-Cubans and practice of santería, a Catholic/traditional African hybrid comparable to Haiti's voudon.
Trinidad
One of Cuba's earliest settlements (founded, like Santiago, in 1514), this south-coast town is a preserved colonial gem, complete with cobblestone streets, wrought-iron grills – and now plenty of shops, hotels, and venues catering to the tourist trade. You can also mix a little beach with your history at Playa Ancón and its several resorts, south of town, and visit the nearby Valle de los Ingenios (Valley of the Sugar Mills), to visit historic plantations and the famous tower from which sentries once kept an eagle eye on the slaves.
Varadero  
On 20 sugary kilometres (12 miles) of one of the Caribbean's most famous beaches, this once foreigners-only enclave in Matanzas province a couple of hours east of Havana is full of fancy international resorts (again, many of them Spanish), as well as plenty of restaurants catering to tourists. The holiday scene here goes back quite a few decades; you can still visit Xanadu, the 1920s mansion built by a member of the U.S. Dupont dynasty, now the Varadero Golf Club.

images | Lolo/Pixabay, Kirua,  Rickybolgia, Lezumbalaberenjena, Severin.stalder, Marc G, Dieter Mueller, laslovarga,