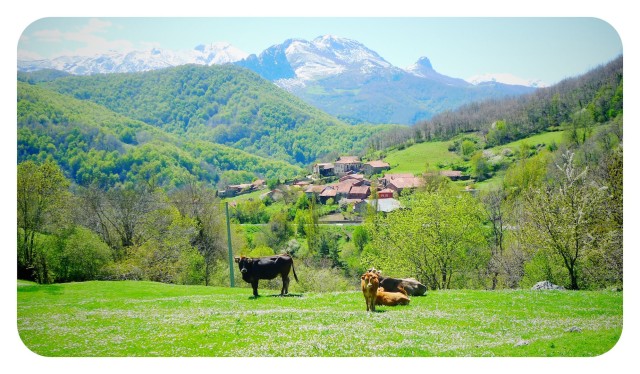 The rolling, green north of Spain is a whole different flavour than the south – and the north itself comes different flavours, depending on the area. The autonomous community of Cantabria is a case in point – a lovely place with not only the sophisticated, stimulating city of Santander, but also a touring routes through a bucolic, picture-postcard parade of contrasting landscape that lets you disconnect from the stress of modern life.
This route is rewarding at any time of year, and can be done in five days/four nights. Off we go!
Day 1 – The Pasiegan Valleys
The heart of Cantabria
Just 30 kilometres (18 miles) from capital Santander, you're already in the Pasiegan Valleys, the heart of Cantabria. Towns that should be on the itinerary include the local capital Liérganes (with an old town well worth touring, dining, and lingering), and a pair of villages in the same district, Pámanes (a star of which is the grandiose, nearby Elsedo Palace, dating from the early 18th century and now home to a museum of Spanish 20th- and 21st-century art), Rubalcaba. with barely 200 inhabitants and a Baroque-era old town that's an absolute gem. 
Day 2 – Pas and Miera Valleys More in Depth
Land of shepherds and legends
Moving deeper into the Pasiegan Valleys (the Pas and the Miera), three towns in particular,  San Pedro del Romeral, Vega de Pas, and  San Roque de Riomiera are well known enough within Spain to merit the monitor Tres Villas Pasiegas (Three Pasiega Towns), superb examples of traditional Cantabrian life set amid rolling meadows. Any one of the three would make a perfect stop for tasty local delicacies like cocido montañés (mountain stew), accompanied by local sweets such as sobaos (rum- or anise-liquor-infused white cake) and quesadas (a thick pudding). In Vega de Pas, furthermore, is a museum devoted to the three towns.
Day 3 – Liébana Valley
Towering peaks that let you practically touch the sky
Then comes the turn of Cantabria's most historic shire, tucked between mountainous masses of spectacular beauty. Also splendidly bucolic, the area invites hiking as well as exploration of towns such as Potes, with nearby landmarks including the 9th-century pre-Romanesque Church of Santa María de Lebeña and the Picos de Europa Sotama Visitors Centre. The pretty village of Potes offers great local eats, as well, (local speciality is cocido lebaniego, a chickpea-based stew). Thus fortified, you can head out to Fuente Dé, 24 kilometres (15 miles) away, where you'll find the cable car up to some of the heights of the Picos de Europa National Park.
Day 4 Saja Nansa Shire
More spectacular nature and traditional towns.
The route here leads through Cabuérniga y Polaciones, through the Nansa and Besaya river basins and the Cabuérniga Valley, with steep landscapes such as the Saja Natural Reserve, an ecological treasure trove. Along the way are villages that can only be described as enchanting, particularly Carmona, Tudanca and Bárcena Mayor, the last of which is said to be Cantabria's oldest town, full of stone houses, cobblestone streets – and these days, business catering to tourists.
Day 5 –  Driving the West Coast
Marshes, beaches, and a pinch of Gaudí
The drive to San Vicente de la Barquera is a dream, and you'll want to save breakfast for one of the outdoor cafés in this this pretty coastal town. Then it's on to Comillas, passing through Oyambre Natural Park and its wild, surf-pounded beaches. This town boasts impressive architecture, as well – this time Modernista (Art Deco), of all things. The star of the show here is a house called El Capricho, a work by Antoni Gaudí that truly looks like something out of a fairy tale.
This is just one set of drives that provides a fetching introduction to – you could spend weeks doing others, as well, including Santillana del Mar, another famous mediaeval town, and caves including some of Europe's most superb Neolithic art (Cantabria is the home, for example, of the reknowned Altamira Cave). And this five-day itinerary is sure to whet your appetite for a return visit!
More information: Spain.info/Cantabria.
Best Iberia fares to Santander from the U.K., from the USA.

image | Marita Acosta