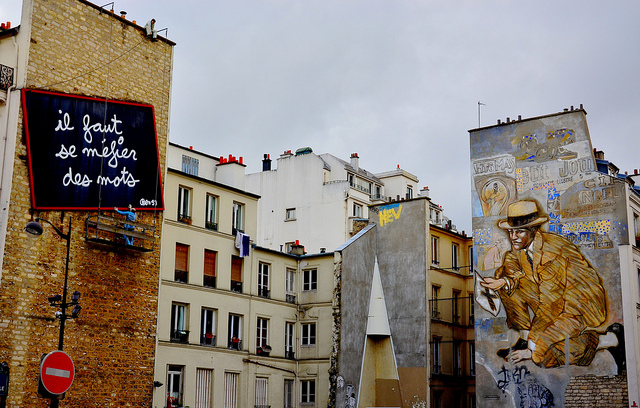 A traditionally working-class neighbourhood on the Right Bank of Paris – beyond the Place des Vosges, taking in parts of the 10th, 11th, 19th, and 20th arrondissements – Belleville has had a je ne sais quoi about it  ever since playing a role in the revolutionary movements of the 19th century. But in the 21st it has morphed into a kind of youthful, multi-cultural Montmartre, with a hip, artsy, yet unpretentious local vibe. And if you want to get a sense of today's Paris off the tourist track, you owe it to yourself to check it out.
The district's main drag is the eponymous Rue de Belleville, lined with a variety of popular shops and restaurants. At one point along the street you come across a set of stairs marked by a streetlight – supposedly the spot where France's iconic chanteuse Édith Piaf was born in 1915 (though her birth certificate actually lists a local hospital). In any case, the so-called "Little Sparrow" is still a presence here, in part through a tiny private museum (Rue Crespin du Gast 5) in her long-ago apartment, where visitors can browse her personal effects.
In a way, la Piaf also makes a fitting local patron saint of the many creative young people who've been transforming the neighbourhood in recent years – not just musicians and other performers, but painters, sculptors, photographers, and sundry artistic types who have set up shops on these streets.
Those streets are most active on Tuesdays and Friday mornings, when the open-air market takes place, with stands hawking all manner of French and international foods along with exotic fabrics and various odds and ends. Then both the main drag and the side streets are hopping these days with designer boutiques as well as eateries and other businesses that reflect a very stimulating ethnic diversity, especially from former French colonies of Africa and Asia (speaking of which, Belleville is home to one of Paris' two Chinatowns). You can enjoy a fine bowl of noodles in almost any local Chinese or Vietnamese restaurant, then a baklava and mint tea in an Arab bakery.
There are green spaces to enjoy hereabouts, as well. The Parc de Belleville (right) is the highest park in Paris, an enormous hill full of rose bushes and thousands of other trees and shrubbery, as well as Paris' longest waterfall, and a terrace with a spectacular view out over the city. Its lawns are a great place for a picnic.
Several worthwhile sights just outside the neighbourhood include a "park" that's a bit more, shall we say, specialised – not to mention more world-renowned. Just a couple of blocks south is bucolic Père Lachaise Cemetery, among whose sculpturally lovely tombs famously rest the likes of Oscar Wilde, Jim Morrison (whose grave has the most flowers, candles, and photos), Marcel Proust, Chopin, Rossini and Maria Callas. A bit north, in the adjoining Pont de Flandre district,  the Cité de la Musique is home to the Paris Conservatory, a concert hall, and a music museum, as well as a Cité des Sciences et de l'Industrie, Europe's biggest science museum, including a planetarium, retired submarine, IMAX theatre, and all sorts of cool multimedia goings-on.
Come evening, it's well worth strolling the little streets of Belleville's adjoining neighbourhood of Ménilmontant, with the salads and fondues highly recommended at the lovely La Mère Lachaise (Boulevard de Ménilmontant); or you can opt for a rosé or foamy bière at one of the many cafés of Haut-Belleville, also known as the Quartier Jourdain. Afterward, there might be a concert worth taking in – jazz, samba, swing, what have you – at the legendary Café Lou Pascalou (14 Rue des Panoyaux). Who knows, you might catch the next "little sparrow".
Best Iberia fares to Paris from the U.S., from Spain.