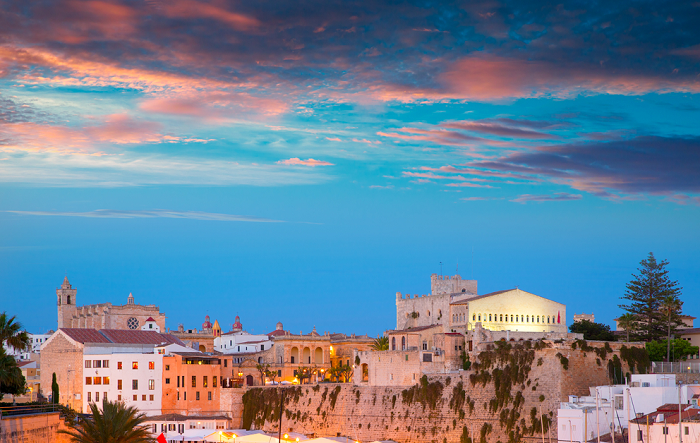 I love all of Spain's Balearic islands for overlapping but different reasons, and there's no question that the third-largest is definitely a change of pace from Majorca and certainly Ibiza. Not that there isn't nightlife, luxury, and touches of glam here and there. But Minorca (aka Menorca, as they say in Catalan and Spanish) has managed to make its way into the 21st century with more of that laid-back, old-time island vibe blessedly intact (even despite the fact that tourism has certainly found its way here – Brits being especially fond of the place from way back, as we'll see). 
There are two main cities. Everyone flies or sails into the capital, Maó (Mahón in Spanish), a city of some 29,000  on the southeast coast with the world's second deepest natural harbour – that's a little feature that made the island an outsize prize fought over by the Spanish, the French, and the British, with the last occupying the place for goodly chunks of time in the 18th and early 19th centuries. This left Maó with some striking landmarks such as Fort Marlborough, aka Es Castell (crikey, the tourist office has even thoughtfully marked out a "British Route"); Georgian buildings along with some of the more traditional Catalan and Spanish architecture; and last but not least, a taste for gin (you can visit the well known local Xoriguer Gin Distillery). Other highlights include the Minorca Museum, based in the onetime Monasterio de Jesús; La Verge del Carme church, with a fine painted/gilded altarpiece and adjoining cloister now converted into a market selling fresh foodstuffs including the typical local Mahón cheese.
The island's second city is Ciutadella (top), its old capital (until the British arrived for the first time in 1722, in fact) dating back to the ancient Phoenicians but a mix of eras, from the medieval (like the grand 14th-century Gothic cathedral) to the modern (a charming Art Nouveau fish market from the early 20th century, for example). Add to this a smattering of lovely small towns and villages like Fornells and Llucmaçanes, and  there's enough sightseeing, shopping, and dining to keep anyone engaged for more than one holiday.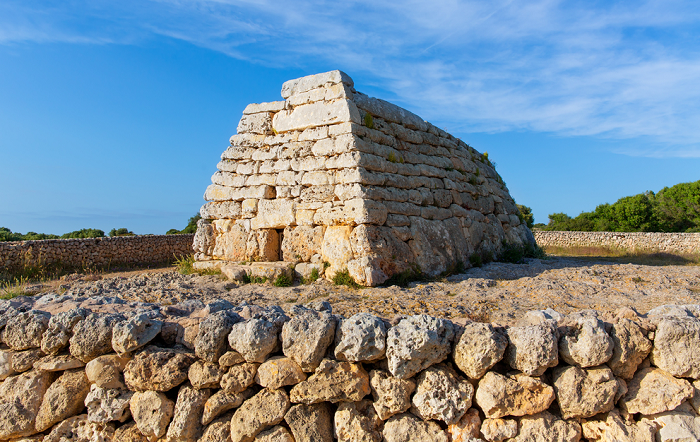 And speaking sightseeing, being a sucker for ancient history, I am especially fascinated by one particular aspect of Minorca outside its towns: its so-called "Talayotic Route", named after the spiral-shaped stone cones called talayots, among the stunning prehistoric monoliths, monuments, and settlements dotting the island that date back more than more than 3,000 years (above is a tomb called the Naveta des Tudons, near Ciutadella). Absolutely incredible stuff, and if you're an archaeology buff worth the trip in and of itself.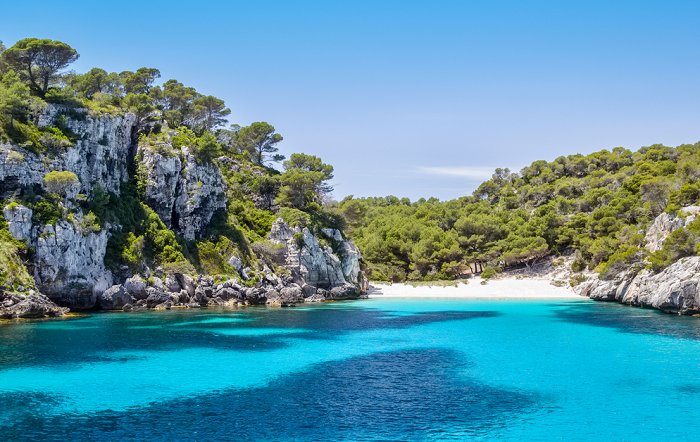 Having said all that, there's no question that for many visitors, all the above is still secondary to beaches along 216 kilometres (134 miles) of coast that are among Spain's most spectacular, such as Es Grau, near the village of the same name in the S'Albufera d'es Grau nature reserve midway along the east coast; extra picturesque Cala Macarella near Serpentona on the west coast and wild, secluded Cala Mitjana and Cala Macallareta (above) nearby; and Son Bou, the island's longest stretch of sand, a little farther down the west coast from both of them; among many others.  That nature reserve, by the way, is a keeper, especially when it comes to birding, with more than 200 species (UNESCO has declared the whole island a Biosphere Reserve). And it goes without saying that the gamut of outdoor activities both on water and land is as complete as anywhere in Europe.
And of course, before bidding adeu (that's adieu in Catalan) to this little tour of Minorca, I cannot fail to mention one last contribution to Western civilisation made by this faire isle. Aioli – a dressing based on olive oil, beaten eggs, and garlic – has long been common in the Balearics, and it was here that it gave rise to what was called salsa mahonesa, a sauce named after Minorca's capital, which oozed out to the rest of the Europe and eventually became known as – yes, mayonnaise.
More information: www.Menorca.es.
Best Iberia fares from the U.K., from the USA.

images | holbox/Shutterstock,  tuulijumala/Shutterstock