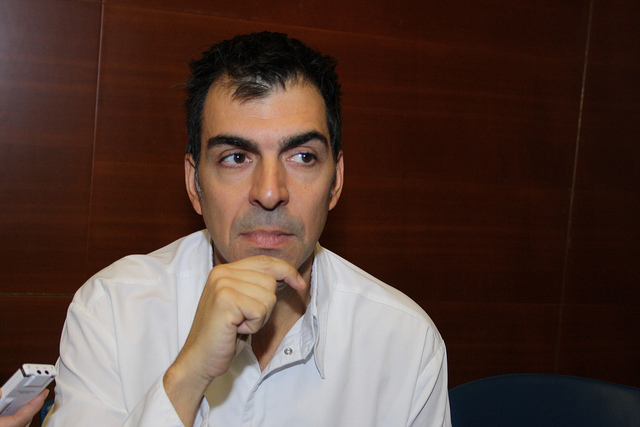 One of Spain's foremost chefs (as well as one of the four distinguished chefs who put together Iberia's Business Plus menus) may have come from humble beginnings, but they were beginnings amply stocked with good food, in the form of his family's grocery store in the town of Igualada, near Barcelona. From there, young Ramón learned baking and went on to study at the respected Higher School of Hospitality and Tourism. in Sant Pol de Mar, Catalonia. As he polished his skills and talent, by the mid 1990s he was ready to take the helm of the Barcelona restaurant Racó d'en Freixa started by his father Josep Maria in 1986 – what is today Freixa Tradició. 
Then, in 2009 a big opportunity knocked: a space opened up in the Hotel Único in the tony Salamanca/Calle Serrano area of central Madrid. It was a risk to strike out on his own and start something from scratch, but in the end, he and his team and partners turned Ramón Freixa Madrid into a uniquely creative, luxurious space with cuisine to match – a tour de force that in fairly short order ended up earning two Michelin stars and three Repsol suns (Repsol is a Spain-based global energy company whose publishing arm similarly puts out guides and rates restaurants). 

From the very beginning, Freixa has aimed in his kitchens for a lighthearted feel and even a bit of fun. And watching him work, it shows – even though the whimsy of some of his creations takes nothing away from the fact that they are not just works of art but complex culinary constructions created by someone absolutely meticulous in his attention to detail. They are the proverbial compositions you don't want to defile with knife, fork, and spoon.
Most chefs would be thrilled to have achieved this much in their careers. But Freixa hasn't stopped there. He's opened another Salamanca district restaurant, Arriba, meant to be a little more "prêt-à-porter", as he puts it, as well as yet another, Ávalon, back in his old stomping grounds in Barcelona.
Hold on, not done yet, believe it or not. There have even been a couple of forays across the pond to Latin America. Concretely to Cartagena, Colombia (Erre) and Panama City (Sal, on which he consults).
Plus he somehow finds time to craft exquisite meals for Iberia's Business Plus menus such as corvina fish with Catalan butifarra sausage, snow peas, and red-wine sauce with apples.
All this, and the man is just 43 years old. It's practically dizzying to think what will end up on the CV by age 53.
image |  Guía_Repsol