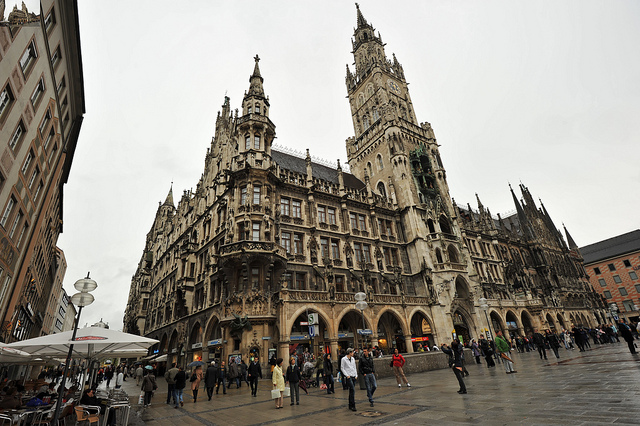 As the capital of Bavaria, Munich is one of those German cities that's just a little bit different from the rest of the country culturally. And of course this time of year, a little tipsier, too, with oceans of suds sloshing around as Oktoberfest once again takes hold, this year from September 20 to October 10. Millions flock from all over Europe and beyond to partake in the tradition, the pageantry – and of course prodigious amounts of beer drinking. 
There's way more to Munich than drinking – although that is in a way symptomatic of a larger truth about this city: its penchant for the good life. According to a study not long ago, this is the German city with the best quality of life. That package include a savoury local cuisine with Italian influences, good-natured locals, a rich cultural heritage, charming architecture, and a stunning setting, with the Alps in the distance.
The city centre is called Altstadt, and can be very easily negotiated on foot, by tram or bicycle. Marienplatz (top) is always full of atmosphere and bustling with tourists and some number of locals, as well. It's here you'll find the famous neo-Gothic Old Town Hall. Its most popular attraction is its bell tower, which releases a charming procession of small statues every morning that re-enact a medieval joust with horses. If catches the fancy of your inner child, follow that up with a visit to the nearby Toy Museum, which houses a delightful collection of tin and wooden toys from the olden days. Also nearby is most famous of the city's many churches, the Frauenkirche (Church of the Women), with its two iconic domed towers bearing an uncanny resemblance to two onions.
There are several museums other quite good museums here, as well, although they're perhaps not nearly as popular as they should be. The Alte Pinakotek houses works by Durero, Rubens and Van der Weyden, while the Neu Pinakotek houses 19th-century art and works by the likes of Manet and Goya. Other interesting visits include the Royal Palace, the Allianz Arena (Bayern-Munich's attractive stadium, designed by Herzog & de Meuron), the Jewish Museum, and the BMW Museum, which boasts an impressive collection of vintage cars and motorbikes.
Don't spend your whole inside, though. A onetime military installation, the Englischer Garten (English Garden) has been one of the world's largest urban parks since the end of the 19th century, with meadows, streams, pavilions and paths winding through it all. Rest up at one of the beer gardens near the Chinese Tower, a curious wooden pagoda built in the late 18th century.
Speaking of beer, even if you're not here for Oktoberfest, you'll want to avail yourself of the local suds, of course – or if you're not a drinker, at least visit and have a nosh of Weisswurst, the typical Bavarian white sausage, and other local specialities, at spots like the Weisses Bräuhaus and the most famous of all the Hofbräuhaus. Eat, drink, and you're sure to be merry.
Useful Facts

Munich has just over one million inhabitants, but its city centre can be covered on foot or with its wonderful public transport, such as the metro and tram.

The city's climate is very much influenced by its proximity to the Alps. Winters are cold with occasional snowfall and summers can be hot, but with frequent storms.

The currency is the Euro.

More information in English: Muenchen.de.

Best Iberia fares from the USA, from Spain.
Photo | vinylmeister