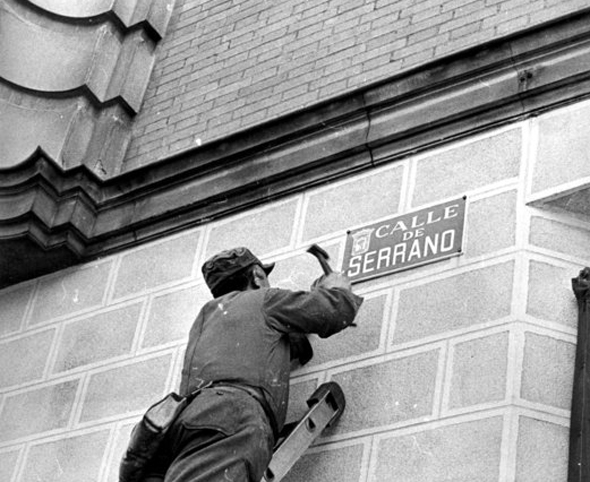 Fall means fashion, and Madrid treasures its closeup just as much as Paris, Milan, and New York. And today marks the sixth annual "Fashion's Night Out" promoted by Vogue España with the participation of more than 180 of the capital's most upmarket shops, hotels, and restaurants in its most fashionable downtown districts, Salamanca and Las Salesas-Fuencarral, with discounts, shows, and all sorts of hoopla.

But the Salamanca district – and most especially its high street, Calle Serrano – is where it's at all year round for shopaholics. Windows crammed with all the very latest looks. Painfully chic sales girls discreetly desperate for you to melt your credit card in their shops. Impeccably clad ladies with power 'dos. Well-put-together young women dining in fashionable restaurants. After a couple of years of annoying repairs, the capital's most elegant thoroughfare has emerged from its facelift (rather fitting, n'est-ce pas?) with various improvements including wider footpaths, many more trees (813, so they tell us), and a bicycle lane.
And for those so inclined, there's quite a bit to discover along its 2½-kilometre (1½-mile) length. The main introduction to luxury comes with with boutiques like Gucci, Armani, Massimo Dutti, Prada, Yves Saint Laurent, and Adolfo Domínguez (this last one the Spanish designer who also designed Iberia's current crew uniforms). And let us not forget Manolo Blahnik, the now London-based Spaniard whose shoes' popularity in the 1970s was given a second wind more recently as a result of the 1990s TV series Sex in New York (and profiled in this blog last year). You can also spend some time browsing the upmarket mall ABC Serrano.
And since shopping can can tire a body out, a pit stop is in order at Serrano 50, an elegant classic where the ladies who lunch mix with fashionistas who shock and celebs who hide behind humongous shades. And speaking of which, threads may be what Calle Serrano is all about, but eats aren't far behind, and increasingly creative ones. The classic here, of course, is José Luis (No. 89), the original of what's become a franchise you'll see throughout Madrid and beyond; it's a mix of tapas and Spanish soul food where you can also get a good deal on a set menu for lunch. For something a little different, gourmet burgers have become a thing in Madrid, and here La Vaca Picada at No. 224 is one of its fine practitioners. For something quite a bit more different, Miss Sushi (just a few steps off Serrano at Calle Padilla 4) actually feels like something out of today's Tokyo: kitschy pink and and girly; the menu of sushi and beyond, in any case, is impressive. These are just a couple of examples of the original spots that are changing Serrano's traditionalist image.
And would you believe there's even some non sartorial and culinary culture to be had along this golden mile? The Lázaro Galdiano Foundation is an early-20th-century manse accessed through a garden, housing the collections of the eponymous Señor Galdiano, including paintings, sculpture, textiles, gold artifacts, and antique watches and clocks. Then of course the district is also home to one of Madrid's great institutions, the newly renovated and re-opened National Archaeological Museum, most famous for the dramatic pre its Lady of Elche bust dating from the 4th century BC, and the National Library (entrance on Paseo de Recoletos), where visitors can feast their eyes on tomes from centuries past as well as other treasures. If that inspires you to go trolling for your own treasures, have at it, because Calle Serrano also has its share of art galleries, antiques shops, and auction houses.
The proverbial something for everyone – though of course it helps if your plastic is in good shape! 😉
More information: ShoppinginMadrid.com.
Flights to Madrid from the U.K., from the USA. 
image| Serrano Madrid