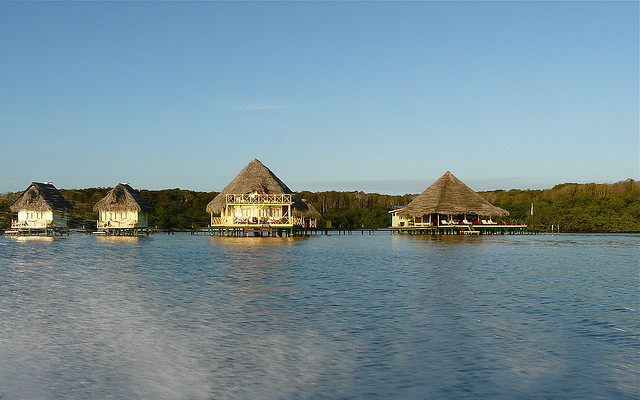 The "Mouths of the Bull", are nine idyllic main islands tucked up in the eponymous northeast Bocas del Toro province of Panama just south of the border with Costa Rica, where the nature and beaches are pristine and paradisiacal; exotic endangered species still abide; and so too does an exotic mix of humans, including not just Latino Panamanians but English-speaking Afro-Caribbeans, Asian and other immigrants brought in by the banana industry of the 20th century, as well as a charming rogue's gallery of expats attracted by the laid-back lifestyle, and last but definitely not least, the Ngöbe people who predate them all. A stay in the clapboard town here to explore this archipelago is an unforgettable experience.
The main island is Isla Colón, site of Bocas town, with its little hotels, guesthouses, and funky pubs. But outposts are sprinkled throughout the rest of the achipelago (there's even an all-inclusive resort on Isla Popa), and of course you can take day trips by boat, as well. Over on Boca del Drago, it becomes the world of Robinson Crusoe, with deserted crystalline waters for swimming, snorkeling, and diving, and forest paths where you'll be serenaded by a tropical choir avian. Speaking of which, the Isla de Pájaros (Bird Island)is another idyllic bit of business, where La Gruta is a coral rock cavern es which runs across the entire island, letting out at Playa Bluff, a beach known for both surfing and for seasonal marine turtle egg layings and hatchings; tours can be arranged to (carefully) witness both.
Isla Bastimentos features a marine national park  filled with reefs, lagoons, and mangrove swamps, including areas like Cayo Coral, Playa Rana Roja, Punta Vieja, and Playa Polo. All are fabulous for sunbathing, snorkeling, and enjoying nature.
Wait there's more – Isla Solarte, located between Bastimentos and Colón, feels even more castaway, if you can believe it. There Punta Hospital has a trail that covers part of the island, and El Jardín is a spot treasured by scuba divers. Similarly, the Cayos Zapatilla (above) are a pair of tiny uninhabited keys where you'll also find yourself alone with just white sand, azure water, and coconut palms.  Meanwhile, Isla Cristóbal, one of the world's largest bottlenose dolphin populations lives in the aptly named Laguna de los Delfines,  where you can see them spectacularly leaping above the waves.
For human company, there's always that cool Latin-reggae-flavoured mix back in town. But one thing no visitor should miss here is the unique opportunity to experience a visit with the local Ngöbe, who live simply in several communities on several of the islands, living mostly on fishing, some farming, and a bit of tourism and craft production (like the young lady at right, part of a craft cooperative). They are friendly and hospitable, welcoming visitors to their homes, built on wooden stilts, with palm roofs.
For more Panama paradises, see my previous post.
Useful Facts

The best time of year to visit Panama is January through April. February, which is Carnaval season, is a particularly lively time to visit (and should therefore be booked farther in advance).

Currencies in circulation are the balboa and the U.S. dollar.

Best Iberia flight deals to Panama City from the U.K., from Spain.

More information: Bocas.com, BocasdelToro.com.
image | Rita Willaert, Carlos Adampol Galindo, thibhou, Lon&Queta