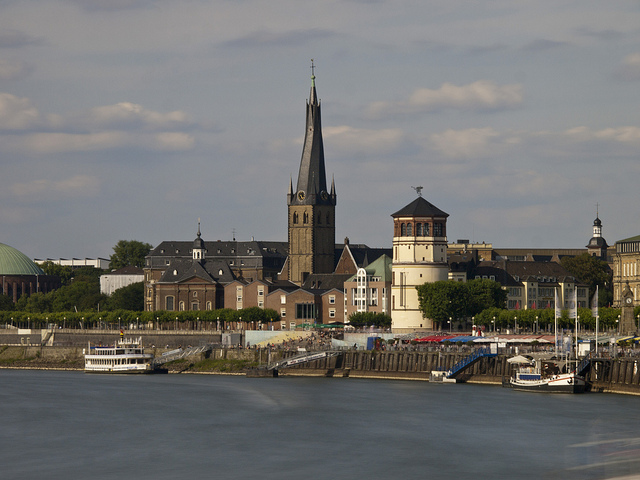 What comes to mind when you think Düsseldorf? Commerce, industry, and trade fairs, most likely. Hardly a place you'd think of as a holiday hot spot.
But as with most other large European cities, there's another side that not only makes this powerhouse in Germany's west, capital of the state of North Rhine-Westphalia, well worth a holiday stop but which some might find downright surprising. For one thing, it seems the locals fancy themselves just a bit Latin. 

For starters, hereabouts it doesn't tend to get quite as chilly as as it does elsewhere in Germany, and so Düsseldorfers are ready to take to the streets at the drop of a hat. And they're unexpectedly vivacious, a trait especially on display during Christmas and in February, when Karneval season is in full swing and downtown is awash in colourful parades (right), parties, and dancing.
And year-round, pubs are a particularly favourite pastime – it's not for nothing this city has been called "the world's longest bar". Especially downtown, the concentration of pubs is higher than many other German cities (some have pegged it as high as 200).
But people certainly don't come down to the Altstadt, the old quarter, just to get knackered. Meticulously rebuilt after World War II, it's a charming warren of winding streets and stately façades, and facing the Rhine, the Burgplatz is home to the Schlossturm, all that remains of the castle of the earls of Berg that once stood here. From there it's worth making your way to the 16th-century Rathaus (city hall; guided tours every Wednesday); the neoclassical 19th-century opera house, and Carlsplatz, where a fabulous open-air produce market holds sway daily except Sunday.
Though never a particularly "churchy" city, D-dorf certainly has its share, and one, the 14th-century Lambertuskirche (left) has a particularly warped steeple – it's said because the wood used got wet (wags like to quip that it will miraculously straighten itself out when a virgen gets married here).
Nearby is the Hofgarten, a park in the shape of a high-heeled shoe where locals love to kick back and enjoy its lakes, fountains, and romantic atmosphere. The park's Jägerhof Palace is home to the Goethe Museum, celebrating Germany's single most important literary giant.
From once you've had your fill of letters, it's time to rev up the old plastic and head to Königsallee (which the locals dub Kö), one of the most upmarket high streets in all of Germany, replete with boutiques, art galleries, antiques shops – in short, luxury a-go-go. If on the other hand major purchases aren't in the (credit) cards, the window-shopping is still tremendous, as is the strolling along the canal, its bridges, and past the allegorical fountains. The Rhine itself is a mesmerising presence (you can appreciate its full extent as it passes though the city from the lofty observation deck of the Rheinturm communications tower right alongside it). If the riverfront was taken over by vehicular traffic for many years, now any more of these areas have been returned to pedestrians – one of the former tunnelsby  has even been turned into a modern art gallery, KIT.
This and other cultural innovations, in fact, epitomise Düsseldorf ingenuity. This city was left an almost total ruin by World War II, and yet in the decades since it has has reinvented itself as a powerhouse of the arts as well as of commerce, with more than 100 prestigious galleries as well as museums like the K20/K21 (Germany's most important modern-art collection, including giants of the 20th century like Picasso and Kandinsky as well as today's cutting edge); the IGEDO womenswear fair is one of the top events on the world fashion circuit; and classical-music venues like the Tonhalle stage regularly stage world-class performances and feature international stars.
One of the hottest parts of town these days is Medienhafen (above) the harbour district which has gotten something of a makeover into an arts and entertainment district with all manner of pubs, restaurants, creative firms, and architecture by the likes of Frank Gehry. Just taking a spin through this area and taking in the colourful, vibrant surroundings is stimulating to begin with; then you'll also want to stop in at one of the local watering holes to sample the local nectar: the traditional dark beer they call Altbier. Yet another delicious example of how Düsseldorf blends the old and the new.
Useful Facts

Düsseldorf has nearly 592,000 inhabitants
Though it's been known to snow in winter, temperatures during that time of year are relatively mild thanks to North Sea breezes. Summers are moderate but can be humid. 
The currency is the euro.
More information in English: Duesseldorf-Tourismus.de.
Best Iberia flight deals from the U.K., from the USA.
http://youtu.be/ieIRpOCPwr4
images | jenspletsch, AndreasPraefcke, Hans-Jürgen Wiese, Gryffindor