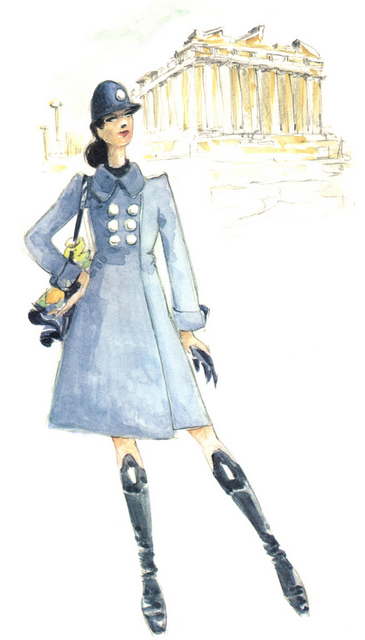 Fourth in a series. (For the rest, see below.)
After the innovations of Manuel Pertegaz, in 1972 a new fashion guru took the reins at Iberia. Córdoba-born designer Elio Berhanyer would go on to shape the flight crews' silhouettes throughout nearly two decades (till 1989) and three collections. Here we'll look at the first, which covered the years 1972 through 1977.
The company was looking to move away from the avant-garde and back toward a more traditional feel, something that would not only hold up over the years despite the vagaries of fashion but would also be adaptable for all seasons and most of the countries in which Iberia operated.
Berhanyer decided to re-emphasise Iberia's longtime signature uniform colour, blue, which offered the versatility of both elegance and functionality the company was looking for. He also substituted Pertegaz' cape with a classic overcoat, allowing flight attendants both greater comfort and range of motion. The jacket-and-skirt ensemble came in two versions, achieved simply by adding an overskirt in a geometric pattern.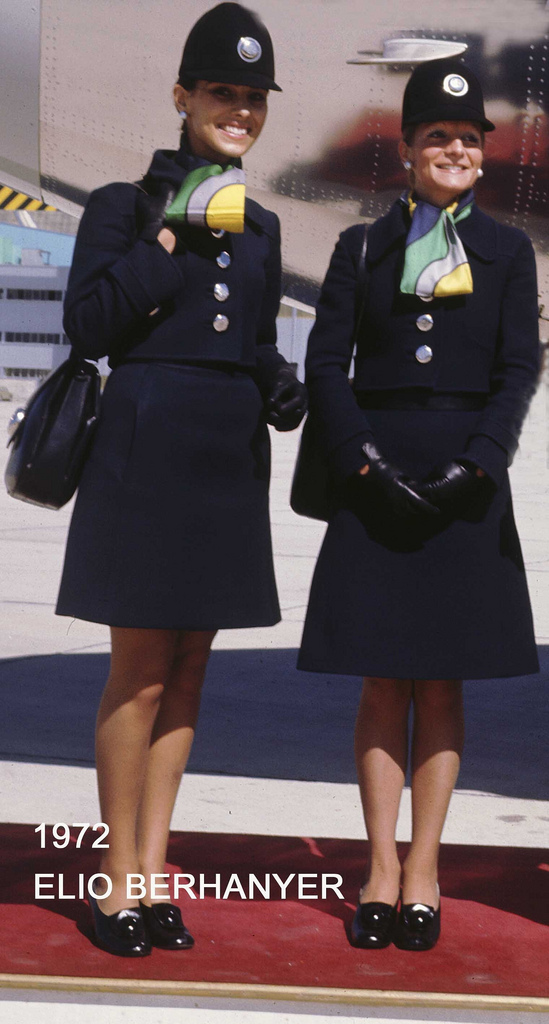 The accessories – a handbag, gloves, scarf, and shoes – were designed with the same concept in mind. Furthermore, efforts were made to tweak designs to distinguish between transatlantic attendants and those serving short and medium-haul routes (switching colouration and designs), as well as between attendants working inflight service and those working on the ground (for whom he softened the blue and took away the geometric prints).
Born the son of a miner in Cordoba in 1929, Elio Berhanyer has had a complicated life, beginning with becoming an orphan at age 7. Through drive and determination, he taught himself couture and went to Madrid at age 17, changing his name from Berenguer to Berhanyer, opening his own studio in 1959, and gradually becoming one of the foremost designers in Spain and Europe, dressing the likes of Ava Gardner, Cyd Charisse, and Queen Sofía. And amazingly, at age 85, he's still sewing strong!

Other installments:
Part 1: The 1940s
Part 2: 1954-1966
Part 3: 1968-1972