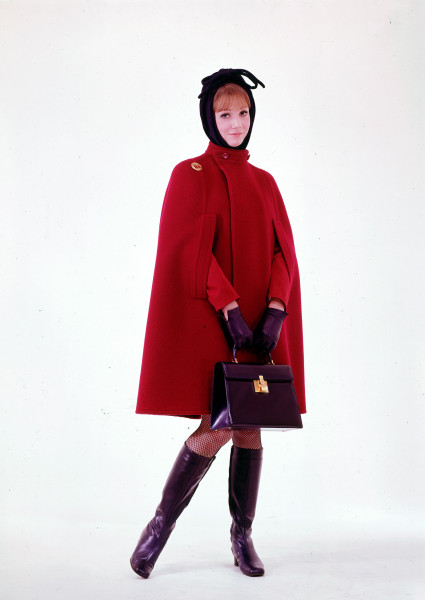 Third in a series (see bottom for parts 1-2).
By the late 1960s, the decade had turned into one of great upheaval, with momentous events including the Prague Spring, France's tumultuous May of '68, San Francisco's 'Summer of Love' in 1967, and so on. In 1968, during the twighlight of the Francisco Franco dictatorship, university protests and strikes were the order of the day. It was against this cultural and geopolitical backdrop that the reign of Pedro Rodriguez as designer of Iberia's flight crew uniforms came to an end. This made way for a new king of high-flying haute couture, Manuel Pertegaz (b. 1917), the Aragon-born founder of a couture house that's still one of Spain's elite.

Pertegaz completely overhauled the flight attendants' image, approaching it the same way he did with his regular clients (surely the most glamourous women in Spain at that time) and making each uniform to measure. Flight attendants would go to his studio to be measured, which meant that each one fit like a glove. This not only made them feel secure, but made the uniforms shine like never before.
In addition to introducing a new colour, burgundy, this new uniform had a certain British air about it, as well as harking back to the style of former U.S. First Lady Jackie Kennedy: a sleeveless cape with a train and discreet hood, a pencil skirt and a simple white blouse. The uniforms were accessorised with a cap, a shoulder bag, gloves, mesh stockings and high boots, all navy blue in colour.
The attire on-board was very different. Pertegaz designed a clearly Andalusian-inspired suit, with polka-dot fabric and frills. This collection of uniforms was named Rosa Real (Royal Rose), which was also the name given to the service that was introduced that same year with the Douglas DC-8/63 airliners over the North Atlantic.
Manuel Pertegaz's uniform was one of the most short-lived, lasting only four years, but this doesn't mean it was the least important or memorable. In fact, you might say that it was not only the most revolutionary, but also one of the most aesthetically pleasing.
1968 was an eventful year indeed in the world: Martin Luther King, Jr. and Robert F. Kennedy were assassinated. The 16th modern Olympic Games were held in Mexico City. The Tet Offensive marked a turning point in the Vietnam War. The Soviets invade Czechoslovakia. And the the legendary "West Side Story" premiered on Broadway.  In Spain, during the twilight of the Francisco Franco era, singer Massiel represented the country in the Eurovision Song contest and won with "La, La, La"; the first Spanish nuclear power station was brought into operation; and West African colony Equatorial Guinea became an independent country.
Previous installments:
Part 1: The 1940s
Part 2: 1954-66
Stay tuned for next week's installment, as we move forth into the 1970s!