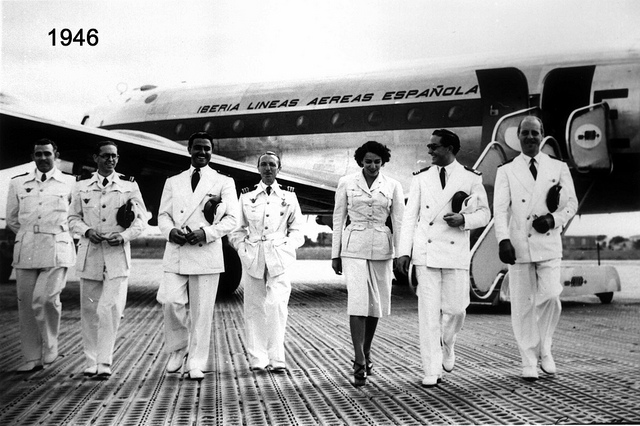 The first in a series.
Picture it: 1946. World War II had just come to a close, and the 21-year-old Iberia Airlines was launching its first transatlantic route between Madrid and Buenos Aires. It's a long flight today, but back then it was even longer – and that's why  it became clear that passengers – initially just women and children, then everyone – would need to be attended to during these many hours in the sky. Thus the flight attendant came to be.
Those postwar days affected the social situation in almost every country, and no one was in a mood for excess or frippery. That's is why the first Iberia crew uniform lacked much in the way of imagination and panache: it was strictly military in style, white for  summer and navy blue for winter, made out of durable parachute material. It consisted of a safari jacket with a belt and four pleated pockets (two on the chest and two on the sides) and a kind of soldier cap or double-peaked hat. Shortly afterwards, the belt and pockets were removed, as they were impractical and tended to hinder the flight attendants as they went about their job of tending to the passengers.
Without a doubt, this uniform, along with the figure of the flight attendant (the first in Spain's aeronautical history) marked a pivotal point in the history of Spanish aviation.

By the way, elsewhere in fashion history, this same year French designer Louis Reard introduced the bikini. This skimpy bathing suit was deemed inappropriate and had very few supporters at first – especially in Spain, where it was banned for many years. As time went by, of course, it became gradually accepted and it is now extremely popular all over the Western world. It's named after Bikini atoll, one of the many reefs off the Marshall Islands in the Central Pacific, which were used by the United States as a nuclear bomb testing ground. And you could say it certainly did prove to be a bombshell of a sort… 

For our next installment, click here!