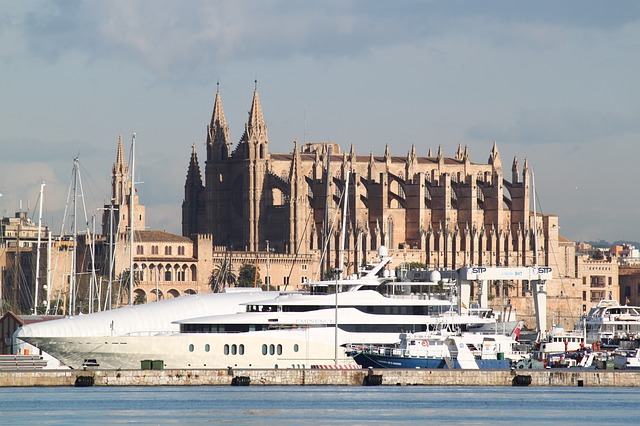 Perhaps understandably, many if not most holidaymakers come to the Balearic island of Majorca with little more than sun and sea on their minds. Some may never even find their way into its capital city, which is a pity, because especially the narrow, winding lanes of its mazelike old quarter harbour treasures unique in the Mediterranean. That's why even before and after the summer high season, when Palma de Mallorca really kicks into high gear, this city of 401,000 still hugely appeals as a fun, urbane mix of culture, history, and sundry pleasures in a delightful climate. 
Founded by the Romans in 123 BC, Palma was Moorish Medina Mayurqa for more than 300 years before being conquered by the king of Aragon in 1229, and so the mix of architecture is a rich one. Among its most striking edifice are the enormous Gothic cathedral and next to it the Almudaina Palace, based on a Moorish fortress and still used by Spain's royal family; for a more intimate peek into the distant Moorish past, check out the Banys Àrabs (Arab Baths, right).  Other Gothic masterpieces include the 15th-century maritime commercial exchange Sa Lotja and 14th-century Bellver Castle, unusual because of its round shape.  The city's other main architectural claim to fame is its Modernisme, the same early 20th-century style made famous by the likes of Gaudí in Barcelona. Top landmarks include the Can Forteza Rey, the Gran Hotel by the great architect Domènech i Montaner (now site of the CaixaForum cultural centre), and even decor by Gaudí within the cathedral.
And for art lovers, too, Palma is profoundly pleasing. The island as a whole has been a haven for artists of all stripes for many generations, and particularly in this century, Palma was famously the home for three decades of the great Joan Miró (whose studio and accompanying foundation galleries can be visited), today still a base for one of Spain's greatest living artists, Miquel Barceló, and is full of galleries and distinguished museums such as the Juan March Foundation and the Es Baluard Museum of Modern and Contemporary Art, displaying a galaxy of distinguished Spanish and international artists including Miró, Barceló,  Wilfredo Lam, Pablo Picasso, Robert Motherwell, Paul Gauguin, Salvador Dalí, Man Ray, and many, many more.
Es Baluard also happens to be flanked by two of the city's most authentic and charming neighbourhoods whose maritime flavour can still be felt and which harbour wonderful little spots to enjoy meals both typically local and creatively modern al fresco under the Mediterranean sun. In La Lonja, for example, it's Carrer d'Apuntadors, where at La Parada de los Monstruos (Monster Parade), art, fashion, and cuisine come together to create a unique experience indeed, while on Santa Catalina's pedestrian Carrer Fábrica, we find singular spots like Patrón Lunares, a space that like its cuisine smells of the Mediterranean and the fishing spirit of yore, with its wood beams, iron columns, and striking cement-tile floors. You can also find great seafood down along the Passeig Marítim (Maritime Promenade) and the in-town beach area El Arenal, which is lined with a restaurants, pubs, and cafés open day and night, when the area turns into one of the city's top nightlife centres. In the summer, of course, this area–and the rest of Palma–is way pumped. But there is depth to this civilised Balearic capital, and I love it just as much in May–and for that matter, the rest of the year, too.
(For a video taste of the town, check out the #IberiaMayors tour below – and don't forget to switch on the subtitles!)
Useful Facts
Palma de Mallorca has 401,000 inhabitants, 517,000 in the greater metro area
The climate is relatively moderate, with mild winters – with highs of 17ºC (62ºF) and lows of  8ºC (47ºF) and hot summers (highs 31º C/87º F, lows 22ºC/72ºF).
The currency is the euro.
More information: PalmaVirtual.PalmadeMallorca.es;  flights from the UK, from the USA. 

http://youtu.be/MS88aBRRZk0
images | Anja Osenberg, José Luis Filpo Cabana