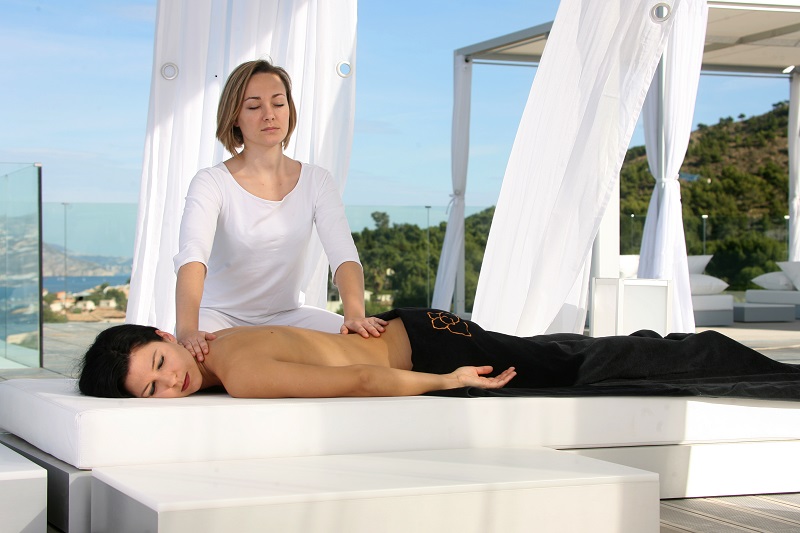 Thermal spas and baths go back a long way in Spain, specifically 2,000 years to the era of colonisation by Greeks and Romans, and this fascination continued during the centuries of Moorish rule. Today there are more than 2,000 thermal springs in beautiful natural surroundings from seaside to mountains, and more than 120 luxury spa resorts. Here are several of my favourites, each a unique combination of luxury and character.
Big-City Escape: Bliss Spa Barcelona
We could all use a spot of serenity in the city, and the Bliss Spa Barcelona at the stunning W Hotel, right on the beach by the popular boardwalk, is my pick in this bustling metropolis. In this 7,500-square-foot (697-square-metre) slice of heaven, step into the steam room, unwind in the sauna or get a "Triple Oxygen" treatment – all to a playful R&B soundtrack. In a hurry to get back to the beach or the urban excitement? Sign up for the "Blissage 49" massage, a customised 49 minutes that will get you in, wound down, and out the door in less than an hour. For something unique? Try the Ginger Rub, a massage enhanced with invigorating, freshly-grated ginger root and essential oils, complete with a foil wrap and a 20-minute body soak (ginger-infused spa treatments are a popular trend in Spain right now; you can find them at various spas around the country). Or prepare your feet for sandals with a Double Choc Pedicure:  a hot-chocolate milk soak to smoothe out your tootsies plus some nice yummy chocolates to pop into your mouth, too (of course, even if you don't indulge in this, you can make your taste buds similarly happy with the Bliss Spa's signature brownie buffet).  And on your way out, don't forget to check out the beauty boutique and swing by the rooftop bar on the 26th floor for a refreshing cocktail with an unforgettable view!
Sha Wellness Clinic: World's Best Medical Spa
Just up the coast from the Alicante resort city of Benidorm, the award-winning Sha Wellness Clinic is more than a luxury spa resort; it was also voted "best international medical spa" by Condé Nast Traveller readers. The programmes here fuse natural techniques from various eras and cultures – India, Japan, China, Tibet, South America – to bring you to optimal health and balance. You can find watsu (an entrancing water-shiatsu hybrid), reflexology, acupuncture, moxibustion, reiki, smoking cessation, and even laughter therapy. Sha is always innovating, as well. On my last visit I witnessed treatements such as "Amazon Dreams," a 110-minute wooden-roller massage with an essential oil bath, macadamia-nut peel and body mask; chromo-therapy; music therapy; various kinds of water therapy such as ai-chi, a slow, gentle variant from Japan; and the Bach Flowers Consultation, a natural system of 38 flower remedies (often used along with herbs and homeopathy) designed to help ease emotional challenges. The menu here is gourmet macrobiotic, the rooms are top-notch, and the oxygen bar is a must. You will leave feeling like a brand new person, from skin to spirit.
Jumeirah Port Sóller Hotel and Spa: Oasis Within an Oasis
Majorca is a popular island destination with exciting nightlife and striking beaches. The Jumeirah Port Soller in the northwest coastal town of Sóller is one of my favourite places to stay, and not just because this cliffside resort seems to majestically float in the sky above the waters. The Talise Spa makes it a standout on an island of plenty of amazing options, an oasis within an oasis. Begin your day with "Sunrise in Mallorca" package: breakfast and a massage. Exercise at the state-of the-art fitness facility and then explore the ancient Indian Ayurvedic treatments that use various oils and pressure on energy points to carry your unique body into harmony. For something powerful – even transformative – try the hypnotising Shirodhara treatment, which will transport you into a deep, meditative state via a continuous stream of oil drizzled onto the forehead. For something local and revitalizing, try the 60-minute "Mallorca Herbs" exfoliation and moisturizing massage. Need a pick-me-up? The Jet Lag treatment, with essences of grapefruit, rosemary, pine and juniper berry, will awaken your senses. Whichever treatments you choose, afterward stroll through the gardens and grab a bite one of the on-site restaurants that serve scrumptious Balearic cuisine, like the luxurious Cap Roig, for seafood with spectacular views over the Mediterranean. You won't ever want to leave.
The Best of the Rest
Andalusia  Balneario de Archena, Murcia; Balneario de Lanjarón, Granada; Spa at La Cala Resort, Mijas-Malaga.

Aragon  Balneario de Panticosa, Huesca.

Cantabria  Gran Hotel Balneario Puente Viesgo,outside Santander.
Catalonia   Hotel Termes Montbrió, Tarragona; Hotel Balneario Vichy Catalán, Girona.
Galicia  Gran Hotel Hesperia La Toja, La Toja Island, Rías Baixas; Balneario de Mondariz, Pontevedra
La Rioja   Balneario Arnedillo
"Spa Travel Gal" Ava Roxanne Stritt  believes that spa, travel and skincare experiences are not a luxury, but essential to a healthy body and mind!  Ava writes for numerous print and online media including USA Today, CBS News, LA Travel Magazine, and more. Read more of her at SpaTravelGal.com. 
images | Sha Wellness Clinic