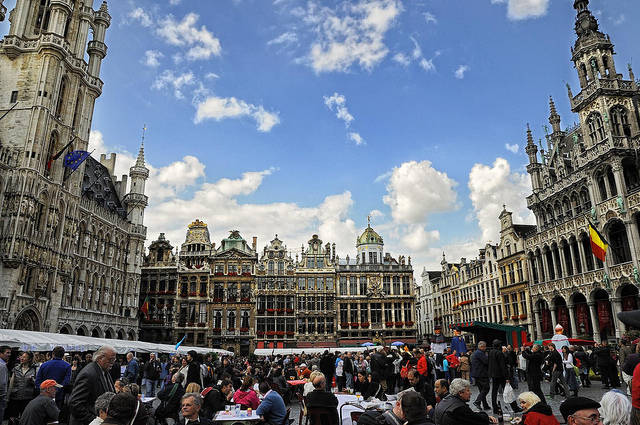 For some, Brussels doesn't appear to offer all that much to admire – not just politically, but as a place to visit, with a bit of a reputation for being grey, boring, bureaucratic, even soulless. Like most stereotypes, blown way out of proportion. What really defines the capital of Belgium and all of Europe, site of the continent's parliament and various of its institutions, is its status as a crossroads. After the work days are over, people from all corners of Europe and beyond hit the cafés, restaurants, and clubs to create a delightful, cosmopolitan mix that welcomes the stranger. And then, too, there are plenty of historic spots and experiences to fascinate the eye and the mind.
Ground zero for that sort of thing, of course, is the eponymous Grand-Place (Grote Markt in Flemish, Belgium's other language), of which the Bruxellois are rather proud, and so is UNESCO, having declared it a World Heritage Site. You'll understand why when you get there – it's a particularly photogenic collection of Gothic and Baroque buildings, foremost of which is, unsurprisingly, the city hall, its central tower standing 96 metres (315 feet) tall, surrounded by the halls and manses of wealthy merchants and guilds (including the brewers' guild at No. 10, housing the Brewery Museum). Bring your appetite, so you can have a seat at a sidewalk table along the nearby streets and tuck into hearty local dishes like moules frites (mussels and french fries) or waterzooi (chicken or seafood stew), followed by a visit to a patisserie or chocolatier for a cup of world-famous Belgian chocolate.
Strolling the nearby streets, quite suddenly you come across the corner of Rue du Chene with the Mannekin Pis, that famous statue of the little chap having an eternal tinkle – something of an an apt symbol for the insouciant character of Brussels, actually. Between its lanes and side streets you'll come across the Galéries Saint-Hubert, a classic 19th-century covered arcade where you can browse for books, clothing, music, and pause for a cup of coffee. You'll notice gracious and felicitous architecture all along the way, in fact – including, for example, more than 300 examples of Art Nouveau from the late 19th and early 20th centuries. Other landmarks of note include the neoclassical Royal Palace and La Monnaie theatre; eclectic Palais de Justice; and Cathedral of St. Michael and Gudula, which evolved from an 11 century Romanesque church and reached its current Gothic grandiosity by the 16th century.
In the upper part of the city you'll find its great museums, such as the Royal Museums of Fine Arts, with works by the likes of Rubens, Bruegel and Van Dyck. And of course you shouldn't leave town without getting a closer look at perhaps the world's most famous Belgian, the intrepid reporter Tintin created by cartoonist Hergé, at the museum devoted to him. To the north there's the Atomium, a stainless-steel-clad structure representing an atom – 102 metres (335 feet) tall, originally built for the 1958 World's Fair, and housing exhibitions and offering tours. After all that roaming around, a bit of a breather would appeal to anyone, and one of the best public spots to do that in Brussels is in this same area, the "European Quarter": the 30-hectare (74-acre) Parc du Cinquentenaire, featuring a triumphal arch reminiscent of Berlin's Brandenburg Gate. Apart from some appealing green spaces and trees, there are yet more interesting things here to tempt, including museums devoted to art, vintage cars, and military history.
Come nighttime, the sidewalk restaurants around the Grand-Place await, along with a bewildering range of international options from international street food up to three Michelin stars. Then of course it's off to the pubs – but then, Belgian beer deserves a post of its own! 😉
Useful Facts:
The Brussels capital region has 1.1 million inhabitants.
The climate tends to be on the damp side, its winters with temperatures between 1° and 7° Celsius (°34-45° Fahrenheit) and in summer 12°-23°C (54°-73°F).
More information: VisitBrussels.be 
Foto | darkrigel