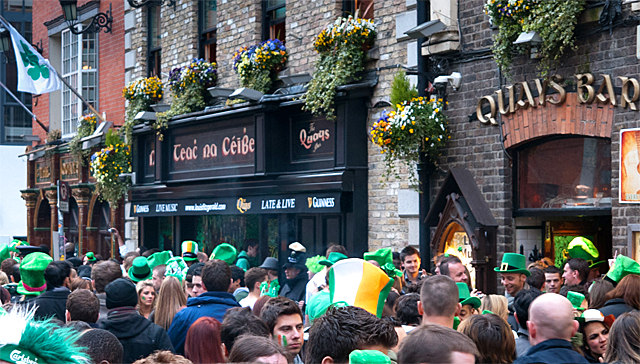 If, as the old saw goes, everyone's a little Irish on Lá Fhéile Pádraig, as they say in Gaelic (even yours truly just found some Emerald Isle heritage thanks to DNA testing!), what better occasion to visit the Iberia destination that's the gateway to the Emerald Isle which bestowed this fun holiday upon us? With a lovely setting on Dublin Bay, split by the River Liffey, the city offers fine historic and modern architecture; fascinating sites and culture; and a vibrant urban life that will tickle your fancy no matter what your fancy might happen to be. For example… 
Did you know that Dublin was founded as a Viking settlement way back in the 9th century? It wasn't until the Normans who'd conquered Britain also pushed into Ireland  in 1169-71 that they were finally dislodged. These rowdy gents and others have left some richly historic spots going back a long way to explore in this city, now covering 115 square kilometres (44 square miles) and with a population of about a bit over a half million (yet adding up to roughly a third of that of all of Ireland's). You'll find many the key tourist sights absolutely not to miss in several key areas, starting with the oldest, city centre (Dublin 2), which includes ancient cathedrals such as Christ Church (11th century) and St. Patrick's (12th century), as well as doughty 13th century Dublin Castle; the 18th century City Hall; Trinity College (in whose Old Library you can see the Book of Kells, the illuminated 9th century Bible that is one of the most glorious in existence); the National Museum of Ireland branch devoted to archaeology (including Europe's finest collection of prehistoric gold artifacts); and Dublinia, which in a bow to Dublin's Viking heritage is a museum and interactive experience focusing on key aspects of Dark Ages and mediaeval Ireland.
Adjacent to the Old City, on the south bank of the Liffey, is another district with roots in the Middle Ages, Temple Bar (above), with various cobblestone streets and the city's liveliest nightlife as well as cultural landmarks such as the Irish Film Institute and the Arthouse Multimedia Centre. Lovers of both heritage and ethyl (alcohol) should not miss a visit to the Guinness Storehouse (touted as Ireland's number-one tourist attraction – I do wonder why) and the Old Jameson Distillery for some fine Irish whiskey action. Dublin has a famously literary side, as well (which may or may not be connected to the sauce), with its Dublin Writers Museum and plenty of places where you can follow in the footsteps of great writers and playwrights including Oscar Wilde, James Joyce, George Bernard Shaw, and William Butler Yeats (stay tuned for a future post!).
St. Patrick's Day Festival
Today's feast day of St. Padraig became a national holiday in 1903, and the first parade was held in Dublin in 1931. In 1996, though, the Irish government decided to kick it up a notch and turn the whole thing into a multi-day festival, which this year started on Friday and culminates today with the big parade from Parnell Square to just beyond St. Patrick's Cathedral. Various buildings are lit up in green, and annual events include fun fairs, street performances and shows of all kinds, a boat race on the Liffey River, a craft beer and food market, Irish music concerts, an Irish dancing festival, a family treasure hunt, and special walking tours. And of course drinking. Lots of drinking. Worth a thought for 2015! 😉
Useful Facts

-Dublin's population is around 528,000.
-The climate is relatively moderate and mild compared to mainland northern Europe, with snow uncommon in winter and temperatures generally around  5° Celsius (41° Fahrenheit); summers are cool – about the hottest it gets is around 19°C (66°F) in July.
-The currency is the euro.
-Iberia flights from Spain, from the USA.
-More information: VisitDublin.com
images | LenDog64, infomatique