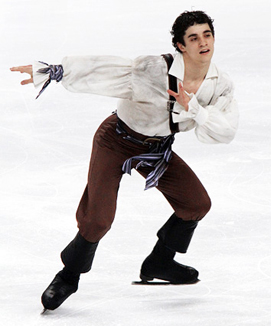 Many folks think of "sunny, sunny Spain" as a land of balmy beaches and dry mesetas, where snow and cold are all but strangers. But the fact is that this diverse country has a half-dozen mountain ranges with some great skiing, snowboarding, and other winter sports; Spain, in fact, has sent a Winter Olympic team to every Olympiad since 1948, with this year's squad its largest yet, consisting of 14 men and six women competing in seven sports. So as the Olympic Games get underway today in southern Russia, we introduce you to the 20 young Spaniards to keep an eye out for (you'll notice, not surprisingly, that more than a few of them hail from the more mountainous areas of northern Spain).
Skiing is the sport with the most representation on the team, with Spanish Olympic alpine skiers this year including 24-year-old Pol Carreras from Sant Cugat in Catalonia; Basque dental student Paul de la Cuesta, age  26, who competed for Spain at the Vancouver Olympics in 2010; Carolina Ruiz Castillo (below left), a Chilean-born 32-year-old from Granada who is leading the delegation and whom observers are expecting to medal in this, her third Olympics; Alex Puente, 20, from Catalonia's Vall d'Aran; and Ferrán Terra Navarro, age 26, from Puigcerdà, also in the Catalan Pyrenees. Cross-country skiing, meanwhile, has three Spaniards in the running: 29-year-old Javier Gutiérrez of Santander; Catalan Laura Orgué, age 28;  and Imanol Rojo, 24, a Basque from the Guipúzcoa city of Tolosa. And in freestyle skiing, 33-year-old Anglo-Spanish Katia Griffiths will compete in the halfpipe.
There's an interesting quartet competing in figure skating and ice dancing, starting with ice dancing partners Adrià Díaz and Sara Hurtado – he a 23-year-old from Barcelona, she age 21 and from Madrid – that is Spain's first to qualify for the Olympics. Spain's skaters also include one of the team's top luminaries, 22-year-old Madrileño Javier Fernández (above right) – who modestly dubs himself "SuperJavi" and just last week successfully defended his title as European figure skating champion; in Vancouver he was the first man to compete for Spain in Olympic figure skating since 1956, and in the opening ceremony tomorrow he'll be out front carrying the national flag. Another 23-year-old Javier from Madrid, Javier Raya, rounds out the figure skating contingent.
In the biathlon, you could say it's "Victor/Victoria" – Víctor Lobo Escolar, a 33-year-old renewable energy researcher from Huesca (Aragon) who has been passionate about mountaineering and rock climbing from a young age and the biathlon since 2011; and Victoria Padial Hernández of Granada, age 26, who started her love on winter sports cross-country skiing at age 6 and in Vancouver became Spain's first female Olympic biathlete. Another Spanish Olympian whose pursuit on this team is the most singular of all is Ander Mirambell of Barcelona. Ever heard of the skeleton? It's a kind of small, fast sled, and even at age 31, Mirambell's reflexes in the sport are so quick that his nickname is El Gato Congelado ("The Frozen Cat").
Last but certainly not least, another power four is looking to make a splash in snowboarding. The senior snowboarder of the crew is 25-year-old Catalan Queralt Castellet (right), on her third Olympics, while the baby of the bunch (and indeed, the entire team) is Lucas Eguibar, a 19-year-old from the Basque city of San Sebastián. Their teammate Regino Hernández, 23, is perhaps the least obvious winter athlete of the team because he was born in snowless North Africa (the Spanish enclave of Ceuta) and lives on the Costa del Sol (not far, however, from the snow resorts of the Sierra Nevada mountains). Then of course there's 24-year-old Laro Herrero from Santander in Cantabria, whose event is the snowboard cross.
It's inspiring indeed to see the energy, talent, and hopes of this youthful cast that will represent Iberia's home country in Sochi as of tomorrow. We'll all be rooting for you – buena suerte!
images | David W. Carmichael, Christian Jansky, LGEPR