Brazil's exciting, vibrant commercial capital isn't just Latin America's most populous metro area (not to mention the world's sixth largest): São Paulo also boasts the curious distinction of being home to the world's largest Japanese community outside Japan. Many of these nipo-brasileiros are to be found in Liberdade, a central São Paulo neighbourhood just a hop and a skip from busy Avenida Paulista, also home to other Brazilians of Asian descent including Chinese and Korean.
It all started a little more than a century ago when the ship Kasato Maru arrived in 1908 with 165 families headed to work on area coffee plantations. Between descendants of those original families and later arrivals, the community now numbers nearly a million; their history is set forth in the Museu da Imigração Japonesa (Rua São Joaquim 381).
Emerging from metro station Liberdade on Line 1, you feel almost like you've emerged on another continent. You enter the district through a traditional red torii gate; streets are lined with Japanese-style lanterns; and news agents display Japanese-language newspapers and magazines. In the local square, Praça da Liberdade, on weekends an open-air market, the Feirinha da Liberdade, takes place, specialising in traditional handicrafts and products from the Land of the Rising Sun. In this same square every morning at 6:30 a.m. there's a session of rhythmic exercises and stretching to music – very popular, and all you need to do is show up.
One of Liberdade's coolest streets is Rua Galvão Bueno, lined with the neighbourhood's typical red suzeranto street lamps and a multitude of shops with Japanese wares, such as Comércio Marukai, a market where you can buy wasabi, shiitake mushrooms, and all manner of bric-a-brac; and Hime-ya, a gift shop specializing in décor, dishware, and the like. There are also various markets that fascinate visitors with produce and products they've likely never seen before. Add to all the above a variety of stands selling street food such as yakisoba, to eat seated on a bench or as you make your way along the street. The local colour of Galvão Bueno and surroundings is so popular with paulistas that the area can get very crowded indeed on weekends.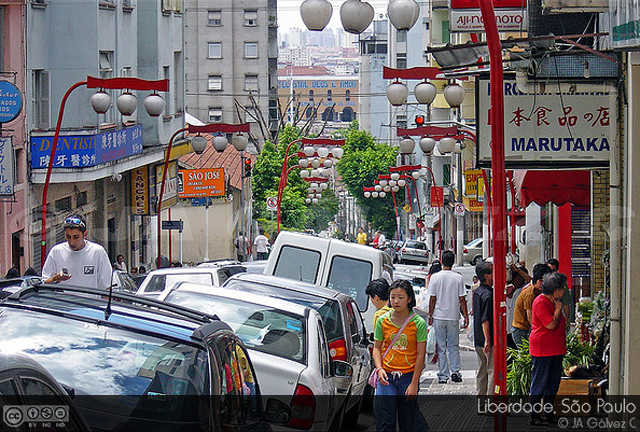 In strolling through Liberdade, you'll also notice a number of buildings constructed in traditional Japanese style, complete with Japanese gardens – though many of them aren't open to the public and so can only be appreciated from outside. Stop by the Buddhist Templo Busshinji (Rua São Joaquim 285) to soak up its Zen serenity and aesthetic, perhaps even get in a bit of meditation, and learn about traditional practices and ceremonies such as taiko drumming and obon (honouring the ancestors).
You'll want to stay for lunch or dinner, of course, at a restaurant such as Gombe (Rua Tomás Gonzaga 22), Kabura (Rua Galvão Bueno 346), or Aska (Rua Galvão Bueno 466), with impeccable traditional cuisine. And of course if you want to round out the evening in a (today) typically Japanese way, I'd highly recommend a rousing night of karaoke at Chopperia Liberdade (Rua da Glória 523), a favourite of both locals and Japanese tourists.
Useful Information

São Paulo has 11.3 million inhabitants in the city per se, but 21 million in the greater metro area.
The climate is warm and sunny, with an average of 54° Fahrenheit (12° Celsius) in July and 86°F (30° C) in February.
The currency is the real.
For deals from Spain, click here; from the UK, click here.
images |  Marcio Cabral de Moura, AKQJ10Please, Tony Gálvez