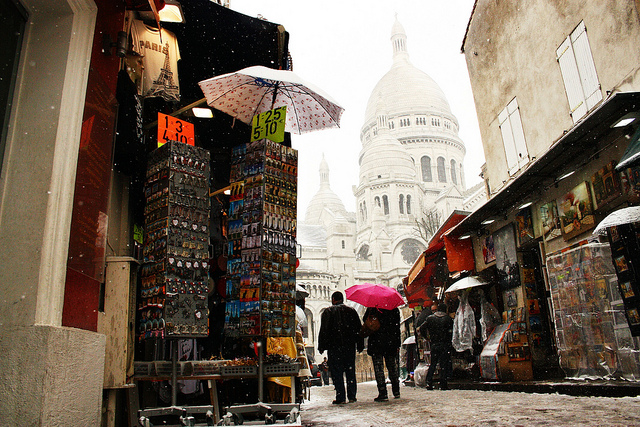 When it comes to winter travel in Europe, snow doesn't always have to be a pain – in fact, it can even transform places that aren't ski resorts, lending them a singular beauty and feel. And few are the places where this is more true than in Paris.
If your trip to Paris coincides with la neige, consider yourself lucky. The City of Light and love is full of perfect spots to appreciate it. Here are five of our favourites: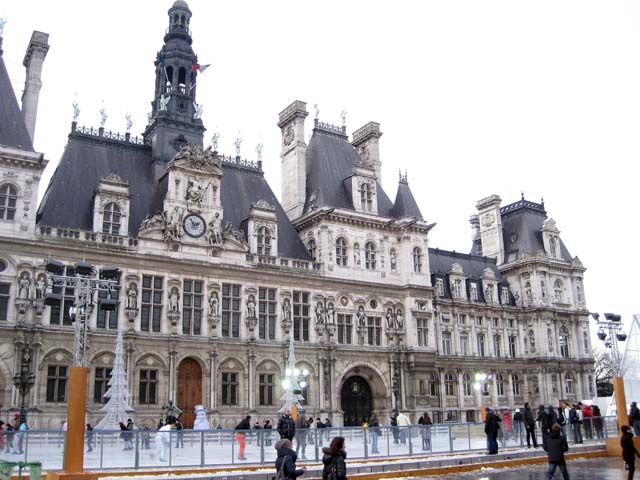 Strolling Central Paris
With classics like Notre-Dame cathedral and the Hôtel de Ville (city hall, above), strolling downtown is always a pleasure, but with streets and sidewalks blanketed in snow it feels uniquely exotic and even extravagant.  Parisians don't let the white stuff keep them indoors, and what might throw other cities into chaos is here handled with – what else – panache.
Strolling the centre is a peaceful experience – and a fun one, too, if you take advantage of the skating rink set up in front of the Hôtel de Ville that delights young and hold through the month of March.
Atop the Pompidou Centre
One of the best views in Paris is without a doubt from the upper terrace of the Pompidou Centre, the industrial-flavoured modern-art museum on Rue Beaubourg in the same league as London's Tate Modern and New York's Museum of Modern Art. The vision of a snow-covered Paris from up here is a wonder, with the neoclassical lines of its architecture frosted in white.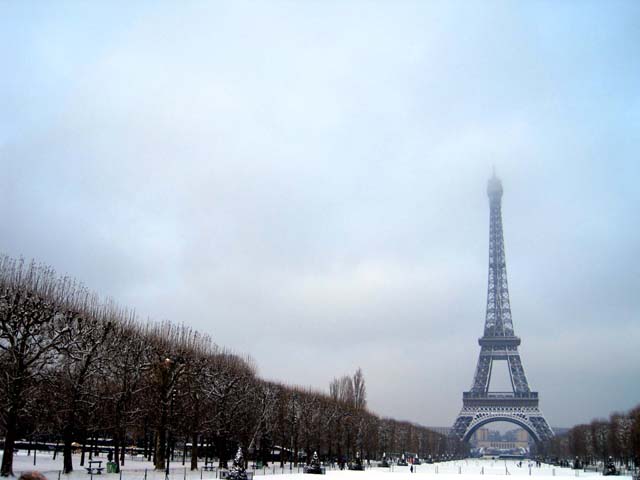 The Eiffel Tower
Ah, but what would Paris be without la Tour Eiffel, once condemned by some as an iron monstrosity but long since transformed into a romantic icon visited by millions annually and photographed, filmed, and painted ad infinitum. To see it with the expanse of the Champ de Mars swathed in white below makes it seem even more like a figure out of fantasy, whether you're a kid or a grown-up.
Père Lachaise Cemetery
One of the world's most famous cemeteries, sheltering the illustrious, elaborate tombs of the likes of Marcel Proust, Molière, Honoré de Balzac, and of course Jim Morrison, among many others, is treated by Parisians almost like a park.
It's a dramatic tombscape whose intensity seems heightened even more by the snow. A cosily bundled-up stroll through here discovering its marvelous mix of sculpture, architecture, and history, can be a truly unforgettable experience.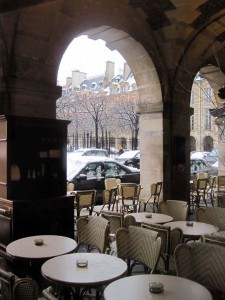 A Marais Café
After so much romantic roaming the snowy streets of Paris, what better than a smooth, warming café au lait?
One excellent candidate: in the Marais, the old quartier of the French aristocracy, a café on the city's oldest square, the Place des Vosges, ringed by handsome 17th-century edifices today housing art galleries and landmarks such as the museum-home of Victor Hugo.