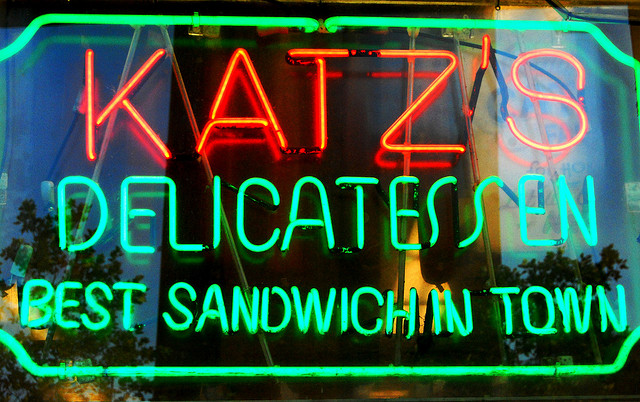 The Big Apple is famously the world's biggest melting pot, both of people and cuisines. But there's one that reaches its pinnacle in New York City, a kind of cookery that you should make a point of sampling, whether you visit on holiday or business: Ashkenazi, a.k.a. European Jewish cuisine. Full disclosure: I have no yiddishe mama, but my years as a New Yorker were still filled with knishes, bialys, bagels with a "schmear" (of cream cheese) or lox, pastrami on rye bread, matzo ball soup, and so on. It comes with the territory!
So before we get to some of the top spots to ess (eat), here's a quick rundown of the top most distinctive Jewish food items you'll come across:
bagel  you may well be already familiar with this chewy round ring of boiled/baked dough, but I find that outside New York they're just not the same (OK, Montreal's pretty darn good too); toppings include poppy or sesame seeds, onion, salt, garlic, and "everything" (all the above).
bialy  a chewy round yeast roll with a depression in the middle, filled with diced onions and sometimes garlic and poppy seeds.
blintzes/blini  Of Slavic origin, these are crêpelike pancakes stuffed with some kind of filling – often cheese, but could also be jam, ground meat, etc.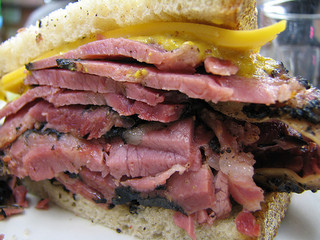 gefilte fish  carp or other fish, minced and mixed with finely chopped browned onions, eggs, salt, pepper, and vegetable oil, and poached.
knish  an often rectangular pocket of baked or fried dough filled with mashed potatoes; most often you'll find these at hot-dog stands on the street. Try them with mustard!
latkes  pancakes of shredded or ground potatoes, served with sour cream and/or applesauce
lox  cured, smoked salmon, often served on a bagel with cream cheese
matzo balls  dumplings made from unleavened bread meal and eggs, usually served in chicken soup (sometimes referred to as "Jewish penicillin").
pastrami  a beef cold cut of Romanian Jewish origin that's been brined, smoked, and steamed; usually served in sandwiches with mustard on rye bread (above).
And now for some of Manhattan's top Jewish restaurants and delicatessens:
Carnegie Deli  Open since 1937 and almost around the clock, this bustling Midtown classic (above) mixes a diner feel with walls crammed with glamorous headshots of all the celebrities who've trouped through. Try the cheesecake, you'll like.  854 Seventh Avenue.
Katz's Deli  At age 126, this old-timer (pictured at top) still feels like a real slice of the Lower East Side of yore, and it's the only place in town left that still carves all its pastrami and corned beef by hand. And did you see the movie When Harry Met Sally? This is where Meg Ryan made that hilariously noisy scene. 205 East Houston Street.

Sammy's Roumanian Steakhouse  Another Lower East Side classic, a basement dining room that's more elaborate and pricey than a deli, but without being what you'd call exactly fancy.  Part of the fun is the very ethnic nightly music and comedy shtick. 157 Chrystie Street.
2nd Avenue Deli  Founded on the Lower East Side in 1954, it recently relocated to an East Side neighbourhood called Murray Hill close to Midtown, and still serves up that beloved kosher fare, along with several cheekily named sandwich creations such as "Instant Heart Attack" and "Triple Bypass." 162 East 33rd Street; second location at 1442 First Avenue.

Zabar's   A specialty food store beloved of New Yorkers that while not specifically Jewish anymore was founded in the 1930s by Ukrainian Jewish immigrant Louis Zabar and still specialises in all the traditional (and kosher) favourites, like smoked fish, classic deli dill pickles, and virtually everything else I've mentioned above – plus there's an eat-in café here, too. Chances are even if you don't make it up to the mother ship at Broadway and 80th Street, you'll come across mini-Zabar's shops in places like Grand Central Station. 2245 Broadway.
Oy, pinch me with a fork, I think I'm done – and I hope I've made you hungry. So when you get to New York, es gezunterheyt (bon appétit)!
images | Paul Lowry, Al Scandar Solstag, Joakim Jardenberg