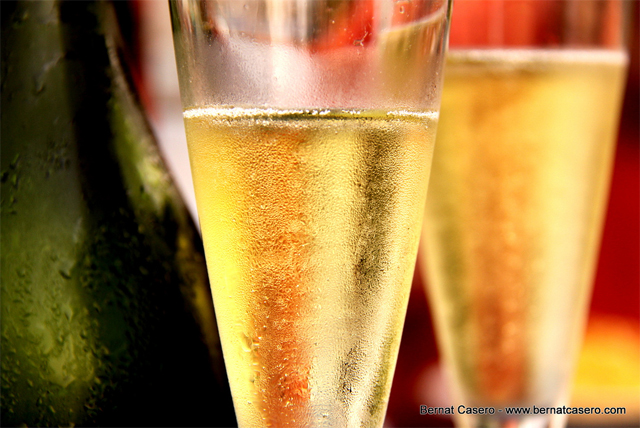 With the year's prime toasting time upon us tomorrow, when better to have a look at Spain's answer to French Champagne, which continues to grow in popularity around the world every year? Named after the Catalan word for cellar (where much of its early production typically took place), cava is a sparkling white or occasionally rosé wine that's been made, mostly in the lovely southern Catalonia region of Penedès, using the méthode champénoise, since the 1870s. As with Champagne, there are versions that are more and less dry, from dulce (sweet) to extra brut; the grapes used are distinct local varieties including Macabeu, Parellada, and Xarel·lo (pronounced sha-re-LO); others that can be part of the mix include Chardonnay, Pinot Noir and Subirat.
There are some 80 bodegas (wineries) producing cava around the town of Sant Sadurní d'Anoia, a number of which offer tours, but the two biggest and best-known are Cordoníu and Freixenet; there are many smaller, more boutique houses such as Gramona, Recaredo, Sumarroca, and Juvé i Camps. It must be said that over the years most cavas have not gotten anywhere near the respect of Champagne (back in my student days in Barcelona I, too, thought of it as little more than cheap, sweet fizz), but that is starting to change; these days there are quite a few out there that are pretty sophisticated and have won respect from critics and connoisseurs alike – and they can get pretty pricey, as well (a bottle of Gramona Celler Batlle Gran Reserva Brut can fetch more than €150). And while there's still a certain amount of plonk still sloshing around out there (as in almost any wine category), choose wisely and you can end up with a sparkler that's both marvelously drinkable and great value for money.
So whether you say "cheers," "salud," or "salut" (in Catalan), tomorrow at midnight, why not ring in 2014 by raising a glass of the bubbly, Spanish-style?
For more about cava in Iberia's Ronda inflight magazine, click here.
images | Bernat Casero, Kuba G